Early Polling Shows Little Impact From Additional Revelations About Clinton Email Investigation
For now at least, it looks as though last week's email news is having little impact on the state of the race for President.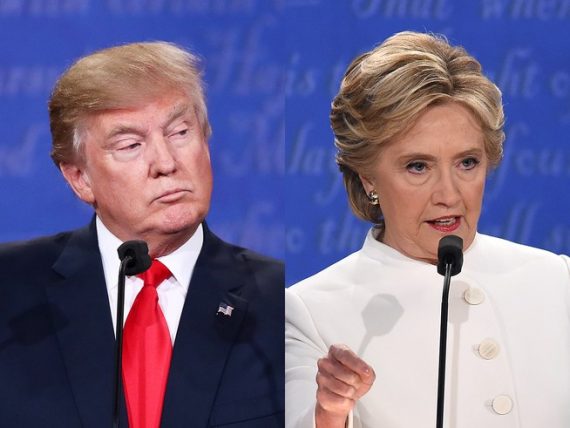 One of the first polls to be conducted after Friday's revelation about addition emails prompting the FBI Director to write a letter to Congress that has upended the Presidential campaign suggests that the story has had very little impact on the race:
The race for the White House is tight, but it has not been radically changed by the FBI director's bombshell announcement last week.

Hillary Clinton has a slim three-point lead over Donald Trump one week before Election Day, according to a new POLITICO/Morning Consult poll conducted entirely after FBI Director James Comey announced the discovery of new emails that might pertain to the former secretary of state's private server.

Clinton leads Trump 46 percent to 43 percent in a two-way race, and 42 percent to 39 percent in a four-way race, with Libertarian nominee Gary Johnson at 7 percent and the Green Party's Jill Stein at 5 percent.

The poll was conducted using an online panel of 1,772 likely voters on Saturday and Sunday, beginning one day after Comey's announcement. The poll carries a margin or error of 2 percentage points.

In a separate poll conducted before Comey's disclosure, Clinton was leading by three points in the four-way race, and five points in the two-way race. Put simply, there is not yet evidence that the revelations have drastically altered the contours of the election.

Thirty-nine percent of voters said the additional review of emails in the Clinton case had no bearing on their vote in November, while 33 percent it made them much less likely to vote for Clinton.

But most of those voters are already aligned against Clinton. Nearly two-thirds of Trump voters, 66 percent, said it makes them much less likely to vote against Clinton.

Among the small pocket of undecided voters remaining, 42 percent said it made them less likely to vote for Clinton, including 30 percent who said it made them much less likely to vote for her. But just as many, 41 percent, said it makes no difference either way.

"It is unlikely that there will be a dramatic shift in the polls before Election Day," said Morning Consult cofounder and Chief Research Officer Kyle Dropp. "While Friday's news may be considered an 'October Surprise,' it doesn't seem to be moving the needle as of now."
I'll have a more detailed look at the polling picture tomorrow in my weekly review of the campaign, but it's worth noting that even before the news about the email broke on Friday there were signs that the polls were tightening, at least at the national level. Several tracking polls that had shown Clinton with wide national leads in the recent past have closed significantly, for example, and by the weekend many of those polls fell within the margin of error, a fact that is interesting but not as significant as it might seem given the fact that all of these polls with the exception of a one or two continue to show Clinton in the lead. As I noted in a comment to James Joyner's post about those tightening polls on Sunday, though, this isn't necessarily a surprise given what we've seen in the past. As the chart at this page shows, for example, the polls showed a tightening race between Barack Obama and Mitt Romney at almost precisely this same time four years ago and yet when all was said and done, Barack Obama won the election by a four percentage point margin with 330 Electoral Votes. Similarly, the polling in 2004 showed John Kerry closing the gap with President George W. Bush to within 1.5 points.Therefore, one could expect that we'd see some closing in the polls prior to Election Day regardless of whether or not the FBI Director had sent this letter to Congress or not. Given that, and given that there is so little time left between now and Election Day, it's going to be hard to say what impact a specific story like this will have on the race without directly asking voters, and that's not going to really be possible until after they've voted.
It's also worth noting that there is, contrary to convention wisdom, little evidence that so-called 'October Surprises' have the kind of impact on elections that many people have come to believe. FiveThirtyEight's Harry Enten goes back and looks at previous elections and events that were thought at the time to constitute an 'October surprise' at the time and his findings show that, in the end, they had little real impact on the outcome of the election as shown in the polls immediately before Election Day. As it turns out these events — which includes events such as President Johnson's decision to halt bombing of North Vietnam in 1968, the revelation the weekend before Election Day about George W. Bush's arrest for a previously undisclosed DUI in 1976, the release of an Osama bin Laden video just days before the election in 2004, the stock market crash late in the 2008 election cycle, or Hurricane Sandy four years ago — had almost no impact on polling and seemingly little impact on the outcome of the election. In fact, in all four cases, the candidate who was leading in the polls prior to the story breaking stayed there afterward and went on to win the election and there was only a small impact on their standing in the polls before the election. Enten's conclusion? These 'October surprises' had no real impact on the outcome of the election:
Some of the October surprises listed above (the halt in bombing in North Vietnam and Bush's DWl) appeared to have a modest effect on the polls. Others, less so. All told, these surprises moved the polls — from the week before to the final week — about 1 or 2 percentage points, on average. None of the surprises on this list moved the polls by more than 2 points.

Again, this isn't a full list, but it makes sense that late campaign news would have a limited impact. The later in a campaign an external shock occurs, the more voters have already made up their mind and the more impressions of the candidates are fixed. October surprises, in other words, may have less of an effect because they come in October.
As Enten goes on to note, this doesn't mean that a Clinton win is guaranteed, but it does mean that much of the news coverage we're likely to see from 'Breaking News' addicted cable networks over the next week, to the extent it focuses on speculation about this email story, will end up being much ado about nothing. But then, that's been true for much of this campaign hasn't it?