Economic Storm Clouds On The Horizon
The economy is in good shape for the moment but there are storm clouds on the horizon.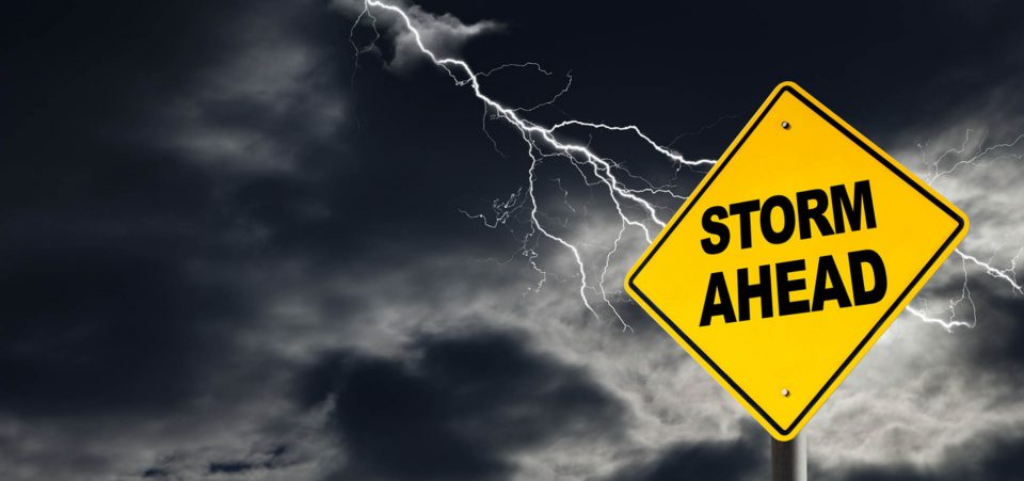 Statistically speaking, 2018 has been a pretty good year for the American economy by whatever measure you choose to by. As measured by the Commerce Department's quarterly reports of Gross Domestic Product, with annualized growth exceeding 3% on an annualized basis for both of the two most recent quarters. Both consumer and wholesale inflation, while somewhat higher from where it had been in recent years, remains under control. The job market, while not exactly booming, is strong according to the most recent Jobs Report while wage growth, which had been stubbornly stagnant for some time, appears to be finally moving in the right direction. Perhaps most importantly, consumer confidence and other measures show that the American public remains largely positive about the state of the economy. The best measure of this from a political standpoint can be seen in the fact that  that the President's job approval rate when it comes to the economy is far better than what it is generally, a sign that the economy is doing fairly well, although as I noted that did not help the GOP in the recent midterm elections. As I've noted before, the period of economic growth that we are currently experiencing began in June 2009 and has lasted 113 months, making it, to date, the second longest economic expansion in American history. The longest post-World War Two expansion took place between March 1991 and March 2001, a period of 120 months. (Source) At current trends, it seems likely that the current expansion will last at least long enough to surpass the recovery of the 1990s,
Even in the face of all this good news, though, the storm clouds for the economy are gathering:
WASHINGTON — Emerging signs of weakness in major economic sectors, including auto manufacturing, agriculture and home building, are prompting some forecasters to warn that one of the longest periods of economic growth in American history may be approaching the end of its run.

The economy has been a picture of health, expanding at a 3.5 percent annual pace during the third quarter and driving the unemployment rate to 3.7 percent, the lowest level in almost half a century. But General Motors' plan to cut 14,000 jobs and shutter five factories reinforces other recent indications that the better part of the expansion is now in the rearview mirror.

"We're in the 10th year of the expansion and there are some soft points," said Ellen Hughes-Cromwick, a former chief economist at Ford Motor Co. and the Commerce Department who is now on the faculty at the University of Michigan. "The auto sales cycle has peaked and the housing cycle also has peaked."

Ms. Hughes-Cromwick said higher interest rates, combined with rising inflation and faltering corporate confidence, could set the stage for a recession. In that scenario, she said, "I don't really see how the economy can keep powering ahead."

The vast majority of prominent economic forecasters, including various arms of the federal government and all of the major Wall Street banks, still regard continued growth as the most likely outcome for the American economy in 2019. But there is a broad consensus that the pace of growth will slow as the sugar high provided by the Trump administration's $1.5 trillion tax cut and spending increases begins to wear off. And some forecasters see a small, but growing, chance of a recession.

President Trump's chief economic adviser, Larry Kudlow, tried to play down such concerns on Tuesday, insisting that the overall health of the economy remained robust.

"There's a certain amount of pessimism I'm reading about, maybe it has to do with a mild stock market correction," Mr. Kudlow said, before describing such pessimism as misplaced. He rattled off recent economic data — including the most recent jobs report, which he described as "very spiffy" — to highlight the strength of the American economy, before his conclusion: "We're in very good shape."

Jerome H. Powell, the Federal Reserve's chairman, has also taken an optimistic line, declaring in Texas recently that he was "very happy about the state of the economy."

The basic cause for concern is a widening gap between the evident strength of the economy this year and weakness in economic indicators that look ahead to coming years. That gap was highlighted Tuesday in the latest data on consumer confidence, which showed Americans remained pleased with their present circumstances, but were less confident that growth would continue.

Investors are showing signs of concern about the ability of the corporate sector to maintain sky-high levels of profitability. Major stock indexes are roughly flat for the year.

Some businesses are starting to worry, too. Farmers are facing large losses because they cannot sell crops to China during a trade war between Washington and Beijing. Sales of new and existing homes have declined in recent months as interest rates rise. Auto sales, also vulnerable to higher rates, have been falling since 2016.

"This is a geriatric expansion," said David Kelly, chief global strategist at JPMorgan Funds.

Mr. Kelly noted that if economic growth continued through next summer, this would become the longest-running expansion of the American economy since at least the Civil War.
To be fair, the fact that an expansion has been going on for an extended period of time does not necessarily mean that it is any more vulnerable to being pushed back into recession than it was at the beginning stages. That being said, it's worth noting that the factors that drive economic growth do tend to become more difficult to stimulate as time goes on, and thus become more vulnerable to forces which could push the economy into recession. Jobs growth tends to slow down, for example, because there simply are fewer people competing for jobs and fewer people available or qualified to be hired for specific positions. Ordinarily, of course, this puts upward pressure on wages, although as I've said that's something we haven't seen in the course of this recovery to quite the extent that either economists or workers would like to see. Additionally, as the economy grows it becomes more likely that a combination of the impacts of fiscal and monetary policy will push the economy into recession, or that some outside force such as an international crisis or natural disaster will do so. Finally, as many economists have noted recently, the short-term economic stimulus provided by last year's tax cut package is already beginning to wear off, meaning that we're likely to see economic growth head back down to the 2.0% to 2.5% growth range that we've seen for most of the time since the summer of 2009 when it began. This will serve to make the economy more vulnerable to a downturn due to any of the number inside or outside sources already noted.
Given the fact that we are already in 113th month of a recovery that began nearly ten years ago, and that we are just seven months away from the point at which the current recovery will tie the longest such recovery in American history suggests that it's far more likely that we're close to the beginning of another recession than it is that we're headed for a period of economic growth that, quite honestly, is usually only seen in the early years of a recession when the economy is making up for ground lost in the preceding recession. Were the current recovery to last until the 2020 General Election, that would mean that it would be 137 months old. While it's certainly possible that we'll see this, the odds are that we won't. At the very least, it's likely that we'll see economic growth slow back down to the 2.0% to 2.5% range that we've seen for most of the recovery and that we aren't going to get anywhere close to the sustained 3.5% to 4.0% growth that Republicans promised we would see from last year's tax cut.
At some point, then, this current recovery is likely to end. At that point, the question will be whether we experience a relatively short recession such as those we experienced in the early 1990s and early 2000s or whether it ends up being something deeper and more widespread such as the Great Recession. Statistically speaking, most post WorldWar II recessions have tended to be short-lived, so it seems likely that this is what we're likely to see in the future. At the same time, though, it's possible that many of the bad habits we've developed over the past decades, such as increased government, business, and consumer debt, will lead to something more painful. Whatever it is, we better be prepared for it whether we want it to come or not.