Electoral College Best Case Scenarios
Stephen Green projects the best case and minimal winning scenarios for Obama and Romney.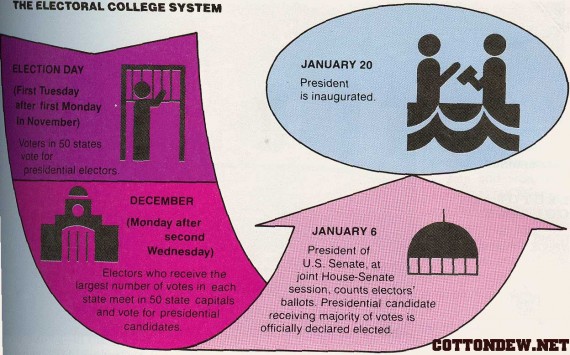 VodkaPundit Stephen Green reprises his long-running Wargaming the Electoral College series by projecting the best case and minimal winning scenarios for Obama and Romney.
I'll let you click through for the full effect but the best case for Obama is winning every state he carried in 2008 minus Indiana and North Carolina, yielding 332 Electors.  Romney's best case has him also peeling away Colorado, Florida, Iowa, Michigan, New Hampshire, Nevada, Ohio, Pennsylvania, and Wisconsin for 337 Electors.  Without even looking at the current polling, it should be obvious that Obama's best case is a helluva lot more likely.
The two "squeaker" scenarios are actually more interesting.
Green has Obama winning 270 to 268 by losing Ohio, Florida, Indiana, North Carolina, Colorado, and Iowa from his 2008 haul but hanging on to Nevada and Virginia. I can't see that happening. That is, as I noted in commenting on Doug's post on the dead heat in Virginia, I can't imagine the set of cultural and economic forces that would collide to have Obama both win Virginia and lose Ohio—much less Colorado.
The Romney scenario is more plausible:  "He picks up the expected IN and NC, along with FL, NH, OH, VA, to get exactly to 270. " The only real outlier there is New Hampshire; I'd think it would be easier to peel off Iowa (which would yield two more Electors).
My guess, though, is that we're not in for either a landslide or a squeaker. I accept Steve's premise that Obama has lost Indiana and North Carolina; it really took a perfect storm for him to win those deeply red states last time.  But my expectation is that either Obama will get a boost toward the end of the race and thus hold on to Ohio, Virginia, Pennsylvania, and New Hampshire or that the undecideds who are not sold on Romney will finally decide the Devil They Don't Know is better than the One They Know and he'll pick up enough momentum to win comfortably.