Elena Kagan And Antonin Scalia: Hunting Buddies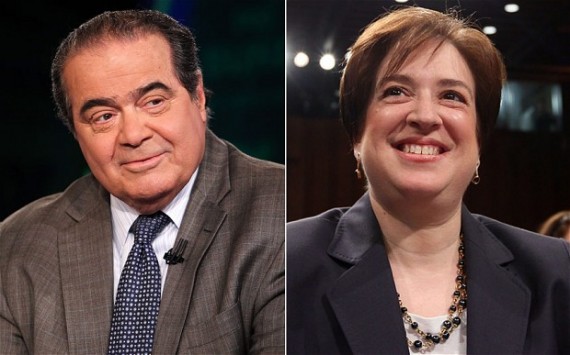 Justice Antonin Scalia has had been known for some time as someone who hasn't let political disagreement get in the way of good relationships with his colleagues, as his long friendship with Justice Ruth Bader Ginsburg attests. Now, it appears that he's also been bonding with the Court's newest Justice:
Washington (CNN) – Justice Elena Kagan has some exciting news: "I shot myself a deer."

New York City native Kagan revealed over the weekend that she and conservative colleague Justice Antonin Scalia have expanded their hunting forays.

Last year, "he said 'it's time for big-game hunting.' So we actually went out to Wyoming this past fall to shoot deer and antelope," Kagan said, revealing some rare inside information about the justices and their interactions with each other outside the court.

The newest has become fast friends with one of the most conservative, and had earlier indicated they had been hunting for quail four or five times.

All this started when President Barack Obama nominated Kagan, 53, to the high court in 2010 and she made the rounds with senators. Many of those private meetings involved questions about her views on hot-button issues.

"The NRA (National Rifle Association) has quite a presence in judicial confirmations," Kagan told an audience at the Aspen Ideas Festival on Saturday.

"And quite a few senators ask you your views on the Second Amendment," she said.

While refusing to reveal how she would vote on such cases, Kagan promised to keep an open mind.

(…)

"But I told the senator if I was fortunate enough to be confirmed, I would go hunting with Justice Scalia," she said.

And that promise has been kept, first joining him on an excursion to a Washington-area shooting range and then on several hunting trips.

(…)

"We get along remarkably well," she told the Aspen audience. "There are true and genuine friendships. It's true the (ideological) disagreements test people's capacity to work together, but to come back the next day and find your colleague just as delightful as you found him the day before — we're all grownups and we manage to do that, and the court is full of great people," she said.

"We schmooze more than people think we do," she added.

What's next? Duck hunting, Kagan said.
Just don't bring former Vice-President Cheney along.