Elizabeth Warren And The Commander In Chief Test
So far at least, Elizabeth Warren is not doing a good job of articulating her foreign policy positions. That needs to change if she's going to be a serious candidate.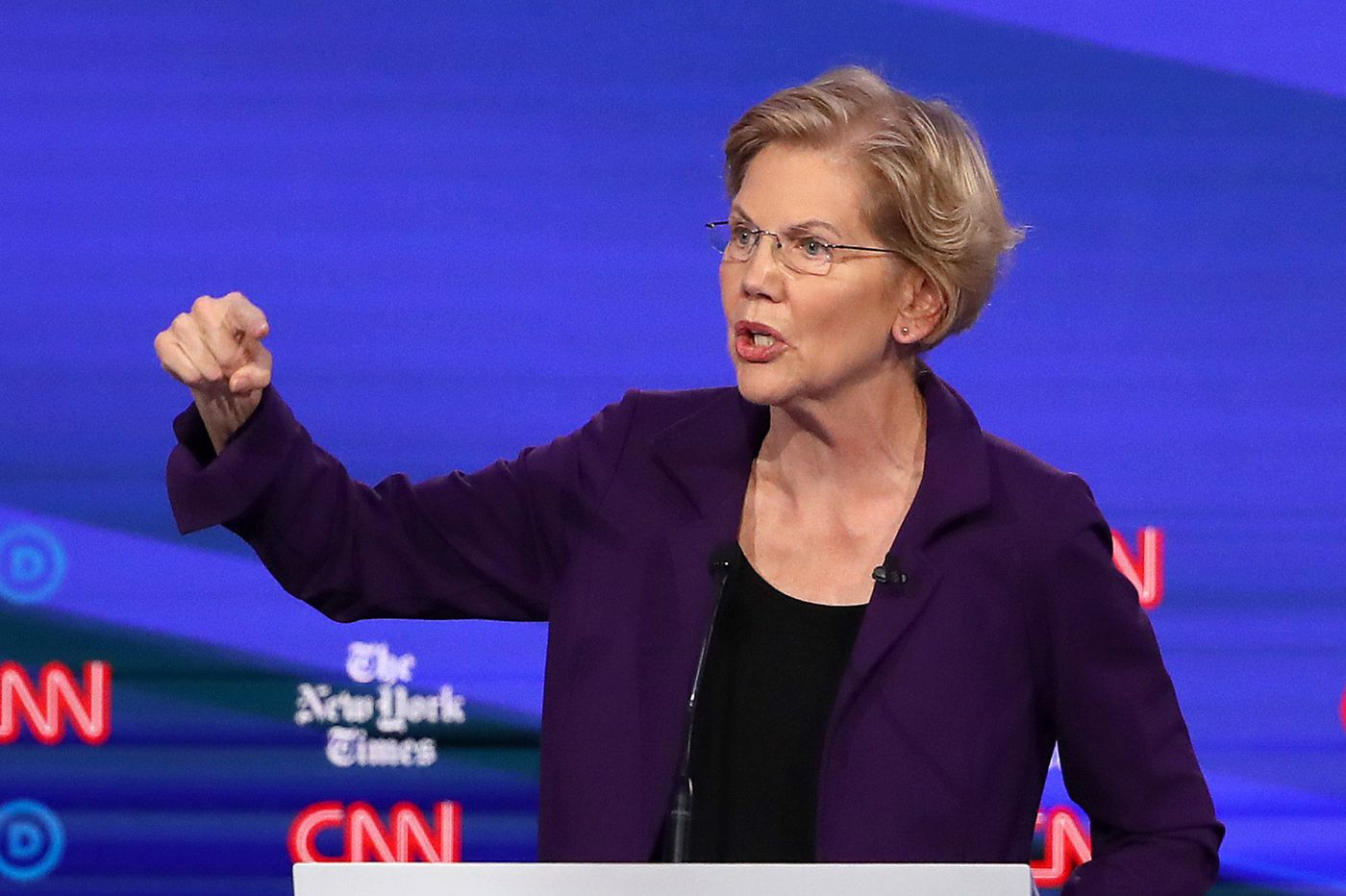 Writing in The Washington Post, Josh Rogin argues that Elizabeth Warren is failing the "Commander In Chief Test" in her responses regarding the unfolding crisis in Syria and other vital national security issues:
It should be obvious this week that the United States needs a president who has the foreign policy chops to speak clearly about the United States' role in the world and has a real plan to keep our country safe. Sen. Elizabeth Warren's (D-Mass.) ascendance to pseudo-front-runner status compels us to examine if she is meeting that test — and based on her recent performance, she is failing.

"So, look, I think that we ought to get out of the Middle East. I don't think we should have troops in the Middle East. But we have to do it the right way, the smart way," Warren said at Tuesday's Democratic debate. "We need to get out, but we need to do this through a negotiated solution. There is no military solution in this region."

Realizing their candidate had made a gaffe, the Warren campaign sent out a mid-debate tweet in which "Warren" declared that we need to get our troops out of "Syria," not the entire Middle East. Campaign spokesperson Alexis Krieg told me in an email Warren "was referring to 'combat troops' since we have multiple non-combat bases, in UAE, Qatar, Bahrain, etc and she did not mean those."

"She believes we need to end the endless wars. That means getting all U.S. troops out of combat in the Middle East and using diplomacy to work with allies and partners to end conflicts and suffering in the region and around the world," Krieg said.

The spin was worse than the gaffe. Does Warren (or the Warren campaign) not know that the United States' Al Udeid base in Qatar flies "combat" missions fighting terrorists, including in Iraq and Syria, all the time? What is a "non-combat base" anyway? Are the U.S. bases in Iraq, to which our troops in Syria are now withdrawing, combat bases? Does Warren want to remove all U.S. troops from Iraq? The campaign declined to answer any of these questions.
The title of Rogin's column accuses Warren of failing the "Commander in Chief" test. This, of course, refers to the fact that Warren, along with her fellow Democrats is running to fill a position that has a tremendous amount of power when it comes to foreign policy, most of it largely independent of Congressional review. The current President has made clear that random comments, Tweets, press statements, or Presidential phone calls could have broad implications for our national interests and for the fate of American troops, citizens, and allies around the world. Given this, it's vital that any person running for President needs to be able to establish that they are sufficiently informed in the area of foreign policy and that they have an understanding of the implications of the often overly-generalized statements they make during the course of the campaign. So far at least, Warren, who is now properly receiving new scrutiny given her rise in the polls, has not established that she's done that.
Rogin is correct, for example, that Warren's response to the question posed Tuesday night was, at best, confusing and that the campaign's attempt to explain it didn't really help the situation any further. Saying we need to get our troops "out of the Middle East," or even to just limit it to "combat troops" ignores the rather obvious implications and follow-up questions that position raises, many of which Rogin touches upon in his column.
I say this as someone who agrees with the general idea that we need to end the "endless wars" and that Congress needs to reassert itself when it comes foreign policy, especially with respect to the so-called "war on terror" and the Authorization for Use of Military Force (AUMF) that was passed in October 2001 in the wake of the September 11th attacks. That AUMF has been used to justify not only seventeen years of American involvement in Afghanistan but also attacks in Yemen, Syria, and across Central Africa. Both the Obama and Trump Administrations have used it to expand the war against ISIS in Iraq and Syria even though ISIS did not exist in October 2001 and was most assuredly not responsible for terror attacks that took place before it exists. Clearly, we need to disengage from some of these commitments, and drastically rethink others.
At the same time, though, the events of the past several weeks in northern Syria make clear that any such change in existing policy needs to be done responsibly rather than hastily. It also needs to be done in a way that doesn't encourage bad actors such as the Syrian government, Russia, and ISIS and we need to be careful to ensure that how we act doesn't send the wrong signal to potential adversaries and allies alike. This is why the simplistic " we ought to get out of the Middle East" answer that Warren gave at the debate tends to show a rather obvious naivete and inexperience on Warren's part that you won't find in the more nuanced opinions of her primary opponent former Vice-President Joe Biden.
As Rogin goes on to note, this isn't the first time that Warren has spoken on these issues, but it does not seem as though she's given any more thought to the details of her foreign policy, or shown much evidence that she has learned anything:
It's not as if Warren is unthoughtful or inexperienced on foreign policy. She's a member of the Senate Armed Services Committee. She has traveled to the war zones. Last November, she gave a foreign policy speech that sought to define her worldview. It called for a new foreign policy based on progressive trade and economic policies, cutting the defense budget and ending "reckless, endless wars in the Middle East."

But now that President Trump is ending the United States' military involvement in one of those wars, the "endless war" crowd seems incapable of saying exactly how they would have done it different. They are the dog that caught the car. Warren can't connect the foreign policy she envisions on paper with the events that are unfolding before our eyes.

Pete Buttigieg put his finger on the larger problem with Warren's stance Tuesday night. He was responding to Rep. Tulsi Gabbard (D-Hawaii) and Sen. Bernie Sanders (I-Vt.) who, like Warren, want to end the "endless wars," but without a practical plan for how to combat the ongoing threats.

"When we abandon the international stage, when we think our only choices are between endless war or total isolation, the consequence is the disappearance of U.S. leadership," he said.
Buttigieg is correct here. If we're going to disengage we need to do so in a way that doesn't create more problems than it solves. While this is often used as an excuse to slow disengagement down to the point where it seems like it's never going to happen, as has been the case with Afghanistan, it's also something that needs to be taken into account. President Trump arbitrarily decided to remove what amounts to a handful of troops from northern Syria and the result has been an invasion by Turkey that has stabbed our allies the Kurds in the back and inured to the benefit of Turkey, Syria, and Russia. When it became clear that this decision was disastrously stupid, the President papered over it with a ceasefire that gives Turkey everything it wants, forces the Kurdish military forces and the civilians they were protecting into far more dangerous parts of Syria, and strengthens Syria and its patron Russia, who have taken on their new role as protector of the Kurds.
As I've stated several times during the Trump Presidency, one of the biggest tasks that the next President, whether they come in 2021 or 2025, is likely to face is cleaning up the mess that this President has made of the world. Over the past several years, this President has succeeded in driving a wedge between the United States and our allies — as I have previously noted here, here, here, and here — while at the same time coddling dictatorships and authoritarian rulers in Russia, Egypt, Saudi Arabia, China, and North Korea. He has needlessly rejected international agreements such as the Joint Comprehensive Plan of Action (JCPOA), the first agreement that brought Iran's nuclear program under international monitoring, the Trans-Pacific Partnership, the Intermediate-Range Nuclear Forces Treaty, and the Paris Climate Accords. And, he has helped to create a far less stable and more uncertain world that future Presidents will have to deal with. Fixing all of this, assuming it even can be fixed, is going to be a full time job for the President who succeeds Trump. Because of that, it's essential that this successor be someone who can do more than just spout generalities.
It's still early in the campaign, of course, and Warren is going to be around long enough that there would seem to be plenty of time for her to lay out a better, broader-reaching explanation of what her foreign policy positions are. Perhaps, as other candidates have in the past, she'll deliver a detailed speech on the matter at some point in the future. As things stand, though, the answers we've gotten from Warren so far on these issues constitute little more than slogans that don't seem to recognize the inevitable follow up questions that an open comment about ending endless wars. As the current events in northern Syria demonstrate, we live in a complicated world, and it's just not as simple as that.