Eric Cantor For RNC Chairman?
A new job for the Congressman recently filed by his own constituents?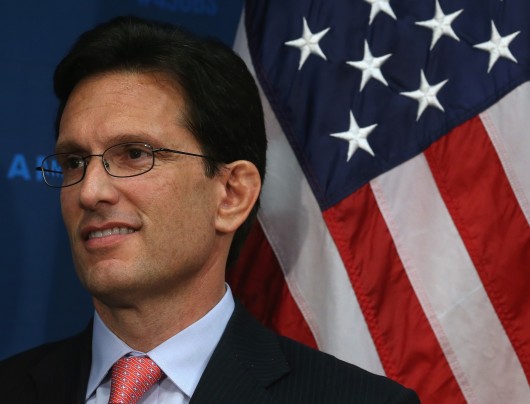 Former Republican National Committee Chairman Michael Steele suggests that just-defeated Congresman Eric Cantor could be on the short list to succeed Reince Priebus at the RNC:
Eric Cantor, next Republican National Committee chairman?

Former RNC chair Michael Steele thinks it's a possibility after the House majority leader wasdefeated Tuesday in a Virginia Republican primary.

"With the upcoming presidential election, there's a lot of interest in Eric Cantor serving as national chairman of the RNC," Steele said Saturday on MSNBC's "Up With Steve Kornacki."

"In fact I think he'd be interesting because he started dialogues on poverty and some other issues that were sort of outside of what Republicans have traditionally talked about. So he could bring a very interesting voice into that space," he said.
I haven't seen any indications that Priebus would decline to stand for re-election when his term is up, but assuming he doesn't I'm not sure that Cantor would be the right person for the job First of all, the idea of a candidate who lost his own party's nomination becoming the head of the party is just, well, odd from an imaging point of view. Second, Cantor likely wouldn't have the backing of the Tea Party wing of the party, which has injected itself into the Chairman's race several times since 2010. It seems unlikely that they'd find Cantor, who many of them viewed as a squish on issues like immigration and the debt ceiling, as an acceptable choice to replace Priebus.
The bigger issue here, though, is that it has occurred to me for quite some time now that both major parties have turned the National Committee Chairmanship into something that it really shouldn't be. Until very recently, the only real job of the party chairman was to raise money and oversee the quadrennial Presidential nomination process. It was quite rare to see the RNC or DNC Chairperson on television as a "talking head" for their party, and that was because that was never supposed to be their role. They are fundraising people, not policy people. In the past, their appointment was typically something that was left to party insiders, and in the case of whichever party happened to be in control of the White House, the party chairperson would typically be someone hand-picked by the President himself. These people are supposed to be their party's CEO, not its Press Secretary. They don't need to be showing up on cable news as much as Priebus and Debbie Wasserman Schultz do and, indeed, it's more often the case that a party chairman ends up saying something that causes political headaches for his or her party (Steele himself was an master at this during his tenure at the RNC).
There was a time when party chairpersons were seldom seen and rarely heard from. Maybe we ought to return to those days and everyone should stop putting so much emphasis on who the Chairperson is at a given point in time.