Europe's Far Right Finds A Friend In Putin
The European far right has found a friend in an unlikely place.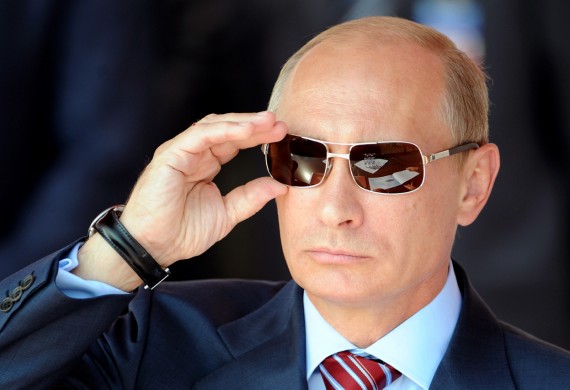 The New York Times' Andrew Higgins notes that far-right groups throughout Europe seem to be flocking to Vladimir Putin's banner, at least rhetorically:
LE CHESNAY, France — At a rally last week near the Palace of Versailles, France's largest far-right party, the National Front, deployed all the familiar theatrics and populist themes of nationalist movements across Europe.

A standing-room-only crowd waved the national flag, joined in a boisterous singing of the national anthem and applauded as speakers denounced freeloading foreigners and, with particular venom, the European Union.

But the event, part of an energetic push for votes by France's surging far right ahead of elections this week for the European Parliament, also promoted an agenda distant from the customary concerns of conservative voters: why Europe needs to break its "submission" to the United States and look to Russia as a force for peace and a bulwark against moral decay.

While the European Union has joined Washington in denouncing Russia's annexation of Crimea and the chaos stirred by pro-Russian separatists in eastern Ukraine, Europe's right-wing populists have been gripped by a contrarian fever of enthusiasm for Russia and its president, Vladimir V. Putin.

"Russian influence in the affairs of the far right is a phenomenon seen all over Europe," said a study by the Political Capital Institute, a Hungarian research group. It predicted that far-right parties, "spearheaded by the French National Front," could form a pro-Russian bloc in the European Parliament or, at the very least, amplify previously marginal pro-Russian voices.

Pro-Russian sentiment remains largely confined to the fringes of European politics, though Mr. Putin also has more mainstream admirers and allies on both the right and the left, including Silvio Berlusconi, the former Italian prime minister, and Gerhard Schröder, the former German chancellor. Mr. Putin's authoritarian leanings and pugnacious nationalism have generated widespread and diverse opposition to him across Europe; at a gay pride event in Brussels on Saturday, marchers wore masks featuring Mr. Putin's face, colored pink and daubed with blue eye shadow and red lipstick.

Even among far-right groups, the sympathy for Russia and suspicion of Washington are in part tactical: Focused on clawing back power from the European Union's bureaucracy, they seize any cause that puts them at odds with policy makers in Brussels and the conventional wisdom of European elites.

But they also reflect a general crumbling of public trust in the beliefs and institutions that have dominated Europe since the end of World War II, including the Continent's relationship with the United States.

"Europe is a big sick body," said Alain de Benoist, a French philosopher and a leading figure in a French school of political thought known as the "new right." Mr. de Benoist said Russia "is now obviously the principal alternative to American hegemony." Mr. Putin, he added, is perhaps "not the savior of humanity," but "there are many good reasons to be pro-Russian."
I've noted in the past the prevalence of some American conservatives to say positives things about Vladimir Putin and Russia — see here, here, and here, for example. In many cases, these positive comments about Putin are obviously motivated primarily by a desire to undermine President Obama by comparing him negatively to Russia's President, who has manufactured an image for himself as an assertive leader. In other cases, though, the praise seems to be motivated by genuine support for Putin's attempts to portray himself as a protector of Christians, both in Russian and in places such as Syria, and recent Russian legislative moves that have enacted anti-gay policies such as those that drew criticism prior to the Sochi Olympics. And, indeed, that's a large part of what seems to attract the European far-right as well, although much of their expressed support for Putin seems to be rooted in opposition to the European Union:
Luc Michel, the Belgian head of the Eurasian Observatory, which receives some financial support from Russian companies but promotes itself as independent and apolitical, champions the establishment of a new "Eurasian" alliance, stretching from Vladivostok in Russia to Lisbon in Portugal and purged of American influence. The National Front, preoccupied with recovering sovereign powers surrendered to Brussels, has shown little enthusiasm for a new Eurasian bloc. But it, too, bristles at Europe's failure to project itself as a global player independent from America, and looks to Russia for help.

The European Union, said Marion Maréchal-Le Pen, a member of the French Parliament and a niece of Marine Le Pen, is "the poodle of the United States."

Russia offers the prospect of a new European order free of what Mr. Chauprade, in his own speech, described as its servitude to a "technocratic elite serving the American and European financial oligarchy" and its "enslavement by consumerist urges and sexual impulses."
It's worth noting, of course, that for the most part the far right in Europe remains a sometimes loud, but generally politically powerless entity. With limited exceptions where they have been very junior members of a coalition government, these far right parties have remained on the fringe of politics in pretty much every nation where they have arisen. There's no guarantee that this will continue forever, however, and there have certainly been signs in nations ranging from France to Denmark to the United Kingdom, where the UKIP seems to be making a bid to contest the elections coming up in 2015, that the anti-European far right has gained greatly from the state of economy in the years since the Great Recession. This has certainly been the case in the nation's most affected by the Eurozone crisis, such as Greece and certain parts of Eastern Europe. These parties have also profited from the influx of Muslim and other immigrants into Europe, and the changes to the cultures of those nations have taken place because of that. The possibility that this could translate into greater success certainly exists. After all, Europe has a long history of lurching into fascism in times of crisis.
How the European far right's apparent newly found love for all things Putin is unclear. However, we've already seen the difficulties the United States has faced in creating a united front with its European allies when it comes to sanctions against Russia over its actions in Ukraine. If groups like this start to become a louder voice in European politics, then creating that united front in other situations could become even more difficult.