Evangelical Leaders Back Santorum, Unaware They're Irrelevant
150-plus evangelical leaders are trying to derail the Romney Express. They're going to get run over.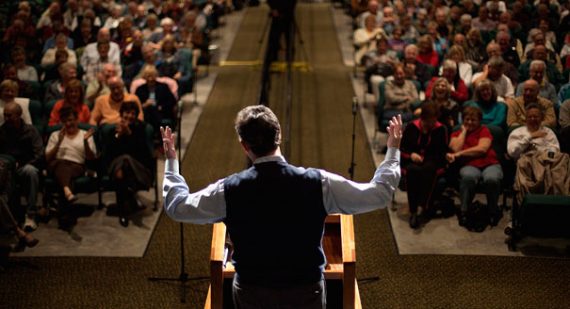 In an effort to halt the runaway train Mitt Romney is taking to the 2012 Republican nomination, evangelical leaders have backed Rick Santorum. It won't matter.
Politico ("Social conservatives back Rick Santorum"):
The group of social conservative leaders meeting in Texas this weekend has thrown their support behind Rick Santorum, giving the GOP hopeful a much-needed boost a week before the pivotal South Carolina primary.

In a conference call this afternoon, Family Research Council chief Tony Perkins said that on the third ballot Santorum won a solid majority of votes from the movement conservatives gathered at a private ranch near Houston. Of 114 votes cast, Santorum won 85. Newt Gingrich took the remainder. In a remarkable slap in his home state, Rick Perry didn't even make it past the first ballot, Perkins said.

Santorum backers were already taking to Twitter in the moments after Perkins announced the decision to tout the news. The former Pennsylvania senator, largely absent from the political conversation since finishing well behind Mitt Romney in New Hampshire and staying out of the Bain debate, is badly in need of a lift. In that sense, the endorsement is well-timed.

"It's a validator that people who have been out there, in the fields laboring for the conservative cause, see us as someone who can not only stand and fight for the causes, but effectively fight and win.," Santorum told reporters at his Mt Pleasant, S.C., headquarters. But he refrained from calling on any of his rivals to drop out and help unite conservatives. "That's up to them," he said. "They're going to make that decision."
CBN Beltway Buzz ("Evangelicals Throw Support to Santorum") asks, "So what does this mean?" Answering their own question, they declare, "Expect conservative groups to start individually motivating their constituents to work for Santorum. Also look for more money and resources to start pouring into Santorum's campaign. No question about it, this is excellent news for Santorum's camp and a major blow to the Gingrich and Perry camps."
The problem with that is that none of these people have the political clout that Jerry Falwell had in the early 1980s.  They may well be useful in getting people to rally behind the eventual Republican nominee–even Mitt Romney–but there's little evidence that they have any sway in the Republican primaries, where most of the candidates are Christian conservatives. Recall the poor performance over the years of self-anointed evangelical leaders like Pat Robertson, Gary Bauer,  and Ralph Reed when they've run for political office; none were successful in winning the Republican nomination.
Had they rallied behind Santorum right after his Iowa win/tie/second place finish, they might have been more impactful. But Santorum finished in fifth place in New Hampshire and lost both his momentum and his claim to being the conservative alternative to Romney.
Right now, Romney holds a commanding lead–21 points in the latest Reuters/Ipsos poll–in South Carolina. Santorum is tied with Ron Paul for a distant second. If that holds up through the election, the pressure will continue to mount for the other candidates to drop out of the race or at least refrain from attacking Romney, who will be seen as the inevitable nominee after three straight victories.
If Gingrich and Perry drop out of the race and throw their support to Santorum, he could theoretically still win the nomination. But it's far more likely that one or both will hang around through Florida, if not Super Tuesday. In any case, the endorsement by Perkins and his friends will be  a distant memory by then.