Even If Clinton Wins, Don't Expect Supreme Court Justices To Start Retiring Immediately
Early indications are the Ruth Bader Ginsburg and other older Justices don't plan on leaving any time soon.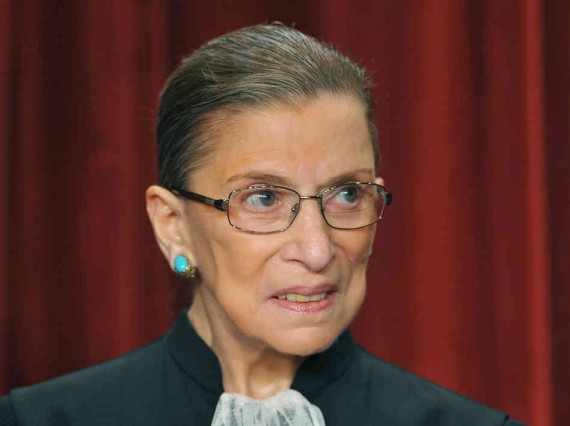 In addition to possibly filling the vacancy left by the death of Antonin Scalia, which depends on what the Senate does with the nomination of Merrick Garland before December 31st, it has long been assumed that the next President would have the opportunity to remake the Supreme Court in a way unseen since Richard Nixon, who appointed four Justices to the court during his time in office, and Ronald Reagan, who appointed three and elevated William Rehnquist from Associate Justice to Chief Justice of the United States. The main reason for this, of course, is the fact that there are three Justices above the age of 75, and as of March 2016, two of those will be eighty years old or older. Additionally, in the past Justice Ruth Bader Ginsburg has hinted that she would likely step down at some point if the next President is a Democrat. As Washington Post Supreme Court Robert Barnes reports, though, we shouldn't expect those resignations to come any time soon:
For those envisioning a line of moving vans at the Supreme Court and a new president immediately reordering life at the marble palace, this small splash of cold water:

Justice Ruth Bader Ginsburg, 83, has already hired the four clerks who will assist her through June 2018.

Above the Law, the legal website that follows the anointing of Supreme Court clerks pretty much the way Variety chronicles casting the latest Steven Spielberg film, reports that several justices, including Ginsburg, have finished the hiring process for the term that begins in October 2017.

That doesn't mean that nothing will change between now and then, or that the next president won't have a dramatic impact on the high court.

But as refreshing as it is to see the Supreme Court at the center of the presidential campaign, it is worth remembering that a president's chance to nominate a justice is one of the least predictable events in American politics.

"Generally, it is God who decides whether presidents get Supreme Court appointments," says longtime Supreme Court practitioner Walter Dellinger.

It is natural to look at Ginsburg; Justice Anthony M. Kennedy, 80; and Justice Stephen G. Breyer, 78, and conclude that whoever moves into the Oval Office next January has the chance to leave a lasting legacy. The partisan battle to fill the late Justice Antonin Scalia's seat rages still, and President Obama's choice of Merrick Garland awaits his fate.

The outcome will tilt the court to the left, or it could leave conservatives in control.

Republican Donald Trump has made that clear, as he's trying to use the power to appoint justices as a way to try to bring reluctant conservatives in line.

"If you really like Donald Trump, that's great, but if you don't, you have to vote for me anyway. You know why? Supreme Court judges," he said at a July 28 rally in Cedar Rapids, Iowa. "Sorry, sorry, sorry — you have no choice."
In Ginsburg's case, the fact that she's hired clerks not only for the term that begins this October, but also the one that begins October of next year seems to be a strong indication that she intends to stay in office until at least that point, but that isn't entirely a surprise. First of all, Ginsburg is obviously well enough informed of what's going on outside the Court to know that, even assuming Hillary Clinton wins the election, she is likely to have the first months of her term consumed with seeking the confirmation of her choice to succeed Antonin Scalia, which may or may not end up being Merrick Garland, unless the Senate acts prior to her taking office. The Administration would likely be busy with pushing its early legislative agenda. Adding an additional Supreme Court appointment on top of that would merely contribute to the political circus. Ginsburg's Clerk hiring indicates that, barring medical necessity, she likely plans to stay in office at least through the term that ends in June 2018 and perhaps longer than that. The oldest person ever to serve on the Supreme Court was Oliver Wendell Holmes Jr., who served until he was 90 years old. If Ginsburg served that long, that would mean she would still be on the bench at the conclusion of the term that begins in October 2022. Additionally, whether she lasts that long or not, though, Ginisburg may decide to stay a bit longer because, even though she is likely near the end of her tenure on the Court she finds herself more relevant than she has ever been given the changes to the make up of the Court created by Justice Scalia's death:
She would be the senior justice among the five appointed by Democratic presidents, with a liberal majority that hasn't existed on the Supreme Court for more than 40 years.

That is important for a reason. When conservative Chief Justice John G. Roberts Jr. is in the majority, he either writes the opinion of the court or decides who will. But if not, the prerogative falls to the senior justice on the prevailing side.

If the majority in a case is composed of only the five liberals, that would mean Ginsburg would either write the opinion or decide who gets the job.

As she pointed out in a public appearance this summer, that's an opportunity that never before has been available to her. It would seem to be one she would not lightly give up by retiring.

Ginsburg and her fellow liberals have been successful in recent terms by sticking together on the issues they consider important and then drawing the needed fifth vote from one of the conservatives. It is almost always Kennedy.
Ginsburg is in apparently good health despite her advanced age, and she clearly seems to enjoy her work, so it's not entirely surprising that she might decide to stick around longer than some Court observers might suspect. That's not to say that a President Clinton might not have an opportunity to appoint a Justice or two in a first term, of course. Unlike Justice Ginsburg, neither Justice Breyer nor Justice Kennedy has hired their full compliment of Clerks for the 2017-2018 term, although there is plenty of time for that between now and next October, and given the fact that Justices Thomas and Sotomayor, who most likely aren't going anywhere any time soon, also have not completed their hiring for the October 2017 term this isn't necessary a good indicaton of the intentions of either Kennedy or Breyer. Additionally, while the retirement of any Supreme Court Justice is important, it's worth noting that Ginsburg's retirement, and Breyer's, won't really change the balance of the Court significantly if Hillary Clinton wins the Presidency. That change won't come until Justice Kennedy retires, and we have no indication of when that might happen.