Family: Osama bin Laden Executed
Safia bin Laden says that her infamous father was caught alive by U.S. forces and murdered in cold blood.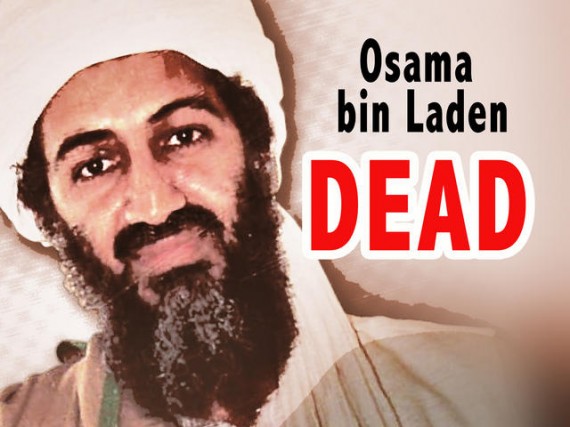 Safia bin Laden says that her infamous father was caught alive by U.S. forces and murdered in cold blood.
UPI ("Bin Laden family narrative surfaces"):
A family member claims al-Qaida leader Osama bin Laden was captured alive at his compound in Pakistan and executed on the ground floor of the compound.

Safia bin Laden, one of the terrorist leader's daughters, allegedly told Pakistani interrogators that a special team of U.S. military personnel captured her father alive.

She added that he was initially taken alive but executed at point-blank range on the ground floor of his compound, London's pan-Arab daily Asharq al-Awsat reports.

U.S. President Barack Obama announced that bin Laden was killed early Monday during a firefight at a fortified compound near one of Pakistan's elite military academies.

The narrative of the assault has evolved, however, and conspiracy theories are developing as the Obama administration refuses to release photographic evidence that bin Laden is dead.

The narrative provided by the White House says bin Laden was killed apparently on the second or third floor of the compound. He wasn't armed at the time.
The intelligence and military communities did a fantastic job in this mission. And President Obama and his senior team deserve enormous credit for not politicizing it. Key Members of Congress were properly kept in the loop during the planning stages. The courtesy advanced phone call to President Bush and the invitation to join his successor at Ground Zero were the pinnacle of class.  And Vice President Biden and others have graciously spread the credit around, emphasizing that this was an American success story several years in the making, not simply an achievement of a Democratic president. The president deserves and will get plenty of credit, regardless.
But the administration has not covered itself in glory in the public handling of the aftermath. As Stephen Green puts it, "The plan for killing Osama Bin Laden was perfectly conceived and as perfectly executed as any special forces operation since Israel's raid on Entebbe. But the follow-through has been strange at best, sometimes bordering on incompetence."
I'm not sure whether they got the decision not to release the Osama death photo right, but I understand and respect their reasoning.
Indeed, I don't have any heartburn with any of the decisions–the burial at sea vice keeping OBL's body intact, not telling the Pak government ahead of time, or any of it. Hard decisions had to be made and the president made them, seemingly weighing the right considerations.
But they've had a difficult time getting their story right. Was this a kill on sight mission, or were the SEALs instructed to capture bin Laden if possible? Was he armed or not? Did he resist or not? Was there a woman standing in front of him or not? Was she his wife or not?
Aside from the last of these, these are easy details to sort out quickly–and before the president and his senior team talks about them to the American public and the world. The fact that they have fumbled the narrative matters considerably, in that they give credence to conspiracy theories and to charges like those being made by Safia bin Laden.
Do I believe Navy SEALs captured Osama alive and then murdered him? No. It would not only be a war crime but a huge intelligence blunder; neither would be in keeping with the best of the best of American fighting men. But the inconsistent stories put out by the administration help plant seeds of doubt.