First Quarter GDP Final Revision Puts Growth Below 2.0%
First Quarter economic growth was weaker than originally estimated. What that means for the future is unclear.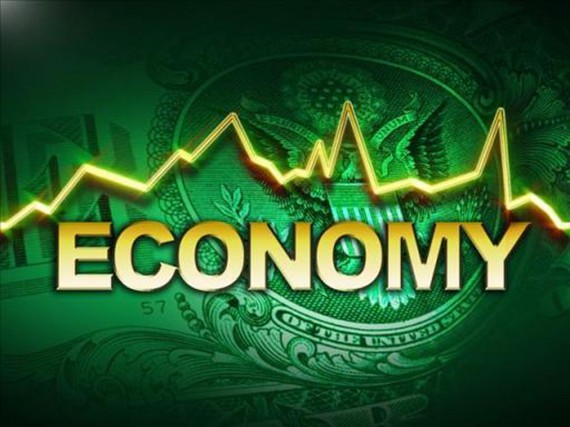 When the initial estimate of Gross Domestic Product growth was unveiled in April and revealed to be 2.5%, the general consensus was that this was generally good news even if it did come in below what had been estimated at the time. A month later, when it was revised slightly downward to an annualized growth rate of 2.4%, it still seemed like generally good news notwithstanding the slight download. Today, though, we got the final revision and things aren't looking nearly as good:
U.S. economic growth was more tepid than previously estimated in the first quarter, held back by a moderate pace of consumer spending, weak business investment and declining exports.

Gross domestic product expanded at a 1.8 percent annual rate, the Commerce Department said in its final estimate on Wednesday. Output was previously reported to have risen at a 2.4 percent pace after a 0.4 percent stall speed in the fourth quarter.

Economists polled by Reuters had expected first-quarter GDP growth would be left unrevised at 2.4 percent. When measured from the income side, the economy grew at a 2.5 percent rate, slower than the fourth-quarter's brisk 5.5 percent pace.

Details of the report, which showed downward revisions to almost all growth categories, with the exception of home construction and government, could cast a shadow over the Federal Reserve's fairly upbeat assessment of the economy last week.

Though the data is fairly backward looking, it comes as financial market conditions are tightening after Fed Chairman Ben Bernanke said last week the U.S. central bank would likely begin to slow the pace of its bond-buying stimulus later this year and stop the program in 2014.

Economists fear that could undercut growth, which has recently shown signs of picking up.

Consumer spending, which accounts for more than two-thirds of U.S. economic activity, increased at a 2.6 percent pace rather than 3.4 percent. The revision largely reflected weak outlays on health care services.

Consumer spending grew at a 1.8 percent rate in the fourth quarter of last year.

Exports, previously reported to have grown, actually contracted at a 1.1 percent pace in the first quarter, cutting 0.15 percentage point from GDP growth. That likely reflects a slowdown in the global economy.
More analysis from the Associated Press:
Much of the change reflected a lower estimate for spending on services such as heat and electricity. Export growth was also trimmed as was investment spending by businesses in buildings.

An increase in Social Security taxes on Jan. 1 has reduced take-home pay for most Americans. A person earning $50,000 a year has roughly $1,000 less to spend, while a high-earning couple has less than $4,500.

Many economists had thought that the tax increase, along with steep government spending cuts, would start to affect consumers in the second quarter, which ends next week. But the revision suggests the tax increase may have hampered consumer spending a little earlier than thought.

Economists had predicted that growth would rebound to a rate of around 2.5 percent in the July-September quarter and to more than a 3 percent rate in the final three months of the year.

The Fed's latest economic projections are for growth of 2.3 percent to 2.6 percent this year. And it predicts that growth will accelerate next year to as much as 3.5 percent.

The latest reports have been encouraging. U.S. factories are fielding more orders. Home sales and prices are rising, signaling a stronger housing recovery. Spending at retail businesses rose in May. And employers added 175,000 jobs last month, which almost exactly matched the average increase of the previous 12 months.
I noted last week, of course, how inaccurate Federal Reserve projections have been of late, so I'd take those numbers with a grain of sale at the very least.
On the whole, the First Quarter numbers are at the very least better than what we saw in the final quarter of 2012, but that's mostly because we ended 2012 with an economy that was growing so slowly that it as barely actually growing. The growth rate for the economy in that quarter was a paltry 0.4%, which is about as close to stalling as you can get with actually doing so. When the numbers for the First Quarter came out in April, it seemed like we'd managed to shake those end of 2012 doldrums off and get the economy moving forward. Indeed, there have been some some small signs that this is the case. The Housing market has been moving forward quite strongly and finally appears to be moving out of the crater that it had fallen in more than five years ago. Job growth, while nothing to write home about, and certainly not sufficient to bring about an end to the jobs recession any time soon. As noted above, though, one area that seems to be a potential problem for the economy is exports.  As weak as the economy might be here in the United States, the situation in Europe and elsewhere is worse. Even China seems to be experiencing no small degree of economic uncertainty due to questions about the health of its banking system. To the extent our economy is connected with others, we're going to feel at least some of the impact of what's going on in the rest of the world, and that's what were' seeing in those export numbers.
What this means going forward is anyone's guess. Private economic forecasts for the Second Quarter roughly match what we've seen from the government, but the fact that we now have a revision showing that First Quarter growth was much weaker than originally estimated may cause some analysts to rethink their positions. Additionally, recent comments from the Federal Reserve about the inevitable end of Quantitative Easing, which sent shockwaves through Wall Street, suggest that there's a big debate going on right now about whether or not its time for the Fed to stop trying to sweet talk the economy along. If they end up doing that any time soon, we may find that much of the positive news we've seen over recent quarters was a result of artificial manipulation by the Fed rather than real economic progress.
So, hang on to your seats because things might just be getting bumpy.