First West Virginia Poll Shows Morrisey Leading Manchin
Joe Manchin looks to be facing a strong challenge from Patrick Morrisey.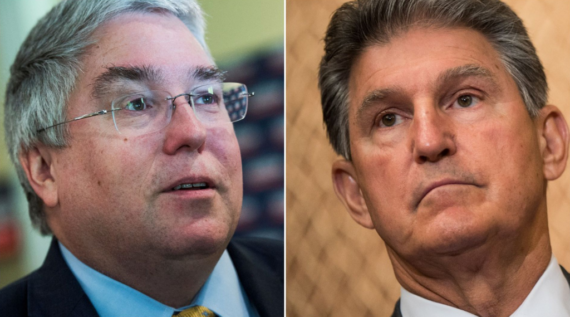 The first poll out of West Virginia since Tuesday's Republican primary on the matchup between incumbent Senator Joe Manchin and state Attorney General Patrick Morrisey gives Morrisey a slight lead, and Republicans hoping to hold on to the Senate this year some slight hope:
After Tuesday's West Virginia primary, red-state Democratic Sen. Joe Manchin is now trailing Republican Attorney General Patrick Morrisey by two points in his re-election race, according to a new poll conducted by WPA intelligence.

Why it matters: That's within the margin of error, but the poll is a sign that the GOP has improved its chances of defeating Manchin since Don Blankenship lost the primary this week. Manchin is in an especially vulnerable position given that President Trump won West Virginia by 42 points 2016.
This is, of course, just a single poll and there are nearly six months to go before Election Day. Additionally, it's worth noting that Morrisey's lead is well within the margin of error for the poll. Therefore, we should wait for at least some more polling in this race, and the passage of more time, before jumping to any conclusions. Nonetheless, if accurate this poll should set off alarm bells for Manchin and for national Democrats. Outside of the topline numbers, the fact that a majority of voters think that there needs to be someone new in the Senate, and the fact that Manchin is viewed so disfavorably by those people saying they are undecided are particularly concerning.
All of this goes back to the fact that, notwithstanding the indications that Democrats stand to do well nationally based on current polling, the picture in the Senate is far different than the picture in the House. The main reason for this, of course, is the simple fact that Democrats have far more seats to defend in this election cycle than Republicans do and that many of these seats are in states that have voted solidly Republican in other races for some time now. This includes not just West Virginia, but also Montana, North Dakota, Indiana, and Missouri. Additionally, there are signs that other races could be problems for Democrats this year. A recent poll out of Florida, for example, shows Governor Rick Scott leading three-term incumbent Bill Nelson by four percentage points. On the other side of the ledger, Democrats have hopes of winning in states such as Nevada, Arizona, and Tennessee. Given the small GOP majority in the upper chamber, the outcome of each of these races will go a long way toward determining who controls the Senate in January. For that reason alone, the fact that Senator Manchin appears to be vulnerable is a worrisome sign for Democrats.