Florida Man Charged In Parking Lot Shooting Despite 'Stand Your Ground' Law
A Florida man who shot and killed an African-American male amid a parking lot confrontation will face manslaughter charges after all.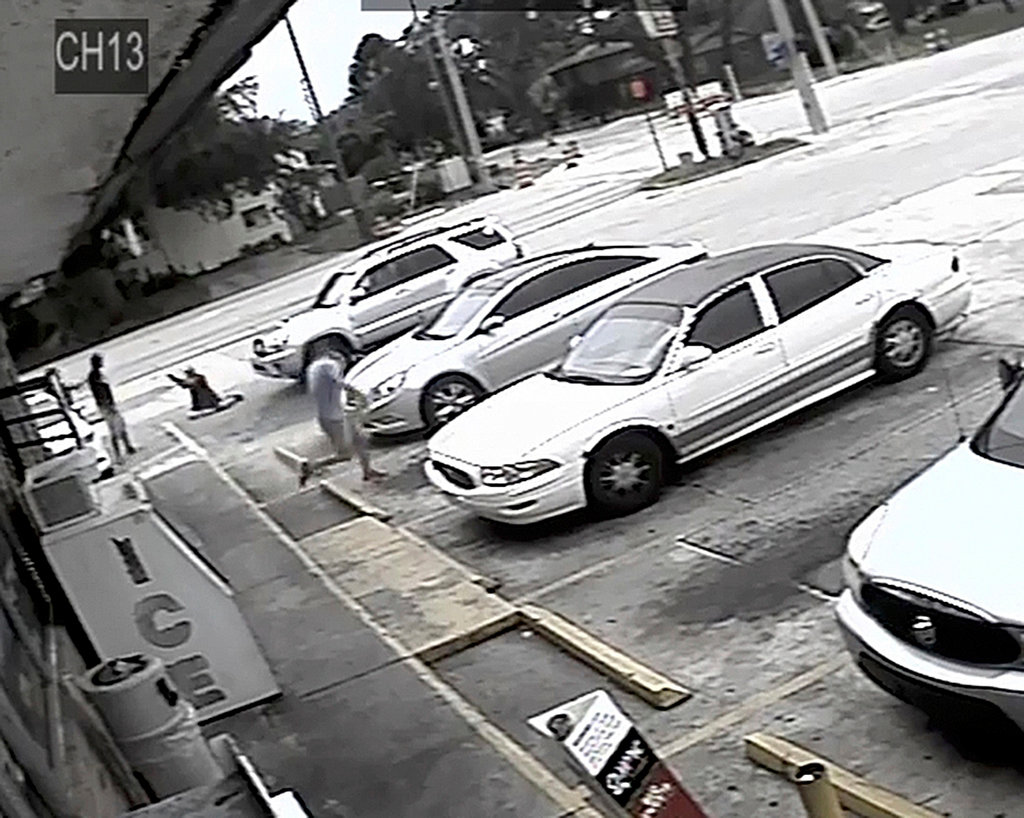 Florida prosecutors have filed charges against a man who shot and killed another man he had gotten into an argument with notwithstanding the fact that law enforcement officers had previously cited the state's "Stand Your Ground" law as a basis for not charging him:
Florida prosecutors filed a manslaughter charge on Monday against a white man who shot and killed an unarmed black man in a dispute over a parking space, three weeks after the local sheriff had refused to arrest the man, citing the state's sweeping and controversial Stand Your Ground law.

Prosecutors in Pinellas County charged Michael Drejka, 48, with one count of manslaughter with a firearm in the killing of Markeis McGlockton, 28.

Mr. Drejka was taken into custody on Monday and held on a $100,000 bond. The maximum sentence he could face is 30 years in prison. His first appearance in court is scheduled for Tuesday.

The shooting on July 19, and the sheriff's decision at the time not to arrest Mr. Drejka, reignited controversy over the Stand Your Ground law, one of Florida's most far-reaching pro-gun statutes, which can make it difficult to prosecute people who kill and then claim that they acted in self-defense. Critics call it a shoot-first law that encourages escalations of violence

Long an incubator for the gun lobby's most aggressive proposals, the Florida Legislature passed the law in 2005 over the objections of many law enforcement officials. About two dozen states now have such laws on the books.

The Florida statute says that people who reasonably believe they are in grave danger do not have a duty to retreat from a confrontation, even if they can safely do so, and instead have the right to stand their ground with deadly force. Last year the Florida Legislature made the law even more protective of those who use force by putting the burden of proof on state attorneys: They must show that the law does not protect a person they charge, rather than the defense having to show that it does.

The racial aspect of the July 19 shooting and the invocation of the law immediately drew comparisons to the fatal shooting of Trayvon Martin, an unarmed black teenager, outside Orlando in 2012. In that case, the police initially declined to arrest the killer, citing the Stand Your Ground law.

The Pinellas County sheriff, Bob Gualtieri, said last month that he had decided not to arrest Mr. Drejka, who had a permit to carry a concealed weapon, because of Stand Your Ground. Mr. Drejka told detectives that he acted in self-defense.

Sheriff Gualtieri said the law had a "subjective standard" for determining whether a person who used force had a reasonable fear of harm, and he suggested that his department could be sued if it failed to follow the law.
The issue of "Stand Your Ground" laws in general, and Florida's law in particular, became the focus of national attention four years ago during the aftermath of the incident in which George Zimmerman shot and killed Trayvon Martin after the two got into a confrontation in Zimmerman's neighborhood during a fateful night in February 2012. While the Zimmerman case was not, strictly speaking, a "Stand Your Ground" case, and that Zimmerman had ultimately waived his right to a pre-trial hearing that could have resulted in his acquittal, the case brought the issue of these somewhat controversial laws, and the question of the acceptable limits of self-defense in general and the Florida law in particular. Ultimately, of course, Zimmerman was acquitted of the charges against him, although, again, it's worth noting that Florida's "Stand Your Ground" law was not the basis for this acquittal.
While they differ from state to state, these "Stand Your Ground" laws are fairly straightforward, and not nearly as controversial as some would have you believe. Shortly after the Zimmerman verdict, Eugene Volokh posted a good summary of existing law in the area, to which I added:
[T]he important thing to remember about "Stand Your Ground" laws is that they are really nothing more than the regular law of self-defense set forth in statutory form and often, as in Florida, with some procedural protections that give people charged with a crime the option of attempting to get charges against them dismissed before trial. Arguing against these laws is, in the end, nothing short of arguing against the idea that people ought to have a right to defend themselves to begin with, which I would argue goes against both human nature and a proper understanding of individual liberty. If the right to life includes anything it includes the right to defend that life when it is threatened. Arguing against such a right makes no sense whatsoever.
Under Florida's law, in particular, a person who has a reasonable belief that they are in grave danger does not have a legal obligation to retreat from a confrontation even if that can do so safely. Instead, they have a right to stand their ground and defend themselves with deadly force if that becomes necessary. In the years since the state legislature amended the law to provide further protection to those who use force. These changes put the burden of proof on prosecutors to establish that the law does not protect the defendant rather than giving the defense the burden of having to establish that it does. Obviously, this makes a prosecutors job in these types of cases more difficult, but it doesn't necessarily make it impossible.
In this case, a review of the facts of the case as they are known makes the original conclusion by the Sheriff's Department that the shooter's actions were protected by the "Stand Your Ground" law questionable at best:
Surveillance video of the shooting shows Mr. Drejka arguing with Mr. McGlockton's girlfriend, Britany Jacobs, as she sits with two small children in a car parked outside a convenience store near Clearwater, Fla., in a space reserved for handicapped people. Mr. McGlockton, who had been inside the store with the couple's 5-year-old son, is seen leaving the store and shoving Mr. Drejka to the ground as Ms. Jacobs gets out of the car.

While still sitting on the pavement, Mr. Drejka pulls out a gun and points it at Mr. McGlockton, who takes four steps backward and away from Mr. Drejka. Mr. Drejka then shoots him in the chest, and Mr. McGlockton, clutching the wound, runs back inside the store, where he collapses next to his son.

He was later pronounced dead at a hospital.
With respect to the facts of this case, there are two items that stand out here that argue strongly against the applicability of the "Stand Your Ground" law. First, this entire confrontation was started by Mr. Drejka, who was apparently upset by the fact that McGlockton had parked his car in the spot reserved for handicapped persons. While McGlockton was in the store, Drejka apparently engaged an in a loud an unruly rant directed at McGlockton's girlfriend, who was in the car by herself with two small children. McGlockton sees this when he leaves the store with his son and, not unreasonably, assumes that his girlfriend and the other children are in some kind of danger from a man who was ranting and screaming at them. He responds by confronting Drejka and knocking him to the ground. It was at this point that Drejka pulls his gun. The video surveillance clearly shows McGlockton backing away from Drejka at that point but Drejka ends up pulling the trigger anyway and firing, shooting McGlockton in the chest and killing him. While I'll admit to not being an expert in Florida law, the fact that McGlockton was backing away before Drejka fired strikes me as being significant in that it tends to undercut the idea that Drejka had a reasonable belief at the time that his life was in danger notwithstanding the fact that he was on the ground.
It's possible, of course, that a Judge or Jury will disagree with my interpretation of the facts, but at the very least these facts make it clear that Drejka ought to stand trial for what happened here. There is a strong argument that any belief he had that he was in danger at the time he fired the gun was not at all reasonable and that it was not necessary for him to shoot McGlockton to defend himself given the fact that McGlockton immediately began to back away when Drejka pulled out his weapon. At that point, Drejka could have easily gotten up from the ground, putting himself on an even footing with McGlockton and potentially bringing the confrontation to an end. The fact that he didn't is significant and makes the manslaughter charges here entirely appropriate. Whether Drejka ultimately gets convicted is, of course, a different story, but at the very least he'll have to face justice, which is more than the Sheriff seemed interested in doing.