For Some Reason, Newt Gingrich Wants To Make Character An Issue
Bad Newt is back.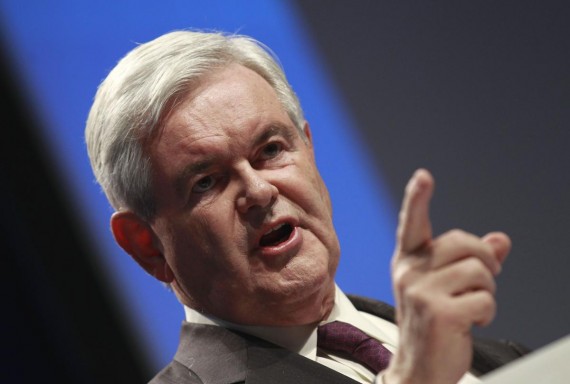 When Newt Gingrich started withering under the onslaught of negative ads from Mitt Romney and Ron Paul and their SuperPACs in Iowa, he started lashing out at his opponents in increasingly ill-tempered attacks that probably did more to hurt him in the Hawkeye State than anything else. The fact that he was able to bounce back and actually win South Carolina will, regardless of the outcome this year, stand as one of singular political "second acts" in American politics. Now that the same withering attacks are leading to what looks more an more like a Romney blowout in Florida on Tuesday, Gingrich is returning to old form. The most recent example came today on ABC's This Week when he actually suggested that the argument for his candidacy over that of Mitt Romney comes down to a question of……wait for it…….character:
Following an onslaught of attacks in last week's debates and on the Florida airwaves, Newt Gingrich amped up his criticism of frontrunner Mitt Romney this morning, aiming his arrows directly at Romney's character and calling him "fundamentally dishonest."

"I am saying that he would not be where he is today, the debates this week wouldn't have been where they were, if he had told the truth," Gingrich told me this morning on "This Week." "And I think that's a very serious problem for somebody."

Gingrich said Romney has run a "campaign of vilification" that is based on "factually false" claims and "carpet-bombing with negative ads." When I asked the former speaker if Romney had the character to be president, Gingrich said "it is a very serious problem."

"You cannot be president of the United States if you cannot be honest and candid with the American people," Gingrich told me.
This repeats a theme that Gingrich had made a part of his stump speeches during campaign appearances ever since Thursday's debate, where he failed to lay a single glove on Mitt Romney for the entire two hours:
Under siege from Mitt Romney and conservative elites who seem to be conspiring against his candidacy, Gingrich abandoned his stump speech on Thursday in favor of an angry tirade against his most daunting Republican rival and the Washington establishment. He isn't the candidate who vowed to stay positive in Iowa, or the nose-to-the-grindstone guy he was in South Carolina.

As he took the stage before a tea-party crowd here, Gingrich seethed at Romney for the avalanche of negative ads blanketing the Florida airwaves and bashed the Beltway denizens for coalescing to obstruct his rise.

"There's the Washington establishment sitting around in a frenzy, having coffee, lunch and cocktail hour talking about, 'How do we stop Gingrich?'" he said, referring to a spate of prominent Republicans who painted him Thursday as a philandering egomaniac comparable to Bill Clinton and not as close to Ronald Reagan as he would like to think.

The former House speaker told the tea party crowd that they shouldn't be confused by the attacks coming from the right because it's still part of the scared establishment.

"Remember, the Republican establishment is just as much an establishment as the Democratic establishment, and they are just as determined to stop us," he said
The level of absurdity here is really quite high. First of all, there's the idea of Newt Gingrich, the man who was a Member of Congress for 19 years including 4 as Speaker of the House, claiming to be someone outside the so-called "Washington establishment." During the time he was in power, and for the ten years he spent out of power before running for President, Newt Gingrich was as much a part of the inner circles of power as the people who are now criticizing him. In fact, it's because he's spent so much time in those corridors of power that those people know him well enough to tell the stories that we're hearing now. If Gingrich was truly the outsider he claims to be, then why is it that so many Washington insiders seem to know him so well? Newt Gingrich an outsider? It's an absurd idea.
The true irony, though, is the sight of Newt Gingrich attempting to go after Mitt Romney on character issues. Seriously Newt, do you really  want to go there? Romney doesn't strike me as any more or less honest than any other politician (then again, I've got a fairly Mencken-esque view of the trustworthiness of politicians of any kind), but in a character contest between Romney and Gingrich is there really any doubt who comes out looking worse here? If that's what the Republican primary fight were to come down to, I doubt Romney or his surrogates would even need to mention anything about Newt's personal life. Everybody already knows about that stuff, and if they don't the constant presence of Callista by his side reminds them of it. His ethics record in Congress, the manner in which he has switched positions on issues of public policy on a dime without even acknowledging that he's done so (at least Romney admits he's changed positions on issues like abortion), and just his general Newt-ness would seem to be enough alone to make a fight based on character a slamdunk for a guy who's been married since 1969 and has five sons. Say what you will about Mitt Romney, and I'm not much of a fan myself, but on a personal level he strikes me as a decent human being. Perhaps dorky in a Clark Griswold kind of way, but most assuredly not nearly as slimy as a guy like Newt Gingrich.
I doubt it will actually come down to this, of course. What we're seeing is the first signs of Newt lashing out as he realizes that his dream of becoming President is going to pretty much die in Florida. Oh, he'll stick around, maybe even until the convention, but after Tuesday we're entering the phase of the race that favors only one candidate, and his name isn't Newt Gingrich. The danger for Republicans is that a dying Newt Gingrich campaign that lasts for months will result in a candidate that continues to lash out at the inevitable nominee in a manner that hurts the party in November. But that's what you get when you let Newt into the arena.