Foreign Policy Debate Substantive Analysis: Middle East
First in a series of posts looking at the substance of the final presidential debate, ostensibly about foreign policy.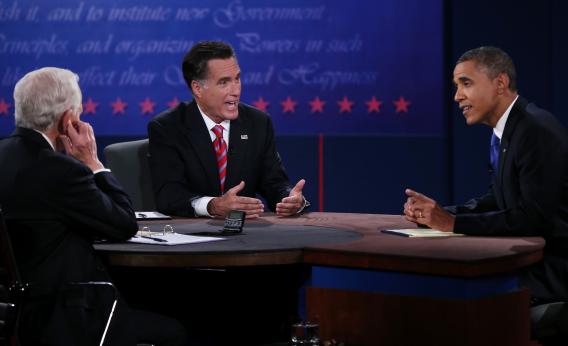 Several commenters have asked me to weigh in more on the substance of Monday night's foreign policy debate.
I didn't do so yesterday for a variety of reasons, including a lack of sleep, a lack of time, and a sense that there's little reader interest in getting into the weeds. Further, I don't consider the debates to be debates at all but campaign events. Romney's aim Monday night was not to articulate a grand vision for US foreign policy but rather to persuade undecided voters in Ohio, Virginia, and a handful of other swing states that he's a reasonable, responsible leader who can be trusted with responsibilities of commander-in-chief.
As I noted in my quick assessment yesterday morning, I think he accomplished that objective. While I think Obama won on points and demonstrated a superior command of the issues, Romney came across as having done his homework. But, as with virtually every presidential nominee in my lifetime, he's not a foreign policy expert and it showed.
Given the vagaries of time, I'm going to do this in sections based on the rough order of the debate transcript. The debate format was fluid and disorganized, and the candidates both shoehorned a lot of disparate topics into each section. I'm going to, for the most part, ignore the non-foreign policy or otherwise tangential issues.
The opening question boiled down to: "Governor Romney, you said this was an example of an American policy in the Middle East that is unraveling before our very eyes."
Both candidates gave strong overviews but little indication of substantive policy change.
Romney noted that, "With the Arab Spring, came a great deal of hope that there would be a change towards more moderation, and opportunity for greater participation on the part of women in public life, and in economic life in the Middle East. But instead, we've seen in nation after nation, a number of disturbing events." He points to the Syria crisis, the spillover of the Libya war into Mali, the election of the Muslim Brotherhood in Egypt, and the continuing march of Iran's nuclear program. He congratulated Obama for killing Osama but declared, "But we can't kill our way out of this mess. We're going to have to put in place a very comprehensive and robust strategy to help the — the world of Islam and other parts of the world, reject this radical violent extremism, which is — it's certainly not on the run."
So, what would President Romney do about it? He'd apparently implement "a comprehensive strategy to help reject this kind of extremism." What would that be? He doesn't say.
Obama opened by declaring, "Well, my first job as commander in chief, Bob, is to keep the American people safe. And that's what we've done over the last four years.
We ended the war in Iraq, refocused our attention on those who actually killed us on 9/11. And as a consequence, Al Qaeda's core leadership has been decimated."
Then, he asserted "we're now able to transition out of Afghanistan in a responsible way, making sure that Afghans take responsibility for their own security." This is frankly absurd. He doubled down on an unwinnable strategy with the Surge, getting a thousand additional American troops killed for nothing. And Afghanistan is arguably in worse shape now than when he took office. The number one threat to our forces now is those Afghans who are taking responsibility for their own security. But, I'd note, Romney never called him on any of this. Indeed, Romney seems to agree with the basic thrust of our Afghanistan policy and intends to continue it.
Obama next rolled out another version of the administration's reaction to the attack on our consulate in Benghazi that got four Americans killed. It's still at variance with the known facts. But Romney never rejoined on this issue, having botched it in the last debate and perhaps having decided that the moment to exploit it is past.
More interestingly, he talked about the war in Libya: "I and Americans took leadership in organizing an international coalition that made sure that we were able to, without putting troops on the ground at the cost of less than what we spent in two weeks in Iraq, liberate a country that had been under the yoke of dictatorship for 40 years. Got rid of a despot who had killed Americans and as a consequence, despite this tragedy, you had tens of thousands of Libyans after the events in Benghazi marching and saying America is our friend. We stand with them."
There's a lot to unpack there.
First, he's completely abandoned the "lead from behind" meme that his team crafted at the beginning. We were led to believe that the administration was dragged kicking and screaming to war by our allies, particularly France and the UK, and that America was just playing a supporting role while we turned the real fighting over to "NATO." In reality, this updated version is right: It was Obama's team that dragged our Allies from a meaningless no-fly zone into an aggressive war to change regimes.
Second, it's interesting that we're now ret-conning a rationale for the war that includes Gaddafi's crimes against America in the 1980s. Pan Am Flight 103 was downed in 1988, while I was attending the Field Artillery Officer's Basic Course and Obama was a first year student at Harvard Law. While those old crimes make Gaddafi's death sweeter, they certainly weren't the reason for going to war.
Third, things in Libya aren't going so well right now and it's not at all clear in what sense we're "standing" with the Libyan people; we've largely washed our hands of the situation. Oh, and there's that spillover into Mali that was a direct consequence of all the arms we poured into Libya and the failure to secure inventories.
But, again, not only did Romney not offer any rejoinder to any of this, we don't have any reason to believe his policy preferences on any of this are substantively different.
Romney then redoubled on his peaceful world spiel. "Well, my strategy is pretty straightforward, which is to go after the bad guys, to make sure we do our very best to interrupt them, to — to kill them, to take them out of the picture. But my strategy is broader than that. That's — that's important, of course. But the key that we're going to have to pursue is a — is a pathway to get the Muslim world to be able to reject extremism on its own." How? Economic development, education, gender equality, and the rule of law. Pretty standard Western diplomatic aims for decades.
Next, Obama comes in with his first real attack and memorable zinger of the night: "Governor Romney, I'm glad that you recognize that Al Qaida is a threat, because a few months ago when you were asked what's the biggest geopolitical threat facing America, you said Russia, not Al Qaida; you said Russia, in the 1980s, they're now calling to ask for their foreign policy back because, you know, the Cold War's been over for 20 years."
Now, the easy answer to this is that al Qaeda simply is not in any way, shape, or form a geopolitical threat; it's a tactical nuisance. But, of course, a presidential candidate can't say that and Romney didn't.
Then, Obama offers this: "You say that you're not interested in duplicating what happened in Iraq. But just a few weeks ago, you said you think we should have more troops in Iraq right now. And the — the challenge we have — I know you haven't been in a position to actually execute foreign policy — but every time you've offered an opinion, you've been wrong. You said we should have gone into Iraq, despite that fact that there were no weapons of mass destruction."
There's no good way to counter this sort of thing in a debate. First, those of us who supported going into Iraq did so primarily because we were sold on the fact that Saddam had or was building WMD. Second, a presidential candidate—let alone one vying for the Republican nomination—is not very well going to say that, well, knowing what we know now, we wouldn't have gone into Iraq. It's true, of course. But the vast bulk of the casualties came after we ousted Saddam and determined that there was no nuclear program; they got killed trying to beat back an insurgency and create a stable, democratic government. Third, while I fully supported Obama's decision to stick to the Bush SOFA timetable for withdrawing American troops—indeed, there were no viable alternatives in any case, given the Malaki government's insistence we do so—it's simply a completely different thing to say we don't want another Iraq than saying Iraq should have ended differently. Naturally, Romney just avoided coming back to the topic at all.
Next, Obama makes a much more substantive critique: "You said that, first, we should not have a timeline in Afghanistan. Then you said we should. Now you say maybe or it depends, which means not only were you wrong, but you were also confusing in sending mixed messages both to our troops and our allies. So, what — what we need to do with respect to the Middle East is strong, steady leadership, not wrong and reckless leadership that is all over the map. And unfortunately, that's the kind of opinions that you've offered throughout this campaign, and it is not a recipe for American strength, or keeping America safe over the long haul."
Now, it's possible for all of these things to be true. Indeed, when the Surge began in 2009, I simultaneously argued that the Surge was a bad idea and that we should instead begin as expeditious a drawdown as possible but that, if we were going to do the Surge, then a calendar-based exit timetable was counterproductive.
Romney's response, though, was weak. He dabbled at addressing all of Obama's jibes rather than hitting at the serious ones. And did poorly at it.
His opening gambit was whining, "[A]ttacking me is not an agenda. Attacking me is not talking about how we're going to deal with the challenges that exist in the Middle East, and take advantage of the opportunity there, and stem the tide of this violence." Well, true. But it is how you win a political debate.
Romney then switches to Russia: "First of all, Russia I indicated is a geopolitical foe. . . and I said in the same — in the same paragraph I said, and Iran is the greatest national security threat we face. Russia does continue to battle us in the U.N. time and time again. I have clear eyes on this. I'm not going to wear rose-colored glasses when it comes to Russia, or Mr. Putin. And I'm certainly not going to say to him, I'll give you more flexibility after the election. After the election, he'll get more backbone."
That's actually a reasonably good line, except that only wonks know what he's talking about on the "more flexibility" jib. And it was Medvedev, not Putin, who was the recipient.
Bob Schieffer's second question, the key portion of which was "Mr. President, it's been more than a year since you saw — you told Assad he had to go. Since then, 30,000 Syrians have died."
Obama did a lot of hand-waving but ultimately admitted, "[W]hat we're seeing taking place in Syria is heartbreaking, and that's why we are going to do everything we can to make sure that we are helping the opposition. But we also have to recognize that, you know, for us to get more entangled militarily in Syria is a serious step, and we have to do so making absolutely certain that we know who we are helping; that we're not putting arms in the hands of folks who eventually could turn them against us or allies in the region."
After some hand-waving of his own, Romney concurred that "we don't want to have military involvement there. We don't want to get drawn into a military conflict. And so the right course for us, is working through our partners and with our own resources, to identify responsible parties within Syria, organize them, bring them together in a — in a form of — if not government, a form of — of — of council that can take the lead in Syria. And then make sure they have the arms necessary to defend themselves. We do need to make sure that they don't have arms that get into the — the wrong hands. Those arms could be used to hurt us down the road."
A lot of observers contend this is an example of Romney's "Etch-a-sketch," but I'd argue that this has fundamentally been Romney's position on Syria all along. As with Iran, his basic policy has been "What Obama's been doing, but with, um, more backbone and toughness."
Similarly, on Egypt, there was very little light between the candidates.
Obama defended his slow approach to backing away from Mubarak and Romney more-or-less agreed: "
I believe, as the president indicated, and said at the time that I supported his — his action there. I felt that — I wish we'd have had a better vision of the future.
I wish that, looking back at the beginning of the president's term and even further back than that, that we'd have recognized that there was a growing energy and passion for freedom in that part of the world, and that we would have worked more aggressively with our friend and with other friends in the region to have them make the transition towards a more representative form of government, such that it didn't explode in the way that it did. But once it exploded, I felt the same as the president did, which is these freedom voices and the streets of Egypt, where the people who were speaking of our principles and the President Mubarak had done things which were unimaginable and the idea of him crushing his people was not something that we could possibly support."
There's a lot of hand-waving there but no substantive difference.
Both candidates, interestingly, used the Egypt question to diverge into domestic politics, particularly the need to grow the economy. And they continued to do so for quite some time, even after Schieffer tried to steer them back on topic.