Forget The Fiscal Cliff, There's Also A Milk Cliff.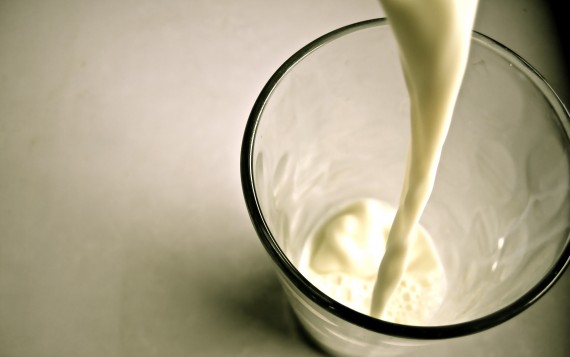 Along with increased taxes, a loss of unemployment benefits, the return of the Payroll Tax, and the lack of any adjustments to the Alternative Minimum Tax, failure to resolve the "fiscal cliff" issues before December 31st could lead to a huge increase in the price of milk. Suzy Khimm explains how it could happen:
Here's how that would happen: Without legislative action in the next five days, the government will have to revert to a 1949 dairy price subsidy that requires the Agriculture Department to buy milk at inflated prices. Much like the current fiscal cliff, the law was left on the books "as a poison pill to get Congress to pass a farm bill by scaring lawmakers with the prospect of higher support prices for milk and other agriculture products," as Vincent Smith, a Montana State University professor, told the New York Times.

The Farm Bill isn't technically part of the fiscal cliff. Speaker John A. Boehner (R-Ohio.) has resisted the call by Agriculture

Secretary Tom Vilsack (D) to incorporate it into the budget negotiations — to avoid complicating the budget talks and losing GOP votes, a Boehner aide told Politicolast week. Legislators from rural districts are also worried that crop subsidies could be a tempting target in the fiscal cliff negotiations, so they've been trying to push Congress toward a separate resolution, to little avail. Although producers would temporarily benefit from the hike in milk prices, it would hurt processors and consumers, and the dairy industry would prefer a long-term resolution as well.

The legislative impasse is over a host of issues: There's major disagreement about how much to cut food stamps, how much the government should be subsidizing crops, and how dairy prices should be stabilized. As Time explains, the Senate has already passed a $969 billion farm bill that would reduce the deficit by about $24 billion over 10 years, in part by cutting $4.5 billion in food stamps and replacing direct payments to farmers with weather-related crop insurance. The House hasn't passed a bill yet, but the House Agriculture Committee passed a bill that would cut $35 billion over 10 years, with a bigger $16 billion cut to food stamps.
If nothing else, this is yet another example of the failure of Congress to get anything done as both sides stake out their own political positions and the two sides refuse to negotiate. The normal procedure when there's a conflict between the House and Senate version of a bill would be to assign the matter to a Conference Committee made up bipartisan groups of Senators and Congressman, but the use of conference committees has nearly died off into nothingness in recent years for a whole host of reasons. So, instead of having a real discussion about our nation's farm policy, and especially the question of whether the Federal Government should be subsidizing farmers at all, we're at an impasse and. absent some action in the next five days, the price of milk and everything made with it is going to increase substantially.