Fox News Poll Shows Alabama Senate Race Tied, But Skepticism Is Still Called For
A new poll shows Democratic nominee Doug Jones tied with twice-removed former Chief Justice Roy Moore in Alabama's Senate race, but it's still too early to be optimistic.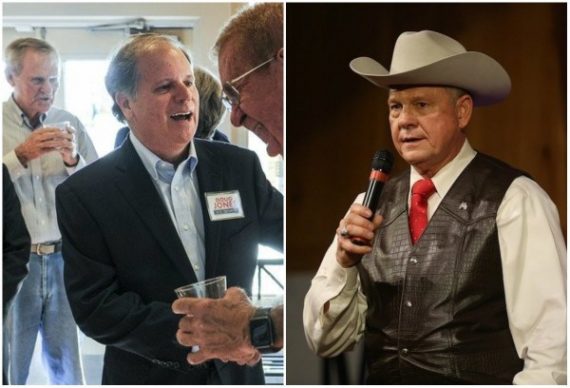 A new poll from Fox News Channel shows the race between former Alabama Chief Justice and Republican nominee Roy Moore and Democratic candidate Doug Jones to be tied, but it's still not clear that this race is as competitive as polling indicates:
Democrat Doug Jones — once thought to be a longshot in the Deep South — has tied Republican nominee and former judge Roy Moore in Alabama's US Senate race, a new poll shows.

The two are tied at 42% each among registered voters, the Fox News poll published Tuesday, conducted by Democratic firm Anderson Robbins Research and GOP firm Shaw & Company Research.

Moore and Jones will face off in a special election to fill Attorney General Jeff Sessions' former seat December 12.

The poll confirms Republicans' fears that Moore — who campaigns on a theocratic, anti-LGBT message and has twice been ousted as state Supreme Court chief justice, once for refusing to remove a Ten Commandments monument and once for refusing to follow the Supreme Court's ruling legalizing same-sex marriage — would be a uniquely vulnerable candidate in a state President Donald Trump won last year by 28 percentage points.

Jones, a former prosecutor who convicted two former Klansmen in the bombing of Birmingham's 16th Street Baptist Church, has sought to portray Moore as someone who would embarrass Alabama on the national stage.

"I can work with Republicans better than Roy Moore can work with anyone," Jones says in a new TV ad.

The poll found that just 53% of registered voters said they were extremely or very interested in the race. Among those voters, Jones has a one-point lead over Moore at 46% to 45%.

Moore defeated Sen. Luther Strange, who was appointed to fill Sessions' seat until the special election, in a September 26 primary runoff. His win came despite Trump having visited Huntsville to campaign for Strange. Moore was backed by Steve Bannon, Trump's former White House chief strategist. And he has campaigned on removing Mitch McConnell as Senate majority leader.
This isn't the first poll to show a tighter than expected race in what has long been a deeply red state. As I noted last month, polls taken in the immediate aftermath of Moore's victory over Senator Luther Strange in the runoff primary election showed Jones within six points of Moore, an unusual result in a state that is normally solidly Republican. As Fox News notes in its own report on the poll, the fact that polls are even indicating that Jones could be competitive is striking:
The competitiveness of the race is striking.  Donald Trump won Alabama by 28 points in 2016, yet the Steve Bannon-backed Moore defeated the president's favored candidate, incumbent Luther Strange, in the GOP primary.

"This race exemplifies the difficulty the Republican Party has now," says Republican pollster Daron Shaw, who conducts the Fox News Poll with Democrat Chris Anderson.

"There is an element of the party that has had it with the establishment, had it with politics as usual, had it with political correctness. The fissure within the party means divisive primaries, controversial candidates, and hard choices for GOP voters once the general election rolls around."

Jones is helped by greater party loyalty, and hesitancy among Moore's own backers.

The poll, released Tuesday, shows 42 percent of Moore's supporters have some reservations about their candidate.  For Jones, that number is 28 percent.

Plus, 21 percent of those in the Jones camp say they're voting against Moore as opposed to for Jones.  That's three times the number of Moore supporters who say their vote is based on dislike of Jones (7 percent).

Nearly half of those backing Jones (47 percent) and Moore (48 percent) say they "strongly" support their candidate.

he main reasons Moore supporters give for backing him include party loyalty (41 percent) and his Christian beliefs (20 percent).  Among Jones supporters, it is party loyalty (35 percent) and their belief Moore is extreme (32 percent).

In a Republican stronghold like Alabama, it helps Jones that Democrats are more likely to back him (85 percent) than Republicans are to support Moore (77 percent).  Independents go for Jones by 33-26 percent (27 percent undecided).

Moore tops Jones among white evangelical Christians (+51), white men without a college degree (+48), and gun owners (+16).

Jones is preferred among blacks (+66), voters under age 45 (+14), and women (+3).

About 1 in 10 Trump voters defects to the Democratic candidate (11 percent).  That's nearly three times the number of Clinton voters who are supporting Moore (4 percent).

Two months out, roughly 1 in 10 Alabamans is undecided about their vote in the Senate race (11 percent).

Thirty-three percent are unfamiliar with the Democratic candidate, while 12 percent say the same about Moore.

Still, more view Jones positively than negatively by 25 points (46-21 percent).  Moore has a net positive of 10 points (49 percent favorable vs. 39 percent unfavorable).

About as many Alabama voters view Trump positively as negatively (48-47 percent).  Four in 10 have a "strongly" unfavorable opinion of the president.

Are Moore's attempts to define Jones as a liberal working?  The poll finds 29 percent say Jones is too liberal for Alabama.

On the other hand, 39 percent of voters feel Moore is out of step with Alabama today.  Even 24 percent of Republicans feel that way.
The Fox News poll is the first new poll to be taken in Alabama since those previous September polls, but it's led to some speculation and hope that Moore could end up going down to defeat in the Special Election on December 12th. According to the RealClearPolitics average, Moore now has only 4.4  point lead over Jones with an average of 46.7% of voters saying they support Moore while 42.3 % saying they support Jones. While these numbers are certainly encouraging for opponents of Moore, they ought to be taken with a grain of salt to say the very least.
Alabama has not elected a Democrat to the Senate since Howell Heflin ran for re-election in 1990, and hasn't had a Democratic Senator since 1994 when Richard Shelby, the state's senior Senator, left the Democratic Party and ran for re-election as a Republican. Republicans have also maintained control over other statewide offices such as Governor, Lt. Governor, and Attorney General since the early 1990s and the state's Congressional delegation is dominated by Republican. The sole Democrat representing Alabama in Congress comes from the 7th Congressional District, which is dominated by African-Americans. Additionally, notwithstanding the fact that national Republicans largely backed incumbent Senator Luther Strange, who was appointed to fill the seat vacated by Jeff Sessions when he became Attorney General, Moore has recently received several prominent endorsements from Capitol Hill Republicans, including Senators Mike Lee and Rand Paul and Congressman Thomas Massie. Given all of that, and Alabama's historic tendency in recent years to vote for Republican candidates in statewide elections, this polling showing Jones performing far better than a Democrat should in the state need to be backed up by some additional evidence before they can be believed. Nonetheless, given Moore's controversial history, which now includes recent statements where he said that professional athletes who decline to stand for the National Anthem are breaking the law, one can only hope that this means that Alabamans might actually display some sanity in this race.