Fox Tried to Derail the 'Big Lie' Before Going All In
Chris Stirewalt takes a victory lap.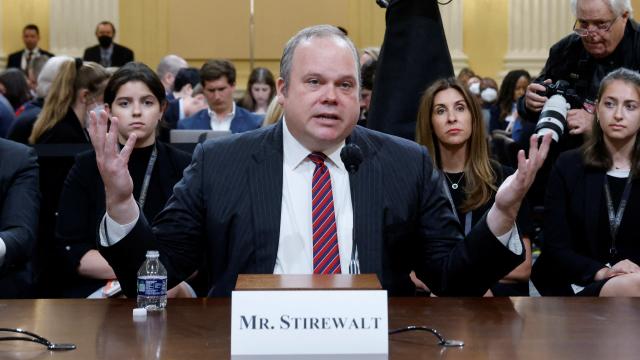 NPR ("Fired Fox News politics editor: Trump's ire at election night call led to 'panic'"):
The witness seemed to embrace the moment, offering answers with gusto.

Who won the November 2020 U.S. presidential elections? That was the question California lawmaker Zoe Lofgren asked Monday at the hearing of the House Select Committee on the January 6th attacks on Congress.

"Joseph Robinette Biden Jr., of the great state of Delaware" came the reply.

After November 7th, how likely was it for then-President Donald Trump to pull out a surprise victory?

"You're better off to play the Powerball," was the answer.

Asked about Fox News's projection of Biden as the winner of Arizona on Election Night, the network's former political director, Chris Stirewalt, testified, "Our poll in Arizona was beautiful, and it was doing just what we wanted it to do. And it was cooking up just right."

Stirewalt spoke to NPR Monday afternoon, just minutes after his testimony wrapped up. Ever the jaunty raconteur, he said the Arizona call made by Fox's decision desk — before any other U.S. television network — alarmed executives fearful of alienating Trump voters and angered his many allies within the network.

"We don't award any electoral votes. We don't count any ballots. We are some nerds in a room, and that's it," Stirewalt said in the interview. "We're just telling you what's going to happen. We're not making anything happen."

"They confused the television show with the real thing"

"And it showed to me how much television — the perceptions of events, of television as entertainment, news as entertainment and treating it like a sport – had really damaged the capacity of Americans to be good citizens in a republic because they confused the TV show with the real thing."

In some ways, Fox journalists were telling their viewers things they didn't want to hear. "Part of the problem, of course, was that there were opinion hosts on Fox who, for months and months and months, had been repeating the baseless claim that Trump was going to win the election for sure," Stirewalt said.

Stirewalt said he was iced from Fox's airwaves soon after his explanations of why Fox projected Arizona's election wins. Two months later, as Biden took office, Stirewalt was gone, along with roughly 15 colleagues.

Through a senior spokesperson, Fox News declined to comment for this story. The network has in the past attributed his departure to a typical restructuring after a big election. Its Washington Managing Editor, Bill Sammon, left at the same time, in what was termed a retirement.

Stirewalt offered a wry laugh about that.

"Fox lost the thread over time, but the old idea at Fox was a robust news division," Stirewalt said. "But for a lot of reasons, there was some panic."
MEDIAite gets to the heart of the matter with "Chris Stirewalt Lays Out How Fox News Worked to Undermine Trump's Attempt to Claim Victory on Election Night."
Former Fox News political editor Chris Stirewalt described in testimony before the Jan. 6 House select committee how the network sought to thwart attempts from then-President Donald Trump to mislead the public about how elections work.

Stirewalt explained that Trump, in claiming the 2020 election was stolen, misunderstood common phenomenon during elections — known as the "red mirage" — in which Republicans appear to win on Election Day thanks to in person voting while Democrats belatedly surge as early and mail-in votes are tallied.

"So in every election, certainly a national election, you expect to see the Republican with a lead but it is not really a lead," Stirewalt said. "When you put together a jigsaw puzzle it doesn't matter which piece you put in first — it ends up with the same image."

Stirewalt, who served on Fox's elections decision desk before he was fired by the network last year, noted that Trump was the first candidate who tried to exploit that "quirk" in the U.S. election process by falsely claiming it was evidence of foul play.

"We had gone to pains — and I'm proud of the pains we went — to make sure that we were informing viewers that this was going to happen," Stirewalt said. "Because the Trump campaign and the president had made it clear they were going the try to exploit this anomaly."

He added that the phenomenon was particularly present in the 2020 election, thanks to a surge in voting by mail due to the Covid pandemic.

"So this red mirage, that's really what you expected to happen on election night?" Committee member Rep. Zoe Lofgren asked Stirewalt at the hearing.

"It happens every time," he replied.

At its second hearing on Monday, the committee aired testimony from series of Trump officials who said they repeatedly explained the "red mirage" concept to Trump — but that those explanations did not stop the president from stating he had won in a speech on election night.
WaPo's Margaret Sullivan ("Chris Stirewalt lost his job at Fox News. But he knows he was right."):
For a guy who made a controversial election-night call and then lost his treasured role with what he has called "the best decision desk in the news business," Chris Stirewalt appears to have no regrets.

Testifying Monday morning, the former politics editor at Fox News spoke confidently, colorfully and, yes, decisively, about what happened in November 2020 when an erstwhile news organization that has morphed into former president Donald Trump's propaganda arm went temporarily off script.

Stirewalt and his colleagues on the decision desk made a stunningly early call that challenger Joe Biden had won Arizona. It was only 11:20 p.m. Eastern time, with 73 percent of the vote counted.

They needed both certainty and unanimity to make that call, he told the Jan. 6 select committee. His team relied on the data they had gathered, their knowledge and their experience. They "looked around the room and everybody said 'yeah,'" he recalled, so they went ahead and moved the crucially important state into Biden's column — long before any other news organization.

Clear and punchy, Stirewalt's brief testimony seemed driven by the same quality he extolled on the decision desk: certainty about the evidence-based truth of what he was saying.

"We knew it would be a consequential call," he said. If Trump indeed lost Arizona, he would face longer odds to win reelection: "Better off to play the Powerball." Stirewalt was equally blunt under questioning in describing Trump's chances of winning on a recount or challenge: "None."

That the Arizona call freaked out Trump World was obvious; having such a verdict, especially coming from his usually dependable cheerleading squadat Fox News, was devastating. The call made it immeasurably harder to put forth the idea that Trump ultimately would prevail, and harder to even pretend that he would. Of course, as we know all too well, that didn't stop him.
As I recounted here when he was fired, I knew Chris pretty well personally before losing touch over the years. His testimony here doesn't surprise me in the least. It's just who he is. He's a staunch social conservative but one who actually lives the rhetoric about honor and decency. He wants his team to win but only if they do so fairly. And his duty as a journalist is to the truth, not the interests of his party or network bosses.
While they were furious that Stirewalt and his team got out ahead of the rest of the press on Arizona, they ultimately did the right thing and called the election for Biden when it was time. But they would then turn around and purge the few remaining real journalists from the network, ending the longstanding firewall between the news and opinion-infotainment divisions.