France's Crackdown on Religious Garb Expands
The abaya is now banned as well.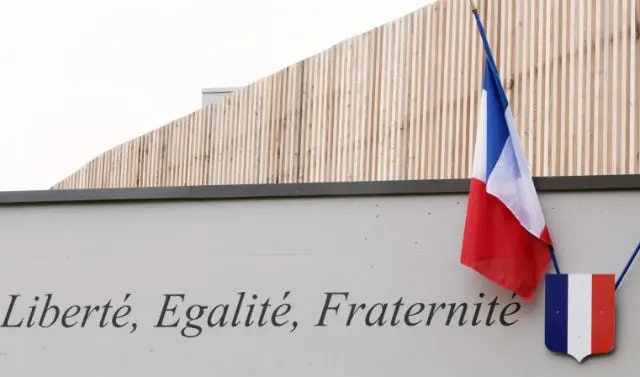 POLITICO ("French education minister announces ban on Islamic dress in schools"):
French Education Minister Gabriel Attal announced on Sunday that France will ban the Islamic garment known as the abaya in schools.

"The school of the Republic was built around strong values, secularism is one of them. … When you enter a classroom, you shouldn't be able to identify the religion of pupils," Attal said in an interview with French TV channel TF1.

"I announce that [pupils] will no longer be able to wear abaya at school," he said.

The abaya is a long, flowing dress commonly worn by Muslim women as it complies with Islamic beliefs on modest dress — but it's also worn by other communities in North Africa and the Middle East. In 2004, France banned religious symbols in schools, including large crosses, Jewish kippahs and Islamic headscarves. But the abaya occupies a gray zone and hasn't specifically been banned.

Attal, who was appointed in July, announced that he would lead talks in the coming weeks before issuing new "clear nationwide rules" for schools.

The focus on abayas follows a reported increase in girls wearing Islamic clothing in French schools, in a trend that some say is a violation of the country's secularist values. Last month, President of the National Assembly Yaël Braun-Pivet, who is a member of President Emmanuel Macron's Renaissance party, called for "a totally secular state school" where there is "no ramadan, no abaya, no ostentatious religious signs."

While some politicians were calling for new legislation to ban religious dress, it appears the government will simply give school principals new guidelines.

Secularism in French schools has always been a hot-button topic with supporters claiming that religion, and Islam in particular, has been encroaching on the public space. Critics, on the other hand, maintain that religious minorities face discrimination in a historically Christian country.
BBC ("France to ban female students from wearing abayas in state schools") adds this context:
The move comes after months of debate over the wearing of abayas in French schools.

The garment is being increasingly worn in schools, leading to a political divide over them, with right-wing parties pushing for a ban while those on the left have voiced concerns for the rights of Muslim women and girls.

"Secularism means the freedom to emancipate oneself through school," Mr Attal told TF1, arguing the abaya is "a religious gesture, aimed at testing the resistance of the republic toward the secular sanctuary that school must constitute."

In 2010, France banned the wearing of full face veils in public which provoked anger in France's five million-strong Muslim community.

France has enforced a strict ban on religious signs at schools since the 19th Century, including Christian symbols such as large crosses, in an effort to curb any Catholic influence from public education.

It has been updating the law over the years to reflect its changing population, which now includes the Muslim headscarf and Jewish kippa, but abayas have not been banned outright.

The debate on Islamic symbols has intensified since a Chechen refugee beheaded teacher Samuel Paty, who had shown students caricatures of the Prophet Mohammed, near his school in a Paris suburb in 2020.

The announcement is the first major policy decision by Mr Attal, who was appointed France's education minister by President Emmanuel Macron this summer at the age of 34.
Al Jazeera ("France to ban wearing abaya dress in schools: Minister"):
France, which has enforced a strict ban on religious signs in state schools since 19th-century laws removed any traditional Catholic influence from public education, has struggled to update guidelines to deal with a growing Muslim minority.

[…]

The right and far right had pushed for the ban, which the left argued would encroach on civil liberties.

Unlike headscarves, abayas occupied a grey area and faced no outright ban until now.

The French Council of Muslim Faith (CFCM), a national body encompassing many Muslim associations, has said items of clothing alone were not "a religious sign".

Defending secularism is a rallying cry in France that resonates across the political spectrum, from left-wingers upholding the liberal values of the Enlightenment to far-right voters seeking a bulwark against the growing role of Islam in French society.
There was a spate of horrified reaction stories in the Western press when the 2004 bans were enacted and then another wave in 2010 as countries across Europe passed rules requiring, for example, women not cover their faces with veils in certain situations for security reasons. These things offend American sensibilities, in particular, because we have a tradition of near-absolutism on religious and political expression, exemplified by our First Amendment.
The fact that the French have been enforcing a policy of strict secularism in their schools, initially directed at overt displays of Christianity, going back to the 19th century would seem to indicate that this is not primarily motivated by anti-Muslim animus. More than any other great power, at least in the West, France takes what seem to me to be extreme measures to protect its dominant culture via its laws. The French language is ruthlessly safeguarded against loanwords from other languages—especially English. There are even rules for what names are appropriate for boys and girls. This is of a piece with all of that.