Free Speech For Soldiers and Government Employees?
Should members of the Armed Forces and other public employees have the same rights under the 1st Amendment as the rest of us? Or should they be more like journalists?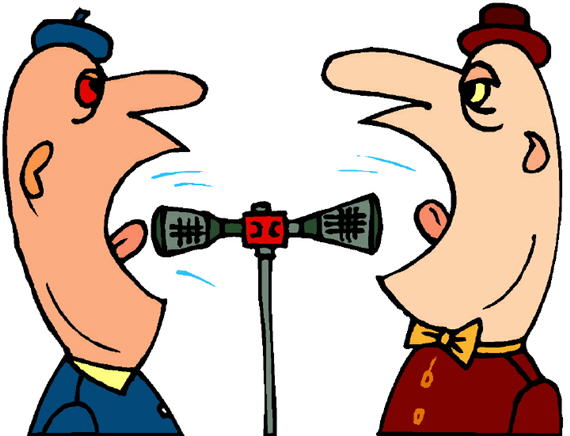 The leadership at NPR took special care to remind its staffers yesterday of company policy requiring that they take every precaution to avoid the appearance of favoritism.   Jim Romenesko published internal memos from CEO Vivian Schiller and senior VP Ellen Weiss  telling the staff "no matter where you work at NPR you should be very mindful that you represent the organization and its news coverage in the eyes of your friends, neighbors and others. So please think twice about the message you may be sending about our objectivity before you attend a rally or post a bumper sticker or yard sign."   Additionally, "NPR journalists may not run for office, endorse candidates or otherwise engage in politics. Since contributions to candidates are part of the public record, NPR journalists may not contribute to political campaigns, as doing so would call into question a journalist's impartiality" and "NPR journalists may not participate in marches and rallies involving causes or issues that NPR covers, nor should they sign petitions or otherwise lend their name to such causes, or contribute money to them. This restriction applies to the upcoming John Stewart and Stephen Colbert rallies."
Apparently, they're also not allowed to learn how to spell Jon Stewart's name, lest it convey awareness that he's been on the air for more than a decade.
While this may go a smidgen too far, it's the right message.   While I'm sympathetic to Jeff Jarvis' arguments against the "View From Nowhere," it makes sense for institutions in the business of presenting the news to avoid giving the impression that they have axes to grind.
At the other end of the spectrum, Pat Sajak takes to NRO to make a peculiar argument:
I'm not suggesting that public employees should be denied the right to vote, but that there are certain cases in which their stake in the matter may be too great. Of course we all have a stake in one way or another in most elections, and many of us tend to vote in favor of our own interests. However, if, for example, a ballot initiative appears that might cap the benefits of a certain group of state workers, should those workers be able to vote on the matter? Plainly, their interests as direct recipients of the benefits are far greater than the interests of others whose taxes support such benefits.
He's not saying — he's just saying.
In actuality, I'm sympathetic to this view.   There is something vaguely unsettling about people who make their living from tax dollars banding together to vote themselves a greater share of the rest of our money.   And I say that as someone who's been on state or federal payrolls (teaching, military) much of my career.  But it's not as unsettling as stripping the basic rights of citizenship from people because of how they make their living.   While faceless bureaucrats in Washington and the gang at the local DMV aren't sympathetic characters, this is a very hard sell when you realize that "public employees" also include soldiers, intelligence officers, schoolteachers, and the like.   (See the outrage every couple of years when there's the prospect that the absentee ballots of soldiers voting overseas may not count.)
Turning full circle, though, members of the military have rather strict limitations on their ability to engage in political speech.   While not quite as strict as NPR's code, they're not allowed to run for partisan office, attend rallies in uniform, and so forth.   But there are gray areas.   For example, Tom Ricks points to the stickers on this truck at Fort Hood: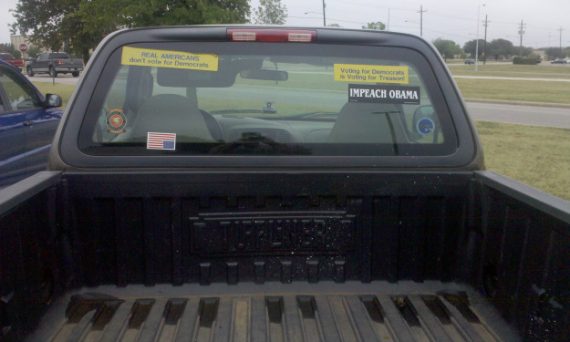 Ricks thinks this violates Article 88's prohibition of "contemptuous words against the President, the Vice President, Congress, the Secretary of Defense, the Secretary of a military department, the Secretary of Transportation, or the Governor or legislature of any State, Territory, Commonwealth."  But that's only true if the truck belongs to a commissioned officer.  This punitive article doesn't apply to enlisted men or, presumably, warrant officers.  (I hesitate because the legal status of warrant officers has changed since I left service, making the matter murkier.)
As a general rule, soldiers are allowed to offer opinions on matters of public policy so long as they do so in a way that makes it clear that they're speaking for themselves, not as official representatives of the military.  The specific guidelines for this aren't laid out in the UCMJ but rather in various Service regulations, pamphlets, and letters.
Perhaps something closer to Sajak's prohibition is in order?   Even though it's clear to me that a soldier driving a truck with stickers calling for the impeachment of the Commander-in-Chief and suggesting that supporters of our nation's oldest political party are not only not "REAL AMERICANS" but committing treason, it's likely not so clear to the average member of the public.    If not, it undermines the public confidence in civilian control of the military and improperly lends the prestige of the uniform to a very unsavory worldview.  If nothing else, we should probably extend Article 88's reach to cover all uniformed personnel.
I'm not sure where the line should be drawn.   Something like 1 in 7 Americans who earn a paycheck receive it from government.  They shouldn't be disenfranchised or have their freedom unduly limited.   But they are, in theory anyway, public servants.