Gallup: Romney And Obama Even In Post-Debate Polling
Gallup notes this morning that after three nights of polling it's done as part of its Daily Tracking Poll, the lead that President Obama in pre-debate polling has disappeared:
PRINCETON, NJ — Registered voters' preferences for president are evenly split in the first three days of Gallup tracking since last Wednesday's presidential debate. In the three days prior to the debate, Barack Obama had a five-percentage-point edge among registered voters.

Gallup typically reports voter presidential preferences in seven-day rolling averages; the latest such average as of Saturday interviewing shows Obama with an average three-point edge, 49% to 46%, among registered voters. This Sept. 30-Oct. 6 field period includes three days before the Oct. 3 debate, the night of the debate itself, and three days after the debate.

Even on this basis, the race has become somewhat more competitive compared with before the first debate. Obama held four- to six-point leads in Gallup's seven-day tracking results in the eight days prior to the Oct. 3 debate.

Should Mitt Romney's momentum continue in the coming days, that gap in the seven-day rolling average would narrow further.
The poll also found that voters overwhemlingly thought that Romney won last Wednesday's debate: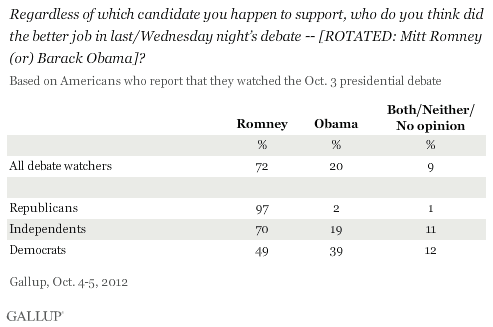 These numbers are consistent with other recent polls including the Rasmussen Tracking Poll, which today shows the race tied, and a new Politico/GWU Battleground poll that has the Obama ahead by one point. This puts Obama's lead down to 1.1 points over at RealClearPolitics, in a race that has shown a measurable rise by Romney and a commensurate fall by the President: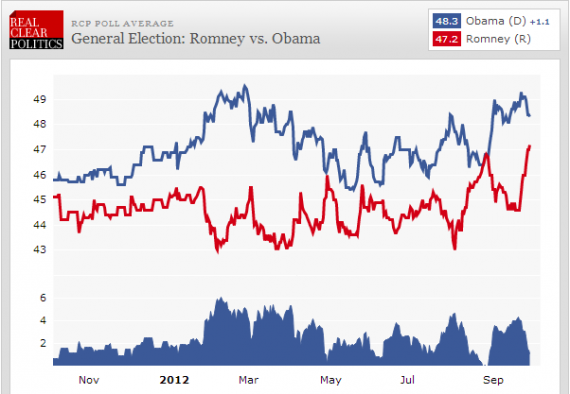 So we've got a definite bounce for Romney five days out from the Presidential Debate, with signs that similar things are happening in some of the swing states. The only question is how long this is going to last.