Gary Johnson Excluded From June 13th New Hampshire Debate
Is it appropriate for news organizations to decide that the people don't need to hear from certain political candidates?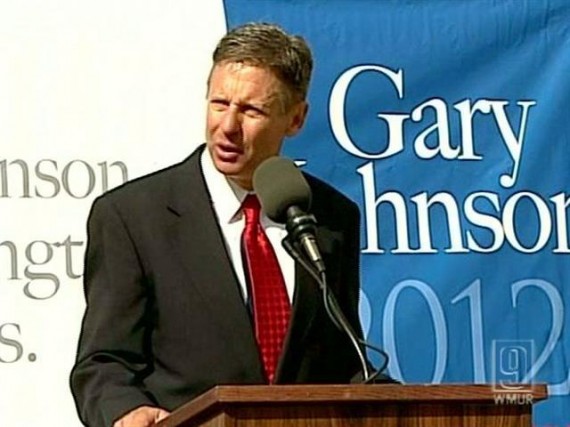 CNN, along with the Manchester Union-Leader and New Hampshire television station WMUR will be sponsoring a debate among Republican candidates for President, but one of the people who has actually declared his candidacy won't even be there:
CNN, WMUR, and the New Hampshire Union Leader will host a presidetial debate on Monday, June 13th in Manchester. Republican presidential candidates Mitt Romney, Newt Gingrich, Tim Pawlenty, Herman Cain, and Ron Paul will participate. In addition, unannounced candidates Michelle Bachmann and Rick Santorum will also take part.

Gary Johnson, however, will not participate. Why? Because he wasn't invited.

This morning, we learned along with the rest of world that CNN and the other debate sponsors have decided to exclude Governor Johnson from sharing your voice in the debate.

(…)

In the latest Gallup poll, released one week ago, Governor Johnson's level of support registered at 3% nationally. This is competitive with candidates like Tim Pawlenty and Rick Santorum, both of whom have been invited to participate. In fact, I'm not aware of a poll in which Mr. Santorum has out-polled Governor Johnson nationally.
Many of Johnson's supporters are organizing a campaign to get the debate organizers to change their mind, but Johnson himself seems to accept the decision, although he's disappointed:
"I respect the right of CNN and the other sponsors of the June 13 New Hampshire Republican presidential primary debate to apply their own criteria and invite who they choose.  It is, however, unfortunate that a significant segment of the Republican Party, and more importantly, millions of independent voters who might be Republican voters, will not have a voice on the stage in Manchester.

What will be missing is the voice of those who hold an undiluted view of individual liberty – those who believe that individual rights extend to women who face choices about abortion,  Americans who happen to be gay, and those who don't place other asterisks on freedom.

Likewise, there will be no voice for the growing number of Americans who see the hypocrisy and failure of drug laws that condone alcohol at White House Dinners while incarcerating millions of Americans, including our kids, who choose to smoke pot.

I wish the participants in the debate well.  And I sympathize with the millions of Americans whose beliefs will not be on display in Manchester on June 13
For their part, the debate organizers say the decision on who to invite was based on objective criteria:
CNN, WMUR and the New Hampshire Union Leader created objective criteria to determine who would participate in the New Hampshire Republican Presidential Debate. The debate partners determined that the definition of a candidate was a person who was taking substantive steps towards a presidential run and reached a minimum threshold in national or state polls. Participants had three different opportunities to be eligible to take part in the debate:

A candidate must have received an average of at least 2.00 % in at least three national polls released between April 1 and April 30 that were conducted by the following: ABC, AP, Bloomberg, CBS, CNN, FOX, Gallup, Los Angeles Times, Marist, McClatchy, NBC, Newsweek, Pew, Quinnipiac, Reuters, USA Today and Time.
A candidate must have received an average of at least 2.00 % in at least three national polls released between May 1 and May 31 that were conducted by the following: ABC, AP, Bloomberg, CBS, CNN, FOX, Gallup, Los Angeles Times, Marist, McClatchy, NBC, Newsweek, Pew, Quinnipiac, Reuters, USA Today and Time.
A candidate must have received an average of at least 2.00 % in polls of New Hampshire voters conducted by the UNH Survey Center released between May 1 and May 31.
It's true that Johnson hasn't met that criteria and, as always, the debate organizers are free to set any criteria they want. However, is it really proper for them to be excluding candidates from debates this early in the race? I think the answer clearly no:
Moderators and interviewers can only do so much to get straightforward answers from candidates. The top tier candidates should actually be grateful to have candidates like Cain, Paul, and Johnson in the primaries to challenge them. The eventual nominee will be battle tested for the general campaign since s/he has already had to offer alternative answers to challenging questions about taxation, entitlements, foreign policy, etc.

If Herman Cain says our government should replace the income tax with the Fair Tax, the other candidates have to explain why the income tax should remain in place or offer another alternative. If Ron Paul says that our government needs to stop policing the world and audit the Fed, the other candidates have to explain why our government should continue to police the world and continue to keep the activities of the Fed secret. If Gary Johnson argues that from a cost/benefit approach the war on (some) drugs has yielded much greater cost than benefit, the other candidates have to explain where Johnson is wrong in his analysis.**

Far from being a distraction from the important issues, Cain, Paul, and Johnson can focus the debate in such a way that would be otherwise not possible. Of course this assumes that the debate moderators give all the candidates a chance to respond.
Of course, debates themselves are far from the open exchange of ideas that some people like to pretend they are. More often than not, they are little more than an opportunity for candidates to get out their sound bites to make sure they get into the news cycle. Nonetheless, there is something particularly disturbing about a news organization deciding that certain candidates don't belong in a debate when we're still more than eight months away from the New Hampshire Primary.  While many Americans have barely started paying attention to the 2012 race at this point, some will use these early debates to get to know more about the candidates (especially the marginal ones who don't get as much press coverage as, say, Mitt Romney). Journalists ought to have an interest in exposing the viewers to all the possible options, rather than limiting them.
I've made it clear here before that I am sympathetic to Governor Johnson's campaign. Nonetheless, I recognize that he's so far back in the polls right now that the odds of him becoming a major player in the race are slim. What's slightly unfair, I think, is that it becomes impossible for a candidate to break through when the media decides, on its own, that he doesn't deserve to share the stage with his fellow candidates. Open the debate CNN, what have you got to lose?