Gary Johnson Files Complaints With FEC, FCC Over Debate Exclusion
Gary Johnson is right to be upset that he's been excluded from debates, but he shouldn't get the government involved.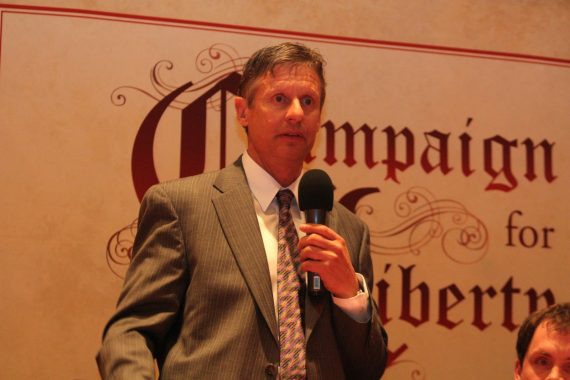 I've made no secret here of the fact that I've been a supporter of former New Mexico Governor Gary Johnson's Presidential bid, but I've got to say that I find this development very disappointing:
Gary Johnson's presidential campaign is filing an official complaint with both the Federal Election Commission (FEC) and the Federal Communications Commission (FCC) over their candidate's exclusion from the most recent GOP debate, Johnson's campaign announced Tuesday.

Johnson's complaint charges that debate sponsor CBS significantly contributed to the candidates who were allowed to participate in the debate, "directly and significantly supporting those candidates it favors, and advocating the nomination of one of their favorites and opposing the nomination of [Johnson], whom CBS evidently disfavors."

Johnson's campaign has protested his exclusion from debates in the pastthrough various means, typically using email and social media

The former New Mexico governor has been excluded from most of the presidential debates, failing to meet various requirements set by debate hosts. Hosts have cited his low polling numbers—typically under two percent—and in at least one case the fact that Johnson had not participated in enough of the other nationally televised debates.

(…)

Saturday's debate, co-hosted by CBS and National Journal, was the first debate to air on broadcast television. According to Johnson's complaint, "the public owns the airways over which CBS broadcasts, and the public deserves to be free from bias- favoring some candidates over others- as well as illegal support of certain presidential candidates on national network television."
Johnson does have a point about what sometimes seem like arbitrary debate rules. As he has stated on more than one occasion, a media company like CNN will set up a debate rule that says that the candidate must receive a certain percentage of support in national polling over a certain period of time. Even if you accept the argument that this is a reasonable rule, it becomes a Catch-22 once you realize that the media polls routinely leave Johnson's name, along with the names of other candidates like former Louisiana Governor Buddy Roemer, off the list of candidates they ask poll respondents about. When you're not even including a candidate in a poll, creating a rule that says that they can only come to a debate if they receive a certain level of support in polls they weren't even part of becomes something of a ridiculously arbitrary self-fulfilling prophecy.  Personally I'd prefer debate rules something along the lines of what James Joyner suggested the other day:
My instinct would be to invite anyone who is a declared candidate and is either at 10 percent in the polls (I'd go with the RealClearPolitics average or some other index rather than the "any national poll" standard) or who has held in the past six years one of the following offices: President, Vice President, governor, or US Senator.

If applied at the outset of this race, that formula would have included Johnson and Santorum while excluding Bachmann, Cain, Paul, and Gingrich. Adding US Representative to the list-which goes against modern precedent but one could argue still satisfies the "serious candidate" requirement-would include all the national candidates except Cain, who was nowhere in the polls until getting exposure in the debates.
It's not perfect, but it's better than what we have now in several respects. Once you get down to the point where it's clearly than only 3-4 candidates are serious contenders, debate hosts should be free to narrow the field down, of course, but in the beginning it seems best to let the public be exposed to as many credible candidates as possible.
The important point, though, is that this is something that should be adopted voluntarily. Even though I'd like to see him in more debates, I am troubled by the idea of Johnson going to government agencies to protest the actions of private media companies and state-level political parties. If the First Amendment means anything, it means that these organizations to be free to invite, or not invite, whomever the wish to their functions. If the rules are unfair, then it's perfectly valid to take to the media to complain about them, but using the power of the state to try to compel them to act? That's just wrong in my eyes.
It's worth noting that the arguments that Johnson seems to be advancing here have been raised before, and rejected by pretty much every forum that they have been presented to over the years. The networks, and the political parties and other private organizations that have co-sponsored debates during this election cycle, have the right to run their forum as they see fit. Johnson is right to be frustrated by his exclusion from the debates, and the polls, but he's wrong to try to use the power of government to his benefit. Like I said, disappointing.