"Generic Republican" Continues To Lead Obama In Head-To-Head Match
They call him "Generic Republican," but you could also call him The Unknown Candidate. Whatever you call him, though, he's beating the President of the United States in a head-to-head matchup:
 U.S. registered voters, by 46% to 38%, continue to say they are more likely to vote for the Republican presidential candidate than for Barack Obama in the 2012 presidential election. The generic Republican led by the same eight-percentage-point margin in September, and also held a lead in July. The August update, conducted just after an agreement to raise the federal debt limit, had Obama with a slight edge.
Unfortunately for Republicans, history doesn't really provide much of a guide for polls like this and things look much different when the President goes head-to-head against actual candidates:
Gallup has used the generic ballot in years prior to a presidential election when an incumbent was running for re-election and the opposition did not have an obvious front-runner for its presidential candidate, including 1991 and 2003. In October 1991, George H.W. Bush was leading a generic Democratic candidate by 17 points (49% to 32%), though his lead would shrink in subsequent polls and he ultimately lost to Bill Clinton in the 1992 election. In October 2003, George W. Bush had a slight edge over a generic Democratic candidate, 46% to 43%. He won re-election narrowly over John Kerry in 2004.

Obama looks a bit stronger than he does on the generic ballot when he is matched against actual Republican presidential candidates. Gallup found the president essentially tied with Mitt Romney and with Rick Perry in its most recent update, from mid-September. In mid-August, Obama was also competitive with the leading Republican contenders at that time.

Obama's stronger performance versus actual Republican candidates than on the generic ballot indicates the Republican candidates are perhaps underperforming, which may show a general lack of enthusiasm for the party's leading presidential contenders among the electorate.
Or, it may mean nothing at all. We're more than a year away from the General Election and huge swaths of the American public are not paying the same amount of attention to the Presidential race that political pundits, bloggers, and political junkies are. For the most part, the President's standing in these polls is a reflection of his overall job approval, which remains exceedingly negative, than it is of any evaluation of the merits of one candidate versus another. The discrepancy between the "generic" Republican and specific candidates is something we've seen in the past too, and is likely a reflection of the fact that many of these candidates aren't nearly as well known to the public as the President is.
Of more significance, I think, is the fact that the President continues to underperform with Independent voters, a key demographic in the upcoming election: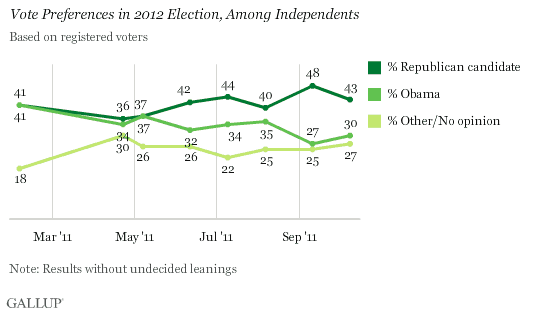 The saving grace for Obama is that there's still a substantial portion of the Independent demographic that is undecided, but unless they break for him substantially he's going to find himself in trouble in states like Virginia, Ohio, North Carolina, and Colorado.