George W. Bush's Rehabilitation
61 percent of Americans have a favorable impression of a man who left office a failed president.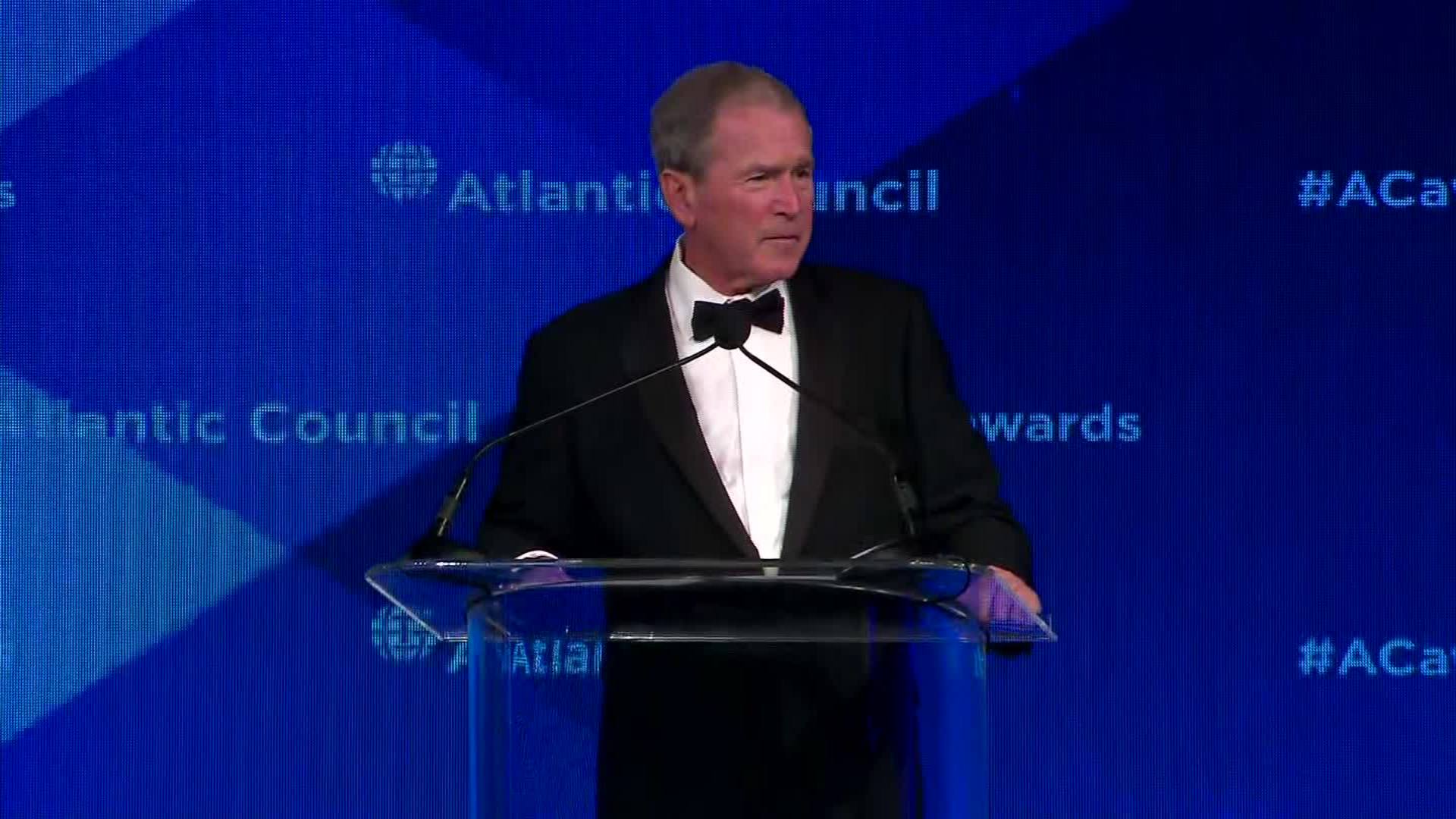 WaPo ("Donald Trump may be the best thing that ever happened to George W. Bush"):
George W. Bush received three standing ovations last week, the first for the mere mention of his name.

Bush was in town for the Atlantic Council's annual fundraiser, where he received the Distinguished International Leadership Award from the influential think tank. More than 800 guests from 70 countries — including former presidents, prime ministers and military leaders — gave the 43rd president a warm, enthusiastic welcome.

He was introduced via video by former secretary of state Condoleezza Rice, who said, "Ultimately, true leadership requires being, deep down, a good person."

Bush responded with vintage Dubya: self-deprecating jokes, references to his mom and dad, and highlighting the importance of global diplomacy — specifically his administration's work on the AIDS crisis. "I'm honored to get this award," he told the audience. "I'd really like to dedicate it to the generosity of the American people and ask you to spread the word about what this great compassionate nation has done."

He did not mention Iraq, nor did anyone else on this night of celebration.

"Time has done the reputation of President Bush a lot of good," said Fred Kempe, president of the bipartisan Atlantic Council.

The organization has considered giving Bush the award for the past few years, but the Iraq War was always the stumbling block. This year, the jury looked at his work fighting AIDS, his foreign policy in Africa, and his leadership in the aftermath of the 9/11 attacks. "Our conclusion was that, the longer time goes on and his presidency is reassessed, the better he looks," Kempe said.

Washington, it seems, has developed Bush nostalgia. Just nine years after he left the White House, many conservatives pine for their misunderestimated good old boy from Texas. Looking in the rearview mirror, the last Republican president suddenly appears measured, compassionate, principled — in short, presidential. Even liberals who could not wait for Barack Obama to move into the White House are grudgingly penitent, privately admitting that they didn't appreciate Bush's good qualities.

Fifteen years since the infamous "Mission Accomplished" banner was unfurled celebrating victory in Iraq, the debate about the war rages on. Critics of the invasion believe it will always define Bush's presidency. Admirers think history will be kinder to him. We'll all be dead before there's a verdict one way or the other.

When Bush left Washington, his popularity was in the tank, with just a 33 percent approval rating. Those numbers have doubled: 61 percent of Americans, including a number of Democrats and independents, say they have a favorable view of him, according to a CNN poll released this January.

But this newfound appreciation may have less to do with history and more to do with political beer goggles: It's 2 a.m. in the nation's capital, and suddenly every past president looks good.

No one wants to say it out loud, but Donald Trump may be the best thing that ever happened to George W. Bush.
I was the Atlantic Council's managing editor in 2009 when we presented the same award to George H.W. Bush. I remember telling General Brent Scowcroft, who had served as Bush 41's National Security Advisor and famously opposed Bush 43's entry into the Iraq War, that this might be the last time a Bush won an award. (He didn't respond.)  Despite having voted for each Bush twice, and being a reluctant supporter of the Iraq invasion, it was inconceivable to me then that Bush the Younger would receive the same award nine years hence. (And, frankly, given how much the Atlantic Council has grown in prestige since, it's a much bigger award now.)
But my former boss is right: with the glaring exception of Iraq, the Bush presidency—and Bush the man—look better from a distance. And I don't think it's entirely a function of any normal president looking good in comparison to the current occupant of the White House.
Friends say the 43rd president hates the "L" word — "legacy" — and he declines most interviews on the subject, including one for this article.

Bush "has always understood that history would have a different view of his presidency and of its consequences as the years passed," said presidential historian Jon Meacham. "He is a big reader of biography and history and knows that perspectives change as the passions of the moment cool; issues that loom large in real time often fade over time."

It takes 25 to 30 years to form an accurate assessment of any presidency. "Unless you're Lincoln or FDR," Meacham said, "you're going to have divided opinion in real time."

The headlines that seem so important inevitably fade: Harry Truman was very unpopular when he left office on 1953, only to see his historical stock rise as the Cold War institutions he created were widely credited with preventing another world war. Dwight Eisenhower was criticized for the Korean War, which some now regard as vital to the balance of power in Asia. Lyndon Johnson remains divisive: pilloried for the Vietnam War, lauded for his groundbreaking work on civil rights. For his part, Meacham believes Bush will viewed as a more sophisticated and significant president than he is judged today.
It's hard to see how the Iraq War, and especially the disastrous lack of preparation for stabilization operations after the overthrow of Saddam's regime, will be rehabilitated. But Kempe is right that Bush's massive investment in Africa, hardly discussed in the day-to-day political scrum of the day, will be a major part of the legacy.
But, yes, the comparison with the current Republican President reflects well on the last:
But the current embrace of Bush has nothing to do with his politics or policies.

"It's nostalgia for the personal characteristics," said one Republican fundraiser, who spoke on the condition of anonymity to speak frankly about his party's leaders. "Bush had a swaggering, wiseguy kind of personality, but he knew when to deploy it and when to behave like a president. He wasn't particularly articulate in his use of syntax. But he was someone who had real fidelity to the Constitution, to the norms of presidential behavior, to his wife. He . . . seemed to be a good man."

Bush's longtime friend Sen. Roy Blunt (R-Mo.) believes people are responding to Bush's "genuineness."

He is "a person who doesn't have to be critical of everybody else, a person who understands how big these problems are, a person who just has a sense of the right way to conduct yourself as a former president."

How a president behaves after leaving office is a bigger factor in the legacy question than one might guess. As a general rule, Americans want dignity and statesmanship from their past presidents. Bush has kept a low profile: painting, promoting philanthropic causes, hanging out with Bono and Bill Clinton. He's made millions giving corporate speeches, while avoiding the appearance of cashing in on his White House years.

And he's been careful not to publicly weigh in on Trump since the election. In a widely reported speech last October, Bush gave an address on leadership without once mentioning the current president by name — but pointing a finger nonetheless. "We know that when we lose sight of our ideals, it is not democracy that has failed," he said. "It is the failure of those charged with preserving and protecting democracy."

Even those who believe Bush was wrong to invade Iraq rarely question his patriotism or his respect for the office. Madeleine Albright, who also spoke that day at the George W. Bush Institute event in New York City, writes in her new book: "We disagreed often about matters of policy. However, I have always admired the man's easygoing optimism and his personal decency, qualities that have become far less common in public life than they should be."
Bush was genuinely trying to do his best for his country and, indeed, the world writ large. He got major legislation passed in a bipartisan fashion. As polarized as his era was, that looks positively quaint now.