George Zimmerman Now Free, Trayvon Martin Still Dead
The jury likely got it right. That doesn't mean George Zimmerman didn't kill Trayvon Martin or that Martin deserved to die.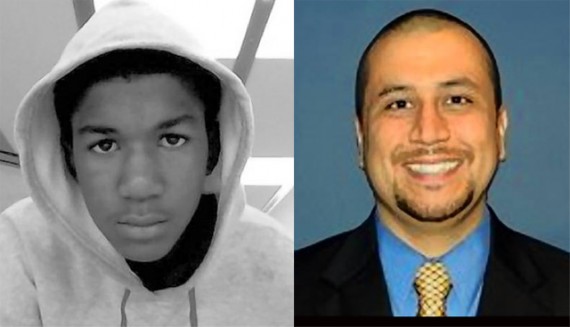 While I followed the events following George Zimmerman's killing of Trayvon Martin quite closely, I paid scant attention to the trial itself. Partly, I was traveling quite a bit and wrapped up with work and family matters. Partly, because I hate the creepy, voyeuristic way these things are covered. But I had gathered that the prosecution handled a weak case poorly and that an acquittal should surprise no one; thus, I was not surprised.
Stopping in at The Atlantic this morning to find an article that I stumbled on yesterday and meant to blog about, I came across a characteristically thoughtful post from Ta-Nahesi Coates ("On The Killing Of Trayvon Martin By George Zimmerman"):
2.) I think the jury basically got it right. The only real eyewitness to the death of Trayvon Martin was the man who killed him. At no point did I think that the state proved second degree murder. I also never thought they proved beyond a reasonable doubt that he acted recklessly. They had no ability to counter his basic narrative, because there were no other eye-witnesses.

3.) The idea that Zimmerman got out the car to check the street signs, was ambushed by 17-year old kid with no violent history who told him he "you're going to die tonight" strikes me as very implausible.  It strikes me as much more plausible that Martin was being followed by a strange person, that the following resulted in a confrontation, that Martin was getting the best of Zimmerman in the confrontation, and Zimmerman then shot him.  But I didn't see the confrontation. No one else really saw the confrontation. Except George Zimmerman. I'm not even clear that situation I outlined would result in conviction.

4.) I think Andrew Cohen 

is right

–trials don't work as strict "moral surrogates." Everything that is immoral is not illegal–nor should it be. I want to live in a society that presumes innocence. I want to live in that society even when I feel that a person should be punished.
The piece I had been looking for was Philip Bump's Friday essay "The Zimmerman Jury Can Judge His Fate Much Better Than You."
Your assessment is not less important than that of the jurors, but it is less informed. No matter how much of the trial you watched on CNN, those jurors almost certainly saw more of the evidence than you did. They held documents in their hands. They saw what the witnesses—and Zimmerman—were doing while not on camera. They were excluded from hearing evidence that the judge deemed inappropriate or inadmissible. They have been instructed on the specific components of the law. And, most important, they are the only ones who know what arguments are being used to persuade each other to reach a unanimous decision.

[…]

Jurors must evaluate the evidence. While both sides present opening and closing arguments, the central component of a criminal trial is the evidence. And in our system, that evidence is introduced through witnesses. If the prosecution has computer analysis that shows important information, it must call a computer analyst to the stand to explain how it was developed. Every physical thing is linked to a human representative.

What this means is that the person and the evidence are inextricably linked. Jurors are asked to evaluate the witness as placeholders for the evidence. Not only in the case of eyewitness testimony—is the witness squirming in his seat? Does he seem believable?—but in expert testimony, too. Credentials are considered, but so is the presentation. Did that doctor seem uncertain in answering his question? Did she qualify her analysis? When the camera in the courtroom shows the lawyer asking the question and not the witness answering it, you're missing part of the evidence.

Physical evidence also offer details not conveyed over the television. Tiny details—textures, discolorations, notes—can all be elements that play into the decision-making process jurors use. Those details may not be conveyed, even in high-definition.

Then, of course, there is the response of the man on trial. What is George Zimmerman doing while the evidence is being presented? How is he reacting? Zimmerman is frequently shown during CNN's boradcast, but not always. His demeanor is something the jurors must consider.

[…]

Jurors only see evidence that's admissible. Criminal trials are not about guilt. They are about whether or not someone broke a law. This is a very important distinction.

[…]

Courtroom observers—and non-sequestered people following press coverage—know things that a judge might consider unduly prejudicial if presented to a juror. As a person watching from the outside, you are more than welcome to judge the defendant based on that evidence. But if the judge excludes it from consideration by the jury, there's a reason, based in the law.
Now, of course, juries sometimes get it wrong. Many innocent men have been found guilty and many people who plainly did what they were accused of doing are acquitted. In this particular case, there's no doubt, reasonable or otherwise, that George Zimmerman killed Trayvon Martin, a teenage boy who did not deserve to have his life ended. But that wasn't what the jurors were being asked to decide. Rather, they were charged with deciding whether Zimmerman committed second degree murder as defined by Florida statute. And, as contemptible as George Zimmerman is and as outrageous as Trayvon Martin's death is, it strikes me as pretty obvious that he did not, regardless of what one believes about what happened after the events we hear on tape end.
Regardless, I also agree with the thrust of Bump's post-trial analysis, "A Verdict but No Answer to Why Trayvon Martin Is Dead."
The loss of Trayvon Martin's life, everyone should and must agree, was horrible. But nearly as big a loss would be to consider the issues of racism and access to firearms and use of force now closed, resolved. They aren't. They remain painful gashes in America's complex and history-laden system of jurisprudence that the Trayvon Martin killing only broadened.

And they deserve immediate attention and contemplation and study. Perhaps with the verdict in, and, in a few hours or days, some cooling off of the frustration and elation felt by those hoping for one verdict or the other, perhaps then we can return to these issues. It's probable that the Martin killing forced these issues into the public conversation with an energy that prevented our considering them rationally and even-handedly. Once that furious energy dissipates, it is even a better time to figure out why Trayvon Martin is dead.

It is important for America to figure out if Trayvon Martin is dead because he was black and because he was young. It is important for America to figure out if we should outsource our safety to armed civilians. We should pour resources into resolving those questions once the spotlight has passed — examine the rates of homicide in communities of color and in Florida and the efficacy of "stand your ground." We should, of course, go further, looking at how and when and why America makes tacit and explicit distinctions between one group and another, or why some feel as though carrying a gun is important and vital and other find it frightening.
I don't know for sure what happened when George Zimmerman ultimately confronted Trayvon Martin face-to-face. I do know that the outcome was tragic and that the confrontation should never have happened. That doesn't make Zimmerman guilty of second degree murder; indeed, I'm pretty sure he isn't. But I'm quite certain that untrained wannabe cops ought not be patrolling their neighborhoods late at night armed with guns and looking for trouble.