Government Advertising to Boost Food Stamp Enrollment
Byron York reacts to a CNNMoney story titled "Government wants more people on food stamps" by snarking, "And Democrats reacted angrily when Gingrich called Obama 'food stamp president.'"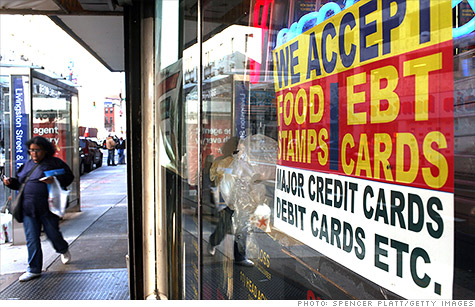 Byron York reacts to a CNNMoney story titled "Government wants more people on food stamps" by snarking, "And Democrats reacted angrily when Gingrich called Obama 'food stamp president.'" Curious as to why the government would want more people on food stamps, I read the story.
 More than one in seven Americans are on food stamps, but the federal government wants even more people to sign up for the safety net program.

The U.S. Department of Agriculture has been running radio ads for the past four months encouraging those eligible to enroll. The campaign is targeted at the elderly, working poor, the unemployed and Hispanics.

The department is spending between $2.5 million and $3 million on paid spots, and free public service announcements are also airing. The campaign can be heard in California, Texas, North Carolina, South Carolina, Ohio, and the New York metro area.
So, a cynical ploy by a socialist agency to help re-elect the most socialist president since, well, ever by getting yet more people hooked on Uncle Sugar's money?
"Research has shown that many people — particularly underserved seniors, working poor, and legal immigrants — do not understand the requirements of the program," said Kevin Concannon, a USDA under secretary.

The radio ads, which run through June 30, come amid a bitter partisan fight over the safety net program. Republican lawmakers want to reduce funding for the benefit or turn it into a block grant program, which would also minimize the cost. Democrats, however, are not willing to make major cuts.
Well, sure. It's like a huge campaign donation paid for by the taxpayer.
The issue has become so heated that Newt Gingrich called President Obama the "food stamp president" to show how he's increased government spending.
I guess he's trying to put that record as far out of reach as Cy Young's win total. I mean, seriously, advertising to get people to go on food stamps? Who but Food Stamp President Obama would do something like that.
President Bush launched a recruitment campaign, which pushed average participation up by 63% during his eight years in office. The USDA began airing paid radio spots in 2004.
Oh. Way to ruin a good talking point, CNN.
Apparently, there's some sort of economic downturn going on and a lot of people are having trouble affording food and the federal agency charged with doing something about that is trying to get the word out that there's a program in place to help.
Some 46.4 million people are in the food stamps program, also known as Supplemental Nutrition Assistance Program, or SNAP. That's just a touch below the record high hit in January.

Still, more than one in four Americans eligible for food stamps do not participate, according to USDA records. And the rate is much lower among the the elderly and people just above the poverty line. Nearly two-thirds of folks in these categories aren't enrolled.

In one ad, an elderly woman is surprised to learn that her friend is on food stamps. The friend explains that now that she's retired and on a fixed income, the program "helps me eat right when money's tight."

"Millions of low-income seniors struggle to afford life's necessities like food and medicine," said Stacy Dean, vice president for food assistance policy at the left-leaning Center on Budget and Policy Priorities. "Enrolling in SNAP can help ease that struggle."

Deficit hawks, however, don't want to see the government spend more money on food stamps at a time when lawmakers are trying to reduce the size of the federal government. The deficit for fiscal 2012 is projected to top $1 trillion for the fourth year in a row.

In fiscal 2011, the federal government spent more than $75 billion on food stamps, up from $34.6 billion at the end of fiscal 2008, according to the USDA.

"We ought to be looking for ways to save money in the program, not to encourage more people to use it," said Chris Edwards, an economist with the Cato Institute, a libertarian organization.
Look, there's an argument to be had as to whether the federal government ought to be in the business of giving money to people to buy food. Or whether it makes sense to have the same eligibility threshold in Alabama and New York. And, certainly, we're all in favor of more efficient operation of government offices. But it's a bizarre notion, indeed, that the best way to save money on a government food assistance program is to count on the fact that a lot of poor people also happen to be uninformed about the benefits to which they're entitled.