Government Shutdown Enters Day Three With Resolution Still Uncertain
As the Federal Government shutdown moves into the work week, there are some rumors of a possible deal, but nothing concrete and the lack of trust between the two parties could make a deal hard to achieve.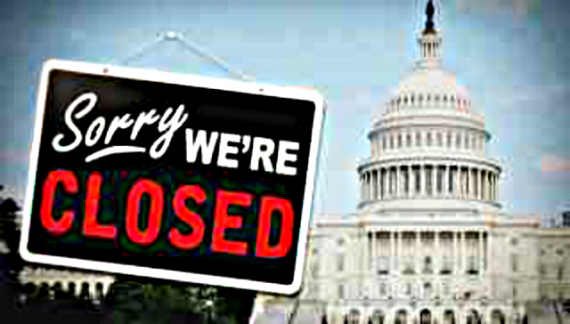 As we trudged through the second day of the Federal Government shutdown yesterday, there really wasn't much of a change from the non-action that we saw on Saturday. Sunday morning was, of course, dominated by the regularly scheduled Sunday news programming, which largely consisted of coverage of the shutdown and appearances by Administration officials, Members of Congress, and Senators from both sides of the aisles who basically came on the air to repeat the talking points that we've heard all weekend regarding whose to blame. For most of the day, though, there was nothing going on in the Senate or the House to indicate publicly that any progress was being made in either body toward a deal that would reopen the government or deal with outstanding issues such as the impending expiration of the Deferred Action For Childhood Arrivals (DACA) program, a long-term military spending bill that would not subject the Pentagon to endless Continuing Resolutions, or additional disaster funding for the areas impacted by Hurricanes Harvey, Irma, and Maria.
Behind the scenes, though, there were some efforts to come up with at least a temporary solution that would reopen the government and get a commitment on separate votes for bills on immigration, military spending, and other issues. Part of that work was being done by a bipartisan group of about 20 Senators who were continuing efforts that had been ongoing before the shutdown to find a solution to the current shutdown, and at least some of it at least appeared to be happening in the offices of Senate Minority Leader Mitch McConnell and Minority Leader Chuck Schumer. By the end of the day, McConnell had announced that there would be a vote today on a proposal such as that outlined above that would reopen the government and make funding available until February 8th. As we wake up this morning, though, the Federal Government remains shut down and it's entirely unclear whether or not we'll see a solution today:
WASHINGTON — Senators failed on Sunday to reach an agreement to end the government shutdown, ensuring that hundreds of thousands of federal employees would be furloughed Monday morning even as the outlines of a potential compromise came into focus.

For much of the day, feverish work by a bipartisan group of senators offered a reason for cautious optimism that a deal could be reached soon. By Sunday night, Senator Mitch McConnell of Kentucky, the majority leader, moved to delay until noon Monday a procedural vote on a temporary spending bill — a signal that talks were progressing.

In a gesture to lawmakers seeking assurances that the Senate will address the fate of hundreds of thousands of young undocumented immigrants, Mr. McConnell said he intended to move ahead with immigration legislation next month if the issue had not been resolved by then.

But the deep divisions between the parties were evident as senators remained unable to reach a compromise even as the crisis was poised to deepen with the beginning of the workweek.

Senate Democrats gave no immediate sign that they would get on board with the temporary spending bill, leaving open the possibility of another failed vote on Monday that could further deepen the partisan divide three days into the shutdown. Any deal would most likely need the support of around a dozen Senate Democrats, since the chamber's procedural rules require 60 votes.

The best hope for a breakthrough appeared to reside with the group of about 20 senators from both parties who met throughout the weekend to try to hammer out a compromise to present to Mr. McConnell and Mr. Schumer.

The group was discussing a plan in which the government would stay open through early February, to be coupled with a promise that the Senate would tackle the issue of immigration in the coming weeks.

"There are, I think, people from both parties of good will who want to have a framework for us to move forward to address all of these issues," Senator Chris Coons, Democrat of Delaware, said Sunday evening. "But at this point, it is in the hands of leadership, and I really hope they are going to find a way forward."

A major lingering question was how a compromise might pave the way for passage of legislation to protect the young undocumented immigrants known as Dreamers. Their status is in jeopardy after President Trump moved last year to end an Obama-era program, Deferred Action for Childhood Arrivals, or DACA, that shields them from deportation. Mr. Trump gave Congress until early March to find a resolution to the issue.

For as long as the government is closed, the White House has said it will not entertain demands on immigration. Senators in the bipartisan group proceeded anyway in discussing a compromise in which there would be some kind of promise that the Senate would address the issue in the coming weeks.

"We want to see a commitment to take up immigration," said Senator Tim Kaine, Democrat of Virginia, "with a belief that we'll get to a good result for Dreamers."

Senator Jeff Flake, Republican of Arizona, said it was best for Mr. Trump to let the Senate work out its own solution.

"I just don't think it helps for him to be involved at all right now," he said.

Mr. Trump has vacillated on an immigration deal in recent weeks, leaving both sides confused as to what kind of legislation he might accept.

The talk of promised action on immigration also raised other questions, including whether a pledge from Mr. McConnell like the one he offered on Sunday could be a significant enough assurance for Senate Democrats who are worried about the fate of the Dreamers. For instance, a promise of a Senate vote on a stand-alone immigration bill would still leave the possibility that the measure would die in the House, potentially leaving the DACA issue unresolved.
More from The Washington Post:
The government shutdown headed into its third day after frantic efforts Sunday by a bipartisan group of moderate senators failed to produce a compromise on immigration and spending.

"We have yet to reach an agreement on a path forward that would be acceptable for both sides," Senate Minority Leader Charles E. Schumer (D-N.Y.) said shortly after 9 p.m. Sunday, adding that talks would continue ahead of a procedural vote scheduled for noon Monday.

The effects of the shutdown over the weekend were relatively limited: halting trash pickup on National Park Service property, canceling military reservists' drill plans, switching off some government employees' cellphones.

But the shutdown's continuing into Monday, the start of the workweek, means that hundreds of thousands of workers will stay home and key federal agencies will be affected. Federal contractors will see payments delayed, and the Internal Revenue Service will slow its preparations for the coming tax season.

The impasse continues as it was unclear whether the public would blame the Republicans, who control the White House and Congress, or Democrats taking a stand on immigration while shuttering government agencies.

The moderates' proposal — to link a three-week extension of government funding to the consideration of an immigration bill in the Senate — prompted Senate Majority Leader Mitch McConnell (R-Ky.) to announce that he would be willing to consider debating various immigration bills on the floor in mid- to late February if an agreement on immigration was not other­wise reached before then by party leaders.

"Let's step back from the brink," he said. "Let's stop victimizing the American people and get back to work on their behalf."

But the pledge came with caveats that led senior Democratic aides to question whether it would ultimately be workable. Mindful of the failure of a sweeping immigration bill that passed the Senate in 2013 but languished in the House, Democrats want stronger assurances that the legislation they are demanding to protect young undocumented immigrants will ultimately become law.

Whether Republicans can find compromise on immigration remained as uncertain as ever Sunday, with no clear backing from House Republican leaders or President Trump, who showed no sign of retreating from his hard line on immigration.

Still, Senate Majority Whip John Cornyn (R-Tex.) said he was optimistic the Senate would vote Monday to break the impasse. Schumer, he said, "wants to just give everybody a chance to chew on it and sort of understand it, and so that's why he didn't want to have the vote tonight."

Matt House, a spokesman for Schumer, said the Democrats "made some reasonable offers to Senator McConnell and he hasn't accepted them yet. The caucus is waiting for him to move some in our direction."

The bipartisan group scrambled for a compromise, but the decision ultimately belonged to McConnell and Schumer.

(…)

No firm proposal emerged from the meeting, but senators discussed a broad outline that could unlock a deal: modify the temporary spending bill now under consideration in the Senate to expire on Feb. 8, and then find some way to guarantee that immigration legislation moves forward in the interim.

The White House has said it supports the plan for funding through Feb. 8 but has been wary of making concessions on immigration. While legislation protecting Deferred Action for Childhood Arrivals recipients could probably move through the Senate with Democrats and a handful of Republicans supporting it, Trump has rejected proposals along those lines, and House GOP leaders are under fierce pressure not to bring up any bill that a majority of Republicans would reject.

Speaking on ABC's "This Week," White House legislative affairs director Marc Short declined to provide assurances that the president would guarantee a vote on an immigration bill in exchange for a short-term spending deal. "We want to have the right resolution," he said.

Other Republicans also saw little advantage in making any concessions to advance legislation that would provide protections for "dreamers" — undocumented immigrants brought illegally to the United States as children, 690,000 of whom face potential deportation after Trump canceled the DACA program.

In a brief closed-door meeting of House Republicans, House Majority Leader Kevin McCarthy (R-Calif.) reassured lawmakers that there would be no negotiations on the issue as long as the government remained shuttered, affirming the White House position.

Cornyn told reporters that the deadline for action to address DACA remained March 5, when the last of the program's participants will see their protected status expire.

"We're more than happy to have a vote on it well before the deadline. We've committed to that," Cornyn said. "But turning the agenda over to Democrats who just shut down the government makes no sense to me. It just seems like it encourages bad behavior."
As I write this, the vote on the proposal that McConnell put forward last night is less than three hours away and it remains unclear whether it will garner the sixty votes needed to pass the Senate. Under that proposal, funding for Federal Government that would last until February 8th would be approved immediately and both the Senate and the House will pledge to vote on bills that would extend DACA and fund the military through the end of current Fiscal Year. The question will be whether or not that proposal will be enough to get support from enough Democrats to get past the 60 vote threshold, and that's entirely unclear at the moment. The biggest issue, of course, is one of trust in both chambers of Congress. Democrats clearly don't seem to trust the promises by the Senate GOP leadership regarding future votes on immigration and other issues. Additionally, even if the Senate approves this proposal today it will still need to pass the House. Speaker Paul Ryan and other House leaders have said that they would back the proposal McConnell is putting forward, but that doesn't necessarily mean that they can count on the support of the House GOP Caucus, and it's not clear that Democrats fully trust representations by House leadership that they'll also take up the immigration and other bills after the government reopens. Finally, of course, there's the President who has changed positions on immigration and other issues several times over the past two weeks to the point where Senate Minority Leader Chuck Schumer said in a speech on the Senate floor that negotiating with the President was like negotiating with Jello due to the fact that he cannot be counted on keeping his word. As long as that's the case, getting to a "yes" is going to be difficult.
As they say, stay tuned.
Update: This afternoon, the Senate effectively approved an agreement to reopen the government. Final votes on the bill remain to be taken in both the House and the Senate but that is expected to happen no later than early this evening at which point the bill will be available for President Trump to sign the bill into law.