Government Shutdown Hurting Republicans In Virginia Governor's Race
The government shutdown seems to be having an impact on the one competitive statewide race in country this year.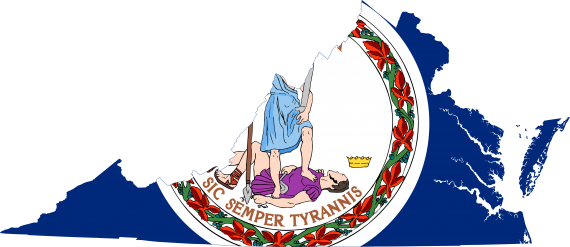 A new Politico poll of the Virginia Governor's race provides the starkest indication yet that the government shutdown may be hurting Republican candidates, in this specific case the candidacy of Attorney General Ken Cuccinelli for Governor of Virginia:
Democrat Terry McAuliffe has opened up a significant lead over Republican Ken Cuccinelli in the Virginia governor's race amid broad public disapproval of the federal government shutdown, according to a POLITICO poll of the 2013 gubernatorial election.

McAuliffe, the former national Democratic Party chairman, is now 9 points ahead of Cuccinelli, the current state attorney general, in a race that also includes Libertarian nominee Robert Sarvis. In the survey, McAuliffe drew support from 44 percent of Virginians versus 35 percent for Cuccinelli and 12 percent for Sarvis.

Four weeks from Election Day, McAuliffe also leads Cuccinelli in a one-on-one contest, 52 percent to 42 percent.

The POLITICO poll, conducted by Democratic firm Public Policy Polling and Republican firm Harper Polling using automated survey methodology, is the first snapshot of the Virginia race to take into account the impact of the closure of the federal government. The survey tested 1,150 likely voters Oct. 5- 6 with a margin of error of plus or minus 2.9 percentage points.

For much of the year, the Virginia race has been an exercise in mutual annihilation between two unpopular candidates, a dynamic that held up in this poll: Nearly half of likely Virginia voters — 49 percent — have an unfavorable opinion of McAuliffe while 39 percent said they have a favorable opinion.

Mirroring a trend in other recent public polls, Cuccinelli's favorability numbers are worse: Only 34 percent of voters viewed him favorably, and a 56 percent majority viewed him unfavorably.

Sarvis is largely unknown, and his support could fade from the 12 percent mark before Election Day. Only 43 percent of respondents had an opinion of the third-party candidate with slightly more viewing him unfavorably, at 23 percent, than favorably, 20 percent.
Other numbers from the poll are largely consistent with what we've been seeing for the past several weeks. In addition to the fact both candidates have high unfavorable numbers, with Cucinelli's numbers being slightly higher, there remains a significant gender gap, with McAuliffe beating Cucinelli by double digits among women. The most interesting new factor, though, is the ongoing government shutdown which clearly seems to be hurting Cuccinelli not withstanding his efforts to distance himself from Congressional Republicans in general and Ted Cruz specifically on this issue:
The major curve ball in the Virginia race, however, is the government shutdown, which is now entering its second week and could be expected to have an outsize impact in a state with such a large population of both civilian and military government employees. McAuliffe has led Cuccinelli in the mid-single digits in both public and private polling; his margin is wider in the POLITICO poll, and the shutdown is the most obvious explanation for that.

Both McAuliffe and Cuccinelli have spoken out against the shutdown. The Democrat has run ads tying Cuccinelli to Texas Sen. Ted Cruz, the so-called defund Obamacare champion, while Cuccinelli has accused McAuliffe of risking a shutdown in Richmond with his give-no-quarter support for Medicaid expansion under the Affordable Care Act.

They have good reason to run in that direction: A full 62 percent of poll respondents said they oppose the government "shutting down over funding for the Affordable Care Act, also known as Obamacare." Thirty-one percent said they support the shutdown.

Of the Virginia voters who oppose the shutdown, nearly two-thirds — 64 percent — support McAuliffe while 16 percent support Cuccinelli, and 12 percent back Sarvis. Shutdown supporters prefer Cuccinelli over McAuliffe, 73 percent to 10 percent with 11 percent for Sarvis.

National Republicans take the greater share of blame from Virginians for the lights-out moment in Washington: Fifty percent of respondents said they blame Republicans in Congress most for the shutdown while 35 percent said they primarily blame President Barack Obama and Senate Democrats. Fifteen percent of likely voters in the poll said they blame both sides equally.

Democratic and Republican voters largely pin the blame on the other party, but independent voters blame congressional Republicans over Obama and Senate Democrats, 48 percent to 33 percent.
Getting even more specific, Texas Senator Ted Cruz comes out of the poll particularly badly, with 45% of those responding viewing him unfavorably and a mere 26% viewing him favorably.
This new poll gives McAuliffe the biggest lead we've seen for either of the candidates so far in this race. Even as he has surged in recent weeks, McAuliffe's lead has stayed within a 5-7 point range,  regardless of whether we're talking about polls where only he and Cuccinelli are included or polls that include the two major party candidates and Libertarian nominee Robert Sarvis.  So, it's unclear at this point whether this poll is an outlier or whether it represents the beginning of a sea change in the race that has been spurred by the government shutdown itself. If it's the later, though, then this could mean that the race is slipping away from Cuccineli even quicker than it appeared to be and that a continuation of what is quickly becoming a dual shutdown/debt ceiling crisis for much longer could be a real problem for the Virginia GOP going forward.
To be fair, it's hard to say that all of Cuccinelli's problems can be blamed on the Government shutdown. He has long been portrayed, with good reason, as far more of an activist on issues of concern to social conservatives than either Governor McDonnell or Lt. Governor Bolling, so he entered the race with a reputation that was guaranteed to be a problem for him in many of Virginia's most populated areas. Since Labor Day, Virginia Democrats have made sure to remind the public of these facts via a series of television ads that have highlighted some of the past positions that Cuccinelli would, no doubt, rather not discuss at the moment. This, in large part, explains the large, and potentially decisive gender gap in the race. Additionally, Cuccinelli has run a less than stellar campaign so far, something that several commentators on the right here in the Old Dominion are starting to take notice of. At the same time, though the shutdown throws a monkey wrench into this race that could be a game changer. The fact that this is happening while Cuccinelli is quite obviously trying to distance himself from what's happening just across the Potomac River is, no doubt, frustrating , but that's what tends to happen when a political party's brand becomes tainted in the mind of the public.
Looking at the numbers, the RealClearPolitics average shows things continuing to go in McAuliffe's direction. He holds a 6.0 point average lead in head-to-head polling with Cuccinelli, and a 6.5 point lead in polling that includes the Libertarian Party candidate. With the notable exception of one or two polls, the trend since Labor Day has clearly been in McAuliffe's favor. We're not at the point where it makes any sense at all to write off Virginia Republicans this year, though. Typically, turnout in these Gubernatorial election years tends to favor Republicans more than Democrats, for example, so there's still a chance that Cuccinelli has a chance to pull off a victory here. Given the trends, though, and the fact that the shutdown seems to be hurting the GOP's image in the minds of GOP voters, though, it would seem pretty clear that it's time for Virginia Republicans to start worrying.
Update: A new poll from Christopher Newport University [PDF] has the race at McAuliffe 47%, Cuccinelli 38%, Sarvis 8%