Hagel's Dismissal A Reflection Of Contradictory Policy
The abrupt departure of Chuck Hagel says much more about Administration policy than it does about Chuck Hagel.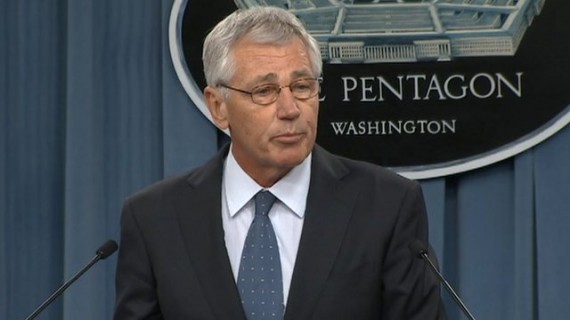 James Joyner's piece on the abrupt resignation of Defense Secretary Chuck Hagel, titled Hagel's Fate Was Sealed Long Ago, has been posted at The National Interest:
Before leaving for my present position last August, I spent six years at the Atlantic Council, where Hagel served ably as chairman until taking over the Defense Department. His predecessor, General Jim Jones, had been picked to join Obama's "team of rivals" as National Security Advisor. Both men were highly accomplished public servants, widely respected by Republicans and Democrats alike for their competence, intellect, and integrity. Indeed, Jones may very well have been selected as National Security Advisor or another prominent role had John McCain prevailed in 2008. (Interestingly, Hagel was followed by Jon Huntsman, the erstwhile Republican governor or Utah and presidential candidate who'd alienated his base by serving as Obama's ambassador to China.)

In both instances, the qualities that got them chosen made them poor fits. In an administration that sees foreign policy as an extension of domestic policy, simply asking "What's in the US national security interest?" isn't enough. In case after case, the administration chose half measures that would appease the Democratic base while minimizing criticism from Republicans on the "weakness" front.  So, they announced a military surge in Afghanistan that was far less than requested by the commanding general while simultaneously announcing a premature deadline for withdrawal. They authorized military action against the Gaddafi regime in Libya, the Assad regime in Syria, and against ISIS in Iraq and Syria but without any obvious consideration of the strategic consequences.

It didn't help that Jones and Hagel were outside the inner circle of foreign policy advisors that Obama had brought with him from the campaign and the Senate. Their willingness to work across the aisle may have won them plaudits from the broader foreign policy community but it meant that they would never be trusted team players. They were constantly being sniped at by anonymous staffers in the press and were ready scapegoats for failed or unpopular policies. Meanwhile, the president has shown steadfast loyalty and infinite patience with Susan Rice and others.
As always, much more at the links.