Handful of Nobodies Threatens to Form New Party
Here we go again.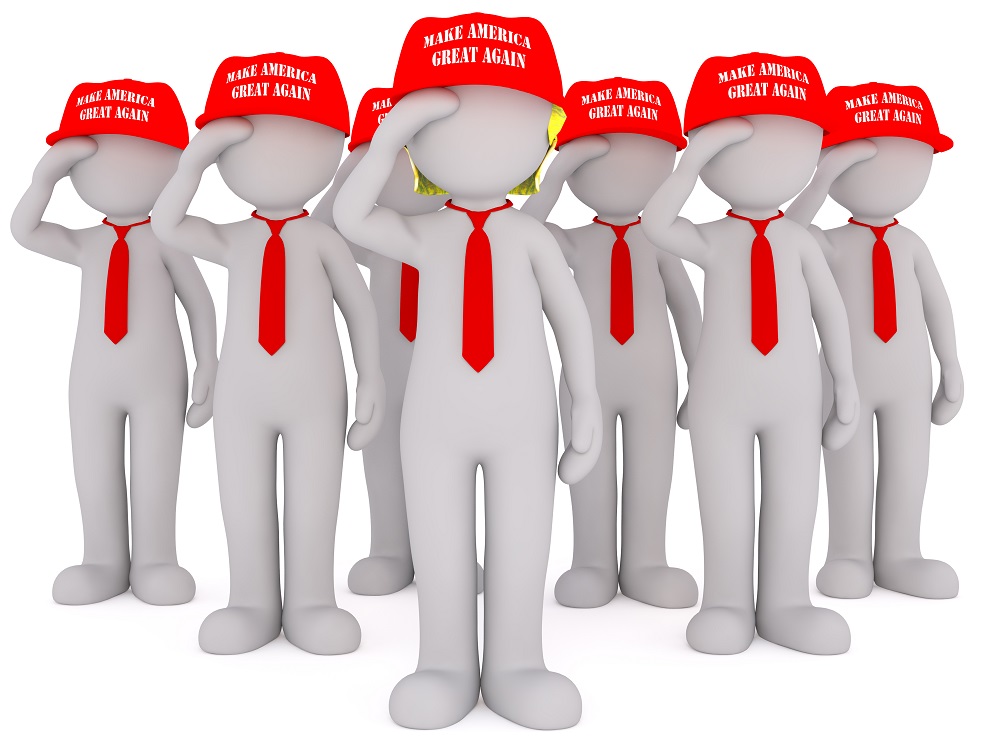 The Republican Party is in the midst of a civil war. Well, more of an insurrection. Er, well, almost all of the national elected members of it are on the same page but a handful of folks disagree. The New York Times ("Over 100 Republicans, including former officials, threaten to split from G.O.P.") reports on the latest installment of this saga.
More than 100 Republicans, including some former elected officials, are preparing to release a letter this week threatening to form a third party if the Republican Party does not make certain changes, according to an organizer of the effort.

The statement is expected to take aim at former President Donald J. Trump's stranglehold on Republicans, which signatories to the document have deemed unconscionable.

"When in our democratic republic, forces of conspiracy, division, and despotism arise, it is the patriotic duty of citizens to act collectively in defense of liberty and justice," reads the preamble to the full statement, which is expected to be released on Thursday.
So, if this were 100 current governors and Members of Congress, it would be a big deal. Alas, not so much.
The effort comes as House Republican leaders are expected on Wednesday to oust Representative Liz Cheney of Wyoming from their ranks because of her outspoken criticism of Mr. Trump's election lies.
The key here is that Cheney will almost certainly be ousted, even though she's a hard-right Republican, simply because she refuses to go along with one particular lie: that the election was somehow stolen from Trump. Alas, only a handful of Republicans Members of Congress are likely to vote to support her because they fear a base that loves Trump more than they care about Liz Cheney or, well, the truth.
"This is a first step," said Miles Taylor, an organizer of the effort and a former Trump-era Department of Homeland Security official who anonymously wrote a book condemning the Trump administration. In October, Mr. Taylor acknowledged he was the author of both the book and a 2018 New York Times Op-Ed article.
Taylor was a third-tier figure that we would never have heard of except that the Times decided to allow him to publish an anonymous op-ed that gave the false impression that he was 1) much more powerful than he actually was (most of the speculation centered on the likes of Jim Mattis and Mike Pence) and 2) that he was much more representative than he actually was of senior Trump administration officials (of which, again, he was not one).
"This is us saying that a group of more than 100 prominent Republicans think that the situation has gotten so dire with the Republican Party that it is now time to seriously consider whether an alternative might be the only option," he said.
So, absent that op-ed and the exposure it created for him after the fact, nobody thinks Taylor is a "prominent Republican." Even after his name was revealed, prompting me to write a post titled "'Anonymous' Still Anonymous," I promptly forgot his name. Indeed, I had to look it up twice trying to find that post. That he's a ringleader of this movement shows 1) how marginal it is and 2) how divorced it is from the actual Republican Party.
The list of people signing the statement includes former officials at both the state and national level who once were governors, members of Congress, ambassadors, cabinet secretaries, state legislators and Republican Party chairmen, Mr. Taylor said.
So, on the one hand, these are indeed people who were prominent members of the GOP. But the key word is "was"—past tense.
Mr. Taylor declined to name the signers. Reuters reported earlier that the former governors Tom Ridge of Pennsylvania and Christine Todd Whitman of New Jersey will sign it, as will former Transportation Secretary Mary E. Peters and former Representatives Charlie Dent of Pennsylvania, Barbara Comstock of Virginia, Reid Ribble of Wisconsin and Mickey Edwards of Oklahoma.
These people haven't held power in years. In many cases, decades. And the ones, like Comstock, who held it more recently were ousted in GOP primaries because they no longer fit the party.
And then there's this:
Mr. Taylor declined on Tuesday to reveal the specific changes that the coalition was planning to demand of the Republican Party in its statement.

"I'm still a Republican, but I'm hanging on by the skin of my teeth because how quickly the party has divorced itself from truth and reason," Mr. Taylor said. "I'm one of those in the group that feels very strongly that if we can't get the G.O.P. back to a rational party that supports free minds, free markets, and free people, I'm out and a lot of people are coming with me."
So, first, ain't nobody going with Taylor. Maybe someone will follow Tom Ridge or Christine Todd Whitman, but certainly not some snot-nosed guy famous for writing an anonymous op-ed who only had an appointed post at all because there were so many #NeverTrump national security officials that they had to scrape the bottom of the barrel to get anyone.
But, second, while I hope that there is indeed a significant cohort of professionals in my old party that genuinely reject Trump and Trumpism—including the Big Lie—that itself isn't the basis for a new party. To the extent the GOP supported "free minds, free markets, and free people," it was the libertarian wing (and, to a lesser extent, the Chamber of Commerce wing) of the party, not the populist wing that now dominates.
Steven Taylor and I have written oodles of posts over the years about the massive structural barriers to forming a new American party and turning it into a governing one and I won't belabor that point here. Unless some significant number of current Representatives, Senators, and Governors switch to that banner, it's not even an interesting discussion.