Harris Breaks Tiebreaker Record
A milestone that should never have been approached.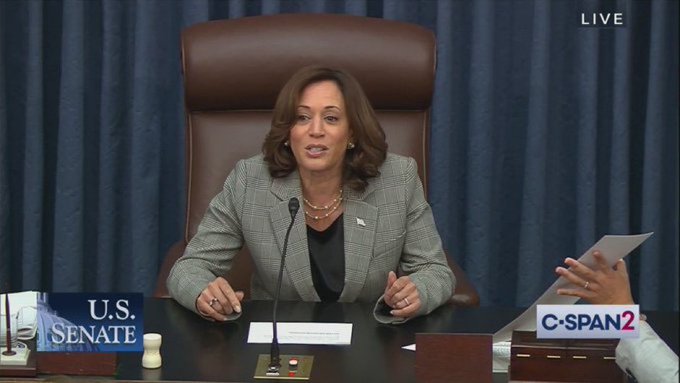 AP ("Vice President Kamala Harris makes history with tiebreaking votes in Senate"):
Kamala Harris, who made history as the first woman or person of color to serve as vice president, made history again Wednesday as she matched the record for most tiebreaking votes in the U.S. Senate.

The vote, her 31st, advanced the nomination of Kalpana Kotagal to the Equal Employment Opportunity Commission. The only other vice president to cast so many was John C. Calhoun, who served as vice president from 1825 to 1832.

[…]

Unlike Calhoun, who spent eight years accumulating his total, Harris tied the record in two and a half years. It's a reflection of her unique circumstances, with a narrowly divided Senate and a sharply partisan atmosphere.

"It really says more about our time, and our political climate, than it does about anything else," said Joel K. Goldstein, a vice presidential historian. "Our politics is so polarized that, even on the sort of matters that in the past would have flown through, it takes the vice president to cast a tiebreaking vote."
Indeed, one would think something like a vote to confirm someone to the EEOC would be rather routine, done on a voice vote.
Regardless, I was a bit surprised to see the headline this morning given that we no longer have a 50-50 Senate.
Harris had expected to get a reprieve from that role after the midterm elections, when Democrats expanded their majority from 50 to 51 votes.

However, circumstances intervened. Sen. John Fetterman, a newly elected Democrat from Pennsylvania, was hospitalized for clinical depression. Sen. Dianne Feinstein, a California Democrat, contracted shingles and was hospitalized as well.

The absences revived Harris' string of tiebreakers. Earlier this year she helped confirm two federal judges, one in Massachusetts and the other in California.

Both Fetterman and Feinstein have returned to the Senate, but contested nominations can still require Harris' presence, such as on Wednesday.
So, either another Democratic Senator was absent or there was a Democratic holdout on this vote?
Harris did not seem eager to make history with tiebreaker votes when she became vice president. Before taking office, she wrote in the San Francisco Chronicle that "it is my hope that rather than come to the point of a tie, the Senate will instead find common ground and do the work of the American people."

But tiebreakers swiftly became a core part of her job. The task could prove frustrating at times, limiting her travel and keeping her tethered to unpredictable events on Capitol Hill.

However, it also meant that Harris cast deciding votes on issues like the American Rescue Plan, a $1.9-trillion pandemic relief measure, and the Inflation Reduction Act, which limited the costs of prescription drugs and created financial incentives or clean energy.

"It's a blessing," Goldstein said, "because it associates her with some important accomplishments of the Biden administration."
I don't think it works that way. She'll either get credit for the administration's accomplishments or she won't. I can't imagine the voter who will consider it meaningful that she actually had to show up to cast the vote.