Have we Seen Peak Trump?
Trump remains in the lead, but he has been steadily falling over the month of September. (And this triggers, as these things do, musings about institutions and our party system).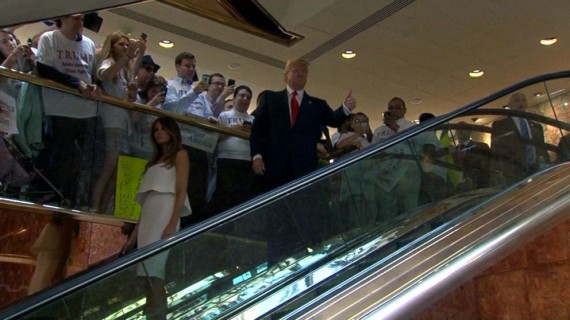 I was looking at the polling for the GOP field yesterday and noted that while Donald Trump remains the clear front runner that the curve tracking his support has taken a decided turn downward.
Here is Pollster's latest composite of all the polling of the GOP field: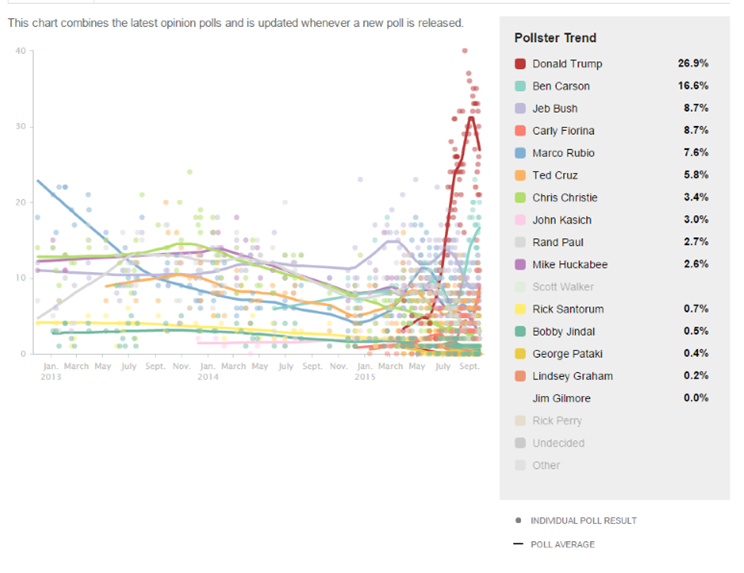 The overall dynamics of the race remain more or less the same:  a clear anti-politician bloc (Trump, Carson, and Fiorina) which sums to 52.2% of support with Trump in the lead (but falling) and Carson and Fiorina currently enjoying surges.
Now, I have gone on the record stating that I do not think that Trump will get the nomination (and I have a similar view about both Carson and Fiorina, for similar reasons—especially Carson), so this does not surprise me (although I wholly recognize what many observers seem loath to admit: we are still very early in this process).  And yes: a downward trend does not have to continue downward (but the reversal is pretty dramatic and does indicate some Trump fatigue and willingness for voters to look elsewhere in the field).  A key way, by the way, for the Trump curve to go significantly upward would be if one of the other anti-politicians candidates were to drop out.
However, as I have noted elsewhere, if Trump is, in fact, the new face of the GOP his trajectory should be continuing upward, but for roughly three weeks now this has not been the case.  That there is somewhere around 25% of that base that finds Trump appealing does not surprise me—but that is not enough to win the nomination.  And, further, I don't think that this support is an unique as some are making it out to be (see, e.g., past support for such figures at Pat Robertson, Pat Buchanan, and Herman Cain, among others).
Indeed, the decline of Trump and the rise of both Carson and Fiorina fit what I have been arguing for a while now:  there is a split in the party at the moment between those looking for an anti-politician and those who are willing to support a politically experienced candidate.  I remain of the view that as we approach an actual decision that voters will move toward the more traditional types of candidates.  It is simply easier to think of handing over the keys to an utter novice months before votes are cast than it does when the ballot is nigh.
Don't get me wrong:  I think that there is a serious segment of the GOP electorate that is prone to prefer an anti-politician and I think that faction of the party aligns, more or less, with Tea Party voters (more research on this is needed).  It is clear that there is an important faction of the party that does not take governing seriously and we are seeing this in the House of Representatives at the moment (and, indeed, have been seeing it for years now).  So yes, this faction is real and significant.  The question is:  how big is it?  I don't think, once the field is winnowed, that it is big enough to nominate a presidential candidate.   It worth noting that the Tea Party faction in the House is not a majority of the caucus, but is simply a sizable chunk.
In some ways I am increasingly convinced that the mainline GOP and the Tea Party represent what could be two different, but allied, political parties and it is only our nomination system for congressional candidates  coupled with the way we elect Congress (single seat districts) that keep them under the same party label (with the commensurate difficulties that creates for both sides).  Since the process of electing the legislature is typically the factor that most drives party system behavior we end up with a two party system rather than a multi-party one.
Of course, our highly idiosyncratic method for electing our chief executive (the electoral college) also incentivizes two parties (despite what the Framers thought would be the case—see here and here).  However, the similarly idiosyncratic way we nominate presidential candidates also helps reveal intra-party factions in a way nowhere else seen in our system in such an obvious fashion.  The one advantage of this process (which is, in my opinion, deeply flawed in many ways) is that it does allow for factions of American politics to emerge to the national stage (whether it be Bernie Sander's progressivism or Trumps nativism) in a fashion congressional elections do not really demonstrate.  It allows voters a chance, at least more than normal, to vote sincere preferences and gives us a closer idea of what a multi-party US system might look like (and yes, under different electoral rules we would have a multi-party system).