He Got his Man
The AG is not supposed to be the President's personal attorney.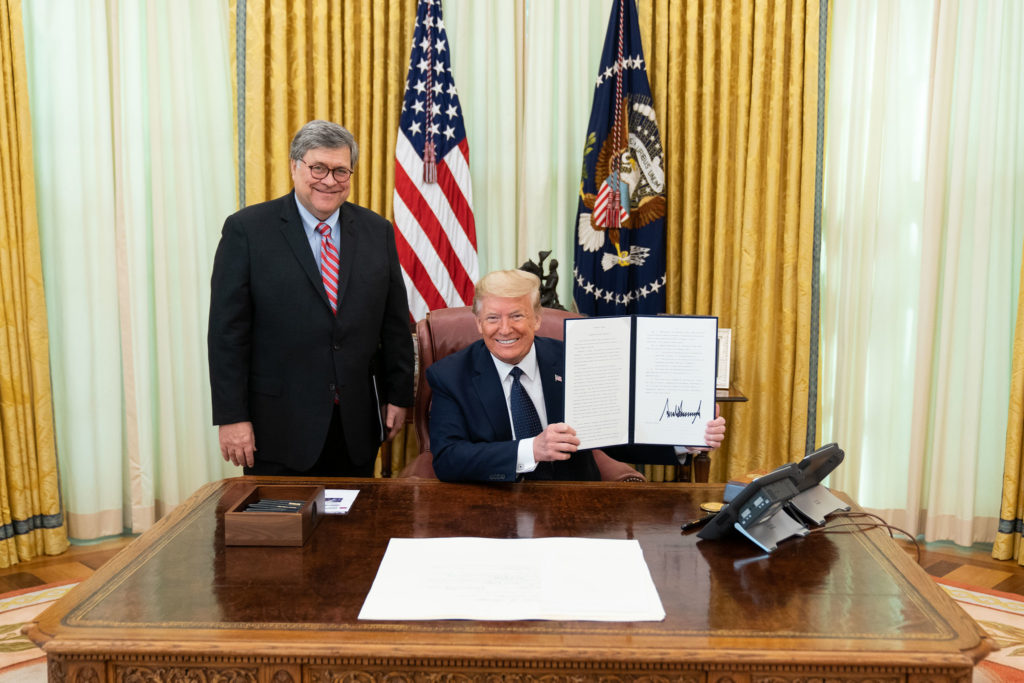 One of Donald Trump's main gripes about the tenure of Jeff Sessions as Attorney General of the United States was that he wouldn't function as Trump's personal attorney. For whatever flaws one might wish to criticize Sessions for, he did understand that he was Attorney General of the United States and not DJT's fixer.
One of the ways in which Trump has degraded the US government is that he appointed a man to replace Sessions with someone more than willing to fix things for Trump, Bob Barr.
Here's the latest example via the NYT: Justice Dept. Intervenes to Help Trump in E. Jean Carroll Defamation Lawsuit.
The Justice Department moved on Tuesday to replace President Trump's private legal team with government lawyers to defend him against a defamation lawsuit by the author E. Jean Carroll, who has accused him of raping her in a Manhattan department store in the 1990s.

In a highly unusual legal move, lawyers for the Justice Department said in court papers that Mr. Trump was acting in his official capacity as president when he denied ever knowing Ms. Carroll and thus could be defended by government lawyers — in effect underwritten by taxpayer money.
Yet again, government in the private interest of Trump and not the broader public interest.
This is matter that pertains to actions he undertook as a private citizen, not an official of the US government.
"The question is," said Steve Vladeck, a University of Texas law professor, "is it really within the scope of the law for government lawyers to defend someone accused of lying about a rape when he wasn't even president yet?"
But, if we want the real motivation:
The motion also effectively protects Mr. Trump from any embarrassing disclosures in the middle of his campaign for re-election. A state judge issued a ruling last month that potentially opened the door to Mr. Trump being deposed in the case before the election in November, and Ms. Carroll's lawyers have also requested that he provide a DNA sample to determine whether his genetic material is on a dress that Ms. Carroll said she was wearing at the time of the encounter.
So, he is using the power of the Department of Justice to protect himself from potentially embarrassing disclosures during the campaign (which also suggests a lack of confidence in his assertion that Carroll is lying).
More background:
Mr. Vladeck said that while it was fairly uncommon for the Justice Department to assume the defense of a private matter on behalf of any government official, it was even more extraordinary for department lawyers to seek to shield Mr. Trump's personal behavior behind a screen of "sovereign immunity." If the federal judge in Manhattan assigned to the case agreed with the department's arguments, Ms. Carroll's lawsuit would effectively be over, Mr. Vladeck said.

Some current and former Justice Department lawyers, speaking on the condition of anonymity, echoed Mr. Vladeck's concerns, saying they were stunned that the department had been asked to defend Mr. Trump in Ms. Carroll's case. By moving to take control of the matter, the department had raised a critical question, the lawyers said: Was it truly within the scope of a president's duties to comment on the physical appearance of a woman who had accused him of rape?
The grotesqueness of this administration continues unabated.