Herman Cain, Down And On The Way Out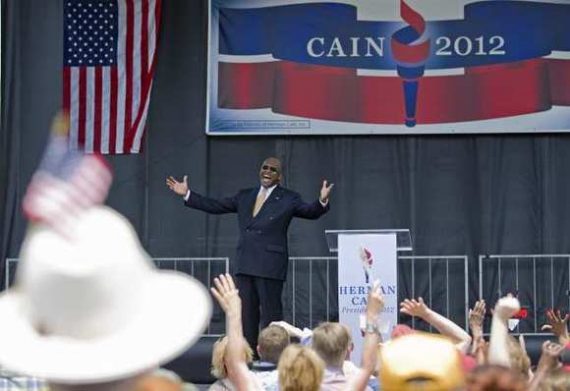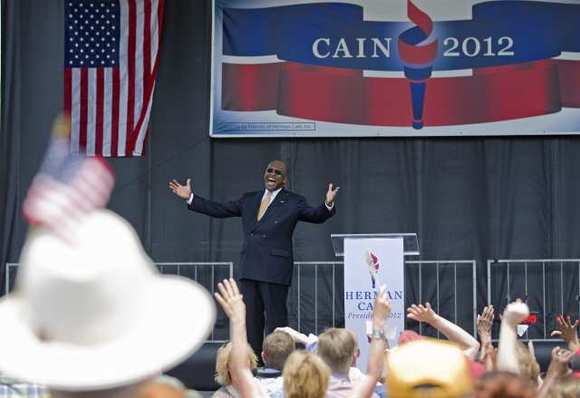 Today's Politico profiles the walking corpse that  is the Herman Cain For President Campaign:
Herman Cain's Cinderella story appears to have been cut short.

The man who captivated voters and reporters around the country for the first few months of the presidential campaign finished fifth in Saturday's straw poll, demonstrating just how far he's fallen — and how far short he is of having grassroots or organizational support to mount a viable run. With Rick Perry declared, Michele Bachmann coming out of Ames in strong shape and Mitt Romney picking up the pace of his front runner campaign, Cain's set to end this weekend as a campaign afterthought.

"I have said from the beginning that I would not buy a straw poll victory. We worked hard. We organized. We turned our supporters out to the straw poll. While I did not place 1st, 2nd, or 3rd, I am happy with our strong placing," Cain said in an email to supporters late Saturday, again downplaying the straw poll results.

But if there's one long shot ticket coming out of Ames, former Pennsylvania Sen. Rick Santorum seems to have claimed it by coming in fourth. Though Santorum only beat Cain by 201 votes, the placement difference is one that likely will matter — and especially because Santorum achieved it with less money and attention, giving him more momentum than any of the other second tier of candidates.

A week before the straw poll, Cain told people he needed to finish in the top three in Ames, which would have matched the third-place spot he took in the Des Moines Register's late June poll of Iowa voters. But instead of marking Cain's ascent, that poll appears to have been his peak — rather than coming together, his campaign almost immediately showed signs of running on fumes, and his numbers have been dropping steadily in every survey since.
When Cain first entered the race, before we knew whether or not Michele Bachmann was actually going to run and while Rick Perry was still giving an emphatic "No" to questions about whether he would consider running in 2012, it seemed like he would have been well-positioned to attract the Tea Party and social conservative vote in Iowa and elsewhere. That, combined with an energetic public speaking style that has become a hit on the stump, seemed to suggest that he'd go pretty far. Indeed, several polls showed that, although his name recognition in the early months was lower than other candidates, his supporters were among the most enthusiastic about their candidate.
Then, he started talking policy:
Cain stumbled in several interviews and, most prominently, in the second primary debate. Supporters cringed when he gave an incoherent response to a question about Afghanistan, and activists questioned who had been preparing him for interviews when he repeatedly shifted his position on Muslims and Sharia law.
There were also staff defections that seemed to reveal that, despite what he said, Cain really wasn't interested in running a serious campaign:
Just as people were voicing their support in that June poll, the first of a stream of staff departures in Iowa and New Hampshire began, threatening the strong grassroots support that Cain had attracted.

Jim Zeiler, the regional field director who was one of the five disgruntled staffers who left, explained his decision with a devastating assessment of Cain, saying the candidate was more interested in jet-setting than running a campaign that incorporates traditional grassroots techniques.

"He's not inquisitive. He wants to be in front of the adoring crowds, but he doesn't seem to be interested in the issues," Zeiler, a former regional field director for Cain's campaign said.

A half dozen others, a mix of former staffers and volunteers, said that they too doubted Cain's campaign priorities and grasp on the issues, though they were willing to speak only on background and off the record.
Cain says he's staying in the race despite the results in Ames and, given the shoestring budget his campaign runs on he can probbably last for awhile if he really wants to. However, he's about as serious a contender at this point as Newt Gingrich and Jon Huntsman.