Hickenlooper For Senate?
There are hints that former Colorado Governor John Hickenlooper could abandon his seemingly doomed Presidential bid to run for Senate.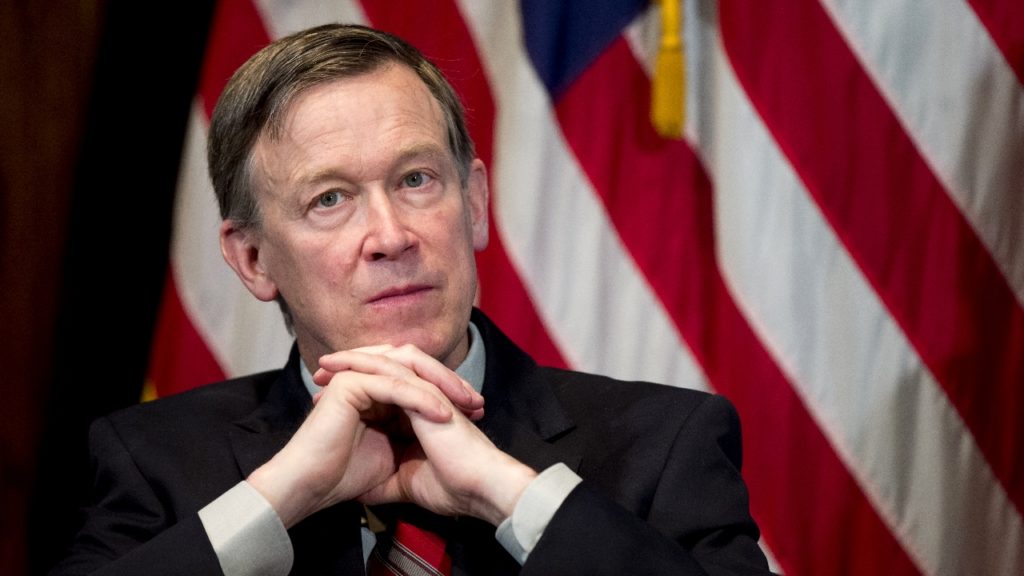 After previously rejecting the idea, former Colorado Governor John Hickenlooper, who finds himself mired in the rear of the huge Democratic field for the Presidential nomination with no sign he's about to make a breakout, is apparently considering dropping out of the race to run for Senate against freshman Republican Cory Gardner:
Former Gov. John Hickenlooper of Colorado is in discussions about ending his presidential bid and entering the race for his state's Republican-held Senate seat, potentially giving Democrats a strong candidate in a race they must win to have hopes of retaking the chamber in 2021, according to four Democrats familiar with his thinking.

Mr. Hickenlooper, who is mired at the bottom of public polling of the presidential race, hopped into Senator Michael Bennet's car on Friday night in this Northern Iowa town to discuss his impending decision, said Democrats familiar with the discussion, who, like others, spoke on the condition of anonymity to describe confidential talks.

The two drove around Clear Lake for about 20 minutes ahead of the Wing Ding dinner, a Democratic fund-raiser that drew 21 presidential candidates. Aides and advisers to the two men, who have been both allies and rivals over their careers in Colorado politics, declined to reveal what was discussed.

(…)

Colorado is key to Democratic hopes of retaking a Senate majority in the 2020 election. Senator Chuck Schumer, the minority leader, has spent months trying to recruit Mr. Hickenlooper to enter the contest to face Mr. Gardner. Mr. Hickenlooper would join a Democratic primary that already has 11 declared candidates, including Mike Johnston, a former state senator who placed third in the 2018 Democratic primary for governor; Andrew Romanoff, a former Colorado House speaker; John Walsh, a former United States attorney for Colorado; and Dan Baer, a former Obama administration official.

(…)

Mr. Gardner is seeking a second term in office but faces headwinds in a state where President Trump is highly unpopular. In 2016 Mr. Trump lost Colorado to Hillary Clinton by five points. A July poll of likely Colorado voters from a Republican-aligned firm found Mr. Trump with a 39 percent approval rating in the state and concluded he trails a generic Democratic general election opponent by 12 percentage points.
Democrats must win a net of three Republican-held Senate seats and win the White House to take control of the Senate.

Mr. Hickenlooper in recent weeks has seen an exodus of senior campaign aides, who advised him in the spring to end his presidential bid if his fund-raising and polling status did not improve by the end of July. He qualified and participated in the first two televised debates in June and July, but his performances were not memorable and there has been little improvement in his fund-raising, according to people familiar with his campaign's finances.

During the three-month fund-raising period that ended June 30, Mr. Hickenlooper raised $1.1 million and spent $1.7 million, an unsustainable pattern for a candidate who has not caught fire with voters. He had $800,000 in his campaign account at the end of June, according to his Federal Election Commission report.

As noted, Colorado could be the key in deciding whether or not the Senate stays in Republican hands or flips to Democratic control. Unlike previous years, the balance for the upcoming cycle appears at least on paper to favor Democrats but it's unclear whether they can capitalize on that advantage even if a Democrat manages to win the White House. As things stand, their best advantages appear to be in Arizona, where Senator Martha McSally seems likely to face a strong fight from retired astronaut Mark Kelly, and potentially in Tennessee, which has an open seat next year thanks to the retirement of Senator Lamar Alexander. The third seat that appears to be vulnerable for the GOP is Gardner's seat in Colorado, where President Trump lost to Hillary Clinton by 130,000 votes back in 2016. Colorado Democrats, though, have been somewhat stymied by the fact that they don't appear to have a strong candidate in the Centennial State.
Because of this, Democrats at the national and state level have been quietly lobbying the popular former Governor to run for Senate rather than President, something that some of his closest aides have also reportedly urged him to do. Hickenlooper responded by saying he was not interested in running for Senate, something that mirrors what he said in February when he said he wasn't "cut out" to be a Senator. Despite this, the pressure on Hickenlooper has continued and increased earlier this week after a poll showed him with a huge lead over other Democrats in a potential primary race Gardner in a hypothetical head-to-head race while another poll showed him leading Gardner 51% to 38% in a head-to-head matchup. That being said, a Senate bid by the former Governor would not be a cakewalk. There are already several Democrats in the race for the 2020 Senate nomination, for example, and it's clear that those candidates are not inclined to drop out of the race if Hickenlooper enters. All that being said, by all accounts Hickenlooper would be a strong contender if he did go home to run for Senate. Whether he actually does so remains to be seen.