Hillary Clinton Leads Donald Trump In Seven Battleground States
Hillary Clinton holds solid leads over Donald Trump in seven battleground states.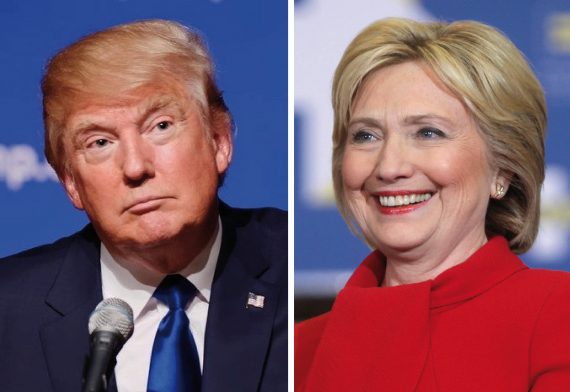 A new series of state-level polls shows Hillary Clinton beating Donald Trump in seven states that will likely be crucial to the outcome of the 2016 election:
Hillary Clinton is polling higher than Donald Trump in seven swing states, holding leads ranging from four to 17 percentage points, according to a new poll released Wednesday.

Of the seven states polled by Ballotpedia, Clinton's lead was smallest in Iowa, where registered voters who responded to the poll preferred her by just four points. The former secretary of state's largest lead came in Michigan, a traditionally Democratic-leaning state where Trump has said he could compete in November. Clinton leads the Manhattan billionaire there by 17 points, 50 percent to 33 percent.

Clinton also holds double-digit leads in Florida (14 points), Pennsylvania (14 points) and North Carolina (10 points) over Trump. Respondents preferred her to Trump by nine points in Ohio and seven points in Virginia.

Clinton maintained her advantage when respondents were offered a third option, Libertarian candidate Gary Johnson, although her leads shifted slightly. In a three-way race, Clinton's lead among those polled dropped to just three points in Iowa and six points in North Carolina. But Johnson's introduction as an option actually grew the former secretary of state's lead to 15 points and eight points in Pennsylvania and Virginia, respectively.
All told, the polls conducted by Ballotpedia show the race in the seven states at issue as follows:
51% to 37% in Florida
45% to 41% in Iowa
50% to 33% in Michigan
48% to 38% in North Carolina
46% to 37% in Ohio
49% to 35% in Pennsylvania
45% to 38% in Virginia
These constitute altogether a total of 117 Electoral Votes and, with the exception of North Carolina, are all states that Barack Obama won in 2008 and 2012. It's also worth noting that these results reflect a higher margin between the candidates in each of these than most recent polling. In Florida, for example, RealClearPolitics shows Clinton with an average lead of 3.4 points in a matchup with Trump alone, and a 3.0 point lead when Gary Johnson and Jill Stein are included. In Ohio, Clinton leads by 3.0 points in a head-to-head with Trump as well as in a four-way poll with Johnson and Stein. In Virginia, Clinton has a 4.0 point lead in a matchup with Trump alone, and a three point lead in the one poll that has been conducted in Virginia that includes Johnson and Stein. Finally, Trump has a 1.3 point lead in sparsely polled North Carolina, while the candidates are tied if Gary Johnson and Jill Stein are included. The story is much the same in the other states that are part of this poll, which suggests that either this poll is something of an outlier or that it is among the first to catch the beginning of a sharp trend in Clinton's direction at the state level to match the one that we have seen at this national level, where Clinton has a 6.2 point lead over Trump alone and a 5.5 point lead in a race that includes Johnson and Stein. As I've noted, there has been something of a swing in Clinton's favor in the national polls, with the exception of the new Quinnipac poll, which gives Clinton only a two point lead nationally and may be an outlier itself, and it's typically the case that those national poll swings do take a week or so to filter down to the state-level polling. Whether we're dealing with a new trend or an outlier here can only be answered when we have more polling from the states in question.
In any case, the trends of this race seem fairly well set for the moment, with the trend moving decidedly in Hillary Clinton's favor in a race that she's already heavily favored to win. Trump will likely get some kind of bump in the polls due to the Republican National Convention next month if only because every candidate has gotten a bump as a result of their convention. That bump will likely be short-lived, though, given the fact that the Democratic convention will follow shortly thereafter, and Clinton will get her own poll bump from that. After that, the race will likely enter something of a quiet period for much of August due to the Congressional recess and the fact that the Rio Olympics will be going on for much of that month. Once we hit Labor Day, though, the battle will be joined and both candidates will be on the road for most of the following two months, or at least that's how it normally goes. One thing that we don't know is how much Donald Trump will follow the traditional campaign model and how much he will again attempt to rely upon free media coverage the way that he did during the race for the Republican nomination. It would be a unique way to run for President, but one gets the impression that it will be hard for Trump's handlers to convince him he needs to do anything different.