Hillary Clinton Says She's Done Being A Candidate For Office
Hillary Clinton delivers the most obvious news ever.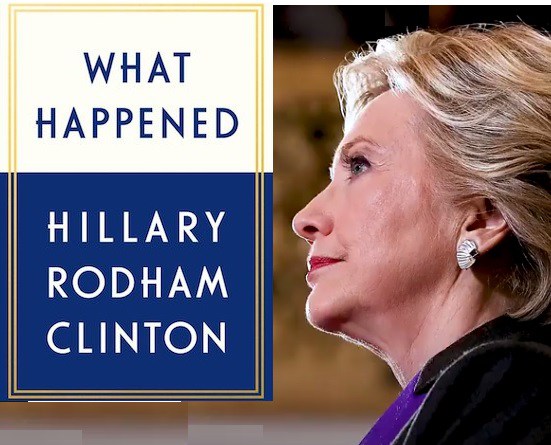 In the first interview in the promotional tour for her new book, Hillary Clinton says that she's done being a candidate for office:
Former secretary of state Hillary Clinton said Sunday that she will not pursue the 2020 Democratic presidential nomination.

"I am done with being a candidate," Clinton said on CBS's "Sunday Morning."

Clinton — who on Tuesday will release "What Happened," her memoir of the 2016 campaign — does plan to stay involved in national politics, just not as an "active politician" who may launch a campaign.

"But I am not done with politics because I literally believe that our country's future is at stake," she said in an interview with Jane Pauley.

Clinton also was critical of President Trump's preparedness for the White House.

"We have a reality show that leads to the election of a president. He ends up in the Oval Office. He says, 'Boy, it's so much harder than I thought it would be. This is really tough. I had no idea,'" Clinton said. "Well, yeah, because it's not a show. It's real. It's reality, for sure."

The former Democratic nominee said she has moved on from her 2016 election loss but acknowledged that the sting of defeat has not entirely faded away.
This is hardly groundbreaking news, of course.
With the possible exception of Joe Biden, few people who have lost campaigns for President have managed to make a successful political comeback, and Clinton's losses in 2008 and 2012 both came in situations where, at least at the start, it seemed as though there was no way she could lose. The situation in 2008 was far different from what happened last year in that Clinton had merely come in a very close second in a race for the Democratic nomination with the candidate who ultimately went on to win the Presidency. In 2016, though, Clinton entered the club of candidates who lost a General Election and did so notwithstanding the fact that, right up until the night before the election, nearly everyone in the country expected her to win handily. With the exception of Thomas Dewey, Adlai Stevenson, and Richard Nixon, nobody in recent American history who has lost a General Election for President has managed to make a significant political comeback of any kind, and none of them have managed to win the nomination of their party again. Additionally, Clinton would be 73 years old in 2020, making it seem unlikely that she would be in the mood to launch another grueling campaign for her party's nomination and, if she won, a General Election Finally, the ongoing ideological battle inside the Democratic Party seems to be turning decidedly against the center-left position that Clinton represents and the resentment over her treatment of Bernie Sanders during last years primary would likely mean that her reception in the party would not be nearly as rapturous as it was in 2008 and 2016.
We'll no doubt seem more "news" of this sort as Clinton continues on her book tour, but I doubt any of it will be any more ground breaking or self-revelatory than what we've already heard from her. As James Joyner noted in his post last week, Clinton seems more interested in finding other people or institutions to blame for her loss, whether it's Bernie Sanders, Joe Biden, James Comey, or the news media, then she is in truly looking at what went wrong for her during last year's Presidential campaign. If anyone should be at the top of that list, it is Clinton herself and the people who ran her campaign. They are the ones who made the strategic and tactical decisions that contributed to the loss, specifically including the decision to largely ignore warnings from people on the ground in states such as Wisconsin, Michigan, Ohio, and Pennsylvania, that the polls they were seeing from national pollsters were not showing the reality of what was happening on the ground in those states. This incuded warnings from people such as former Pennsylvania Governor Ed Rendell and the candidate's own husband, Bill Clinton, who alone had more political experience than the entire membership of Clinton's senior campaign team. Additionally, Clinton continues to seemingly fail to acknowledge the role that her own personal failings, including the damage she did to herself when she set up a private email server in 2009 and the connections between her and the Clinton Foundation while she was serving as Secretary of State played in her defeat. Until that happens, this latest book just strikes me as more of the same self-serving rhertoic we've come to expect from her.