Hillary Clinton Blames Everyone For Her Election Loss, Except Herself
Hillary Clinton is blaming everyone she can for her loss, except the most obvious suspects.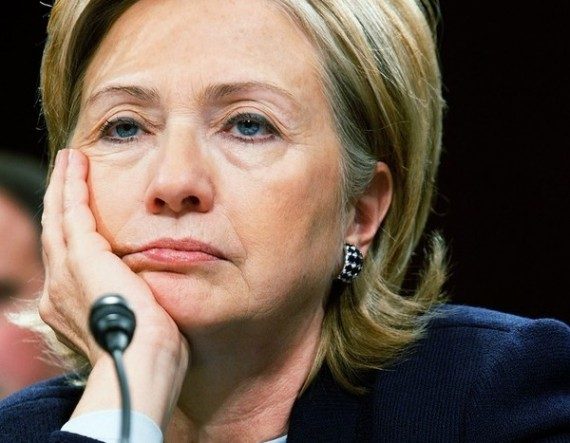 Hillary Clinton is back on the lecture circuit, and she's blaming everyone for her loss when she probably should be looking in the mirror:
Hillary Clinton says she takes full responsibility for her decisions.

There's just one catch: She says her decisions weren't the reason that she lost to Donald Trump.

At Recode's Code Conference in California on Wednesday, the former Democratic presidential nominee was reflective, quick to crack jokes — and eager to cast blame. The more than hour-long question-and-answer event marked the latest in a series of public appearances for Clinton in which she explicitly took on the actions of those around her and other external circumstances in explaining why she lost on Election Day.

"I take responsibility for every decision I make — but that's not why I lost," Clinton said.

Perhaps Clinton's most fresh and savage criticism on Wednesday was directed at the Democratic National Committee. She went as far as to say that when she became her party's presidential nominee, she inherited "nothing" from the committee.

"I'm now the nominee of the Democratic Party. I inherit nothing from the Democratic Party," Clinton said. "It was bankrupt, it was on the verge of insolvency, its data was mediocre to poor, non-existent, wrong. I had to inject money into it — the DNC — to keep it going."

The sad state of things at the DNC, Clinton continued, was only exacerbated by numerous efforts to influence the outcome of the presidential election. As she has now said many times, the ex-secretary of state again alleged that former FBI Director James Comey's decision on October 28, 2016, to send a letter to Congress about her email controversy was simply devastating.

"I can't look inside the guy's mind. He dumped that on me on October 28, and I immediately start falling," she said.

And while she repeated that it was a "mistake" to use a private email server during her time at the State Department, she also said that plenty of others — including the media — were complicit in fanning the flames.

In the new book that she is currently working on, she said: "I'm just using everything that anybody else said about it besides me to basically say: This was the biggest nothing burger — ever."

Watching the story about her private email server explode was a "maddening" experience, Clinton said, as she specifically called out The New York Times for its coverage of the issue.

"They covered it like it was Pearl Harbor," she said.

Clinton also described the attention around her paid speeches to Goldman Sachs as having been blown out of proportion. Asked why she insisted on addressing the big bank, she challenged the moderators by asking: "Why do you have Goldman Sachs here?"

"Because they pay us," a moderator answered.

"They paid me," Clinton responded.

(…)

Something else that worked to her disadvantage? The widespread perception that she would win.

"I also think I was the victim of the very broad assumption that I was going to win," she said. "I never believed that. I always thought it was going to be a close election."
In a separate part of the interview, Clinton also blamed Russian interference, which she believes was guided by the Trump campaign:
Hillary Clinton said on Wednesday she suspects President Donald Trump's campaign gave guidance to Russian government propaganda efforts during last year's U.S. presidential campaign, levelling her most serious charge yet against the person who defeated her.

The former Democratic presidential candidate, appearing at a tech conference near Los Angeles, said propaganda spread on sites such as Facebook helped cost her the election, and she urged Silicon Valley firms to move faster to stop false stories.

Trump has said that there was no collusion between his campaign and Russia.

Echoing assessments of U.S. intelligence agencies, Clinton said the Russian government wanted to spread disinformation about her. But she added they "could not have known how best to weaponise that information unless they had been guided."

"Guided by Americans?" asked Walt Mossberg, a technology journalist interviewing Clinton on stage.

"Guided by Americans and guided by people who have polling and data," Clinton responded.

She was pressed by another journalist on stage, Kara Swisher, who asked: "But you're leaning Trump?"

"Yes, I think it's pretty hard not to," Clinton said. She said there had been a "marriage" of people who spread false stories with Republicans who had detailed voter data.

It appeared to be the first time Clinton had accused Trump of collusion with Russians. Earlier this month, she blamed Russian hackers and then-FBI Director James Comey for costing her the election.
So, let's see what she have here. In the course of a single interview, Clinton managed to blame the DNC, and by extension President Obama, James Comey, and The New York Times for the fact that she lost an election she should have won. While it's hardly surprising that a losing candidate is willing to admit to their own mistakes, the extent to which Clinton and her supporters have engaged in this blame game since the election has really been rather pathetic to watch unfold. In addition to the factors that Clinton cited yesterday, all of which have been relied on as a target for blame in the month since the election, her supporter have also blamed Russia due to its alleged interference in the election and the rest of the American news media, apparently because they paid attention to negative stories about Clinton such as the investigation of her use of a private email server and the relationship between her actions as Secretary of State and the Clinton Foundation during the time she was at Foggy Bottom.
Almost nowhere in the post-mortem discussions of the campaign is any mention of things that can and should be placed squarely at Clinton's feet and the feet of the people who ran her campaign. I've mentioned several of the mistakes that the campaign made in the past, but perhaps the most notable was the decision to pull resources out of traditionally Democratic states such as Wisconsin, Michigan, and Pennsylvania in favor of trying to flip traditionally Republican states such as Arizona, North Carolina, and even Utah, where polling in the weeks prior to Election Day was arguably showing that Trump was underperforming past Republican nominees and could be vulnerable. This decision was made notwithstanding warnings coming from people on the ground in all three states, as well as in states like Ohio, that Clinton was in serious danger of losing the state to Trump thanks to what was beginning to look like stronger than expected turnout by the white working-class voters that formed the basis of Trump's coalition. In Pennsylvania, for example, former Governor Ed Rendell, a Clinton supporter, was openly saying in interviews on MSNBC during this time that his home state was not as firmly in Clinton's corner as Democrats would like to believe. Other post-election reports indicated that some forces inside the campaign, most notably former President Bill Clinton, were growing increasingly frustrated at the campaign's reliance on data models that told them that the Midwest was secure when there was plenty of anecdotal evidence to the contrary.
This isn't to say that the other factors cited by Clinton didn't play a role in the election, of course. Notwithstanding the fact that it had managed to elect a Democrat to the White House and get him re-elected, the national Democratic Party was apparently in pretty sorry shape by the time the 2016 campaign rolled around. Much of that, of course, can be attributed to the fact that, outside of those two races for President, the second decade of the 21st Century has not exactly gone well for Democrats. They lost control of the House of Representatives only four years after winning it back after twelve years in the 2006 elections. Those elections in 2010, as well as subsequent elections after that, also saw significant setbacks for the party at the state level that gave Republicans dominant control of a large number of states, which in turn gave them control over redistricting after the 2010 census. In 2014, they lost control of the Senate and gave up further seats in the House. By the time the 2016 campaign rolled around, the party was in such a state that their Presidential bench was nearly vacant except for Clinton herself. At the same time, throughout his time in office, many Democrats were frustrated that President Obama seemed reluctant to help build the party, preferring instead to rely on his own network of supporters to win the White House and then re-election.
Additionally, it's likely true that all of the other factors cited by Clinton had at least some impact on the race. Elections don't occur in a vacuum, after all. They are influenced by everything from the state of the economy to the news that has dominated the headlines during the campaign to even the weather in particular parts of the country on Election Day. In that sense, I suppose, Clinton is correct to the extent that the factors she cites were likely among the many that influenced voters. At the same time, as CNN's Chris Cillizza notes, Clinton's continued refusal to admit the mistakes that she and her campaign made is a reflection of why she lost in the first place:
The truth of the matter is this: Hillary Clinton's name was at the top of the campaign and signed on the checks her staff received. It was her decision to set up a private email server and exclusively use it for her communications as secretary of state — the first person in her position to do that.

She was the one who kept giving high-paid speeches to the likes of Goldman Sachs even after it was clear she was going to run for president. ("They paid me," Clinton explained Wednesday.)

She was the one who struggled to grasp — despite the repeated warnings of her staff — that the email issue was causing her major image problems on questions of honesty and trustworthiness.

She was the one who struggled to put away a once-quixotic challenge by Bernie Sanders in the Democratic primary.

She was the one who premised her entire general election strategy on the idea that once voters knew who Trump was and what he said, they would have no choice but to vote for her.

She's the one who decided against visiting Wisconsin even one time between the Democratic convention and the general election.

All of those things played roles — you can debate how big or how small — in her loss. And Clinton had control of every single one.

There's a tendency — and this is the most human of traits — to revise your own history to make yourself look as good as possible. And Clinton's revising is aided by a large swath of Americans who simply can't believe a) Trump won and b) Trump is carrying himself as president in the way he is. There's also the fact — as Clinton has become fond of noting — that she won the popular vote over Trump by almost 3 million votes.

But take away everything else and you are left with this: Hillary Clinton was the candidate. We pick presidents via the electoral college not the popular vote. Trump won. Clinton didn't.

While Clinton says she takes full responsibility for her defeat, everything else she says about the election belies that rhetoric. What taking the full blame and responsibility actually means is saying this: There were lots and lots of circumstances outside my control that hurt my chances. But at the end of the day, it was my campaign and my name on the ballot. And that means I lost and I own that.
On some level, I believe that Clinton's refusal to acknowledge the role that her own mistakes and those of her campaign are reflective of the same arrogance that we saw from her during both Presidential campaigns. When she entered the race for the nomination in the 2008 election, the media immediately branded her the frontrunner and it obviously was something she truly believed. Once Barack Obama got into the race and polls started reflecting the fact that her nomination was far from being as secure as it had appeared to be, the Clinton campaign entered combat mode similar to what we saw from the Clinton White House when it was under attack by Republicans in the 90s. Obama and his supporters were mocked by Clinton loyalists. Perhaps the most memorable example of that came during the South Carolina primary when former President Bill Clinton got in hot water for suggesting that the main reason Senator Obama was leading his wife in the state was due to of his racial background. In reality, of course, both Clinton and her campaign vastly underestimated Obama's appeal and were unprepared to counter it effectively. The same thing happened in 2016, when Bernie Sanders to be a far more challenging opponent for the Democratic nomination than anyone had suspected he would be. Additionally, it now seems rather obvious in hindsight that Clinton and her campaign had woefully overestimated the extent to which the negative favorability that followed Donald Trump into politics would be a problem for him while vastly underestimating the extent to which Clinton's own favorability problems would impact the campaign. All of this played a role in why she lost, and until she recognizes it, Clinton going to continue to be refusing to see reality for what it is.