Hillary Clinton: 'They Were Never Going to Let Me Be President'
A longtime "Hillary Beat" reporter ruminates on what she and her candidate could have done differently in 2016.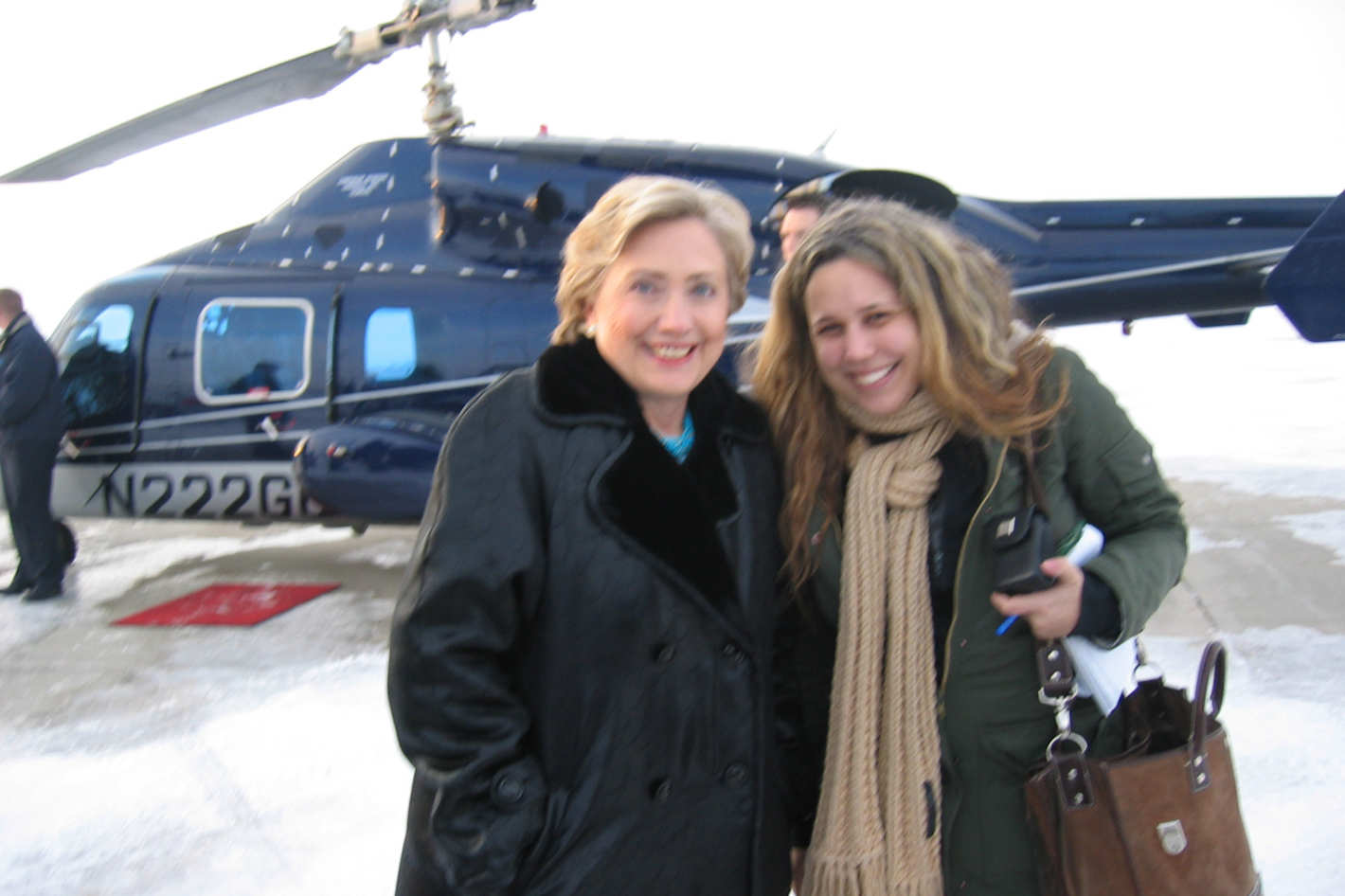 Amy Chozick, who covered Hillary Clinton's failed 2016 presidential campaign for the NYT, has a weird retrospective titled 'They Were Never Going to Let Me Be President.' The headline comes from this anecdote early in the piece:
Robby Mook, the drained and deflated campaign manager, told his boss she was going to lose. She didn't seem all that surprised.

"I knew it. I knew this would happen to me," she said, now within a couple of inches of Mr. Mook's ashen face. "They were never going to let me be president."
Chozick had been on the "Hillary Beat" since July 2013 so,
I figured that if anyone knew whom Mrs. Clinton was referring to with that insidious "they" that, like some invisible army of adversaries (real and imagined), wielded its collective power and caused her to lose the most winnable presidential election in modern history, it was me.

They were the vast-right wing conspiracy. They were the patriarchy that could never let an ambitious former first lady finally shatter "that highest, hardest glass ceiling." They were the people of Wisconsin and James Comey. They were white suburban women who would rather vote for a man who bragged about sexual assault than a woman who seemed an affront to who they were.

And yes, they were political reporters ("big egos and no brains," she called us) hounding her about her emails and transfixed by the spectacle of the first reality TV show candidate.

It's dizzying to realize that without even knowing it, you've ended up on the wrong side of history. Months after the election, every time I heard the words "Russia" and "collude," this realization swirled in my head, enveloping everything.
From there, the feature turns into a parallel narrative. On the on hand, there are the reporters who allowed huge stories about Donald Trump that would have destroyed any other candidate to be constantly overshadowed by conveniently leaked stories about Clinton. On the other, we have a reluctant campaigner just ready for the whole thing to be over with.
Of the leaked Goldman Sachs speeches that Wikileaks pushed roughly half an hour after the "Access Hollywood" tape surfaced,
But it wasn't a scoop. It was more like a bank heist.

Editors and reporters huddled to discuss how to handle the emails. Everyone agreed that since the emails were already out there — and of importance to voters — it was The Times's job to "confirm" and "contextualize" them. I didn't argue that it appeared the emails were stolen by a hostile foreign government that had staged an attack on our electoral system. I didn't push to hold off on publishing them until we could have a less harried discussion. I didn't raise the possibility that we'd become puppets in Vladimir Putin's master plan. I chose the byline.

In December, after the election, my colleagues in Washington wrote a Pulitzer-winning article about how the Russians had pulled off the perfect hack. I was on the F train on my way to the newsroom when I read it. I had no new assignment yet and still existed in a kind of postelection fog that took months to lift. I must've read this line 15 times: "Every major publication, including The Times, published multiple stories citing the D.N.C. and Podesta emails posted by WikiLeaks, becoming a de facto instrument of Russian intelligence."
The problems with this part of the narrative are manifold.
First, while we still don't—and may never—know the extent to which Russian espionage influenced the outcome of the election, we were aware in real time that there was Russian interference. American intelligence agencies publicly acknowledged that it was happening, President Obama noted it numerous times, Clinton constantly harped on it, and it was mentioned regularly even in the presidential debates.
Second, while I had serious heartburn with the reporting on stolen and classified materials (including Trump tax records), the reality was that there was no way not to report on them once they were publicly available. If the NYT had refused to report on them, someone would have. Even if all the prestige outlets did, the other campaign teams and their media apparatus would have publicized them.
Third, while the timing of the leaks was convenient enough for the Trump campaign that we've put a special counsel and a massive team of investigators on the case to see whether there was collusion, it's hardly the case that the various Trump scandals—including the "Access Hollywood" tape—were papered over. They received massive scrutiny and were presumed by most analysts, myself included, to be so bad for Trump that the Republican Party would have to find a way to replace him on the ticket. It just turned out that not enough Trump supporters found any of it disqualifying.
The belated insights into Clinton's campaign, then, are ultimately more interesting than the journalistic navel-gazing.
The Bernie Bros and Mr. Trump's Twitter trolls had called me a donkey-faced whore and a Hillary shill, but nothing hurt worse than my own colleagues calling me a de facto instrument of Russian intelligence. The worst part was, they were right.

A few weeks before Election Day, I was stuck in my cubicle poring over John Podesta's emails. I wanted to be on the road. "I just feel like the election isn't happening in my cubicle," I said. "But it's over," an editor replied, reminding me that the Times's Upshot election model gave Mrs. Clinton a 93 percent chance of winning. The ominous "they" who would keep the glass ceiling intact didn't look that powerful then.

Until the last day on the road, though, it never really felt like a winning campaign. Not that I thought Mr. Trump would win. I believed in the data. Yet I couldn't shake the nagging sensation that no matter how many people I'd met in black churches and union halls and high school gyms around the country who told Hillary Clinton their problems, no matter how many women chanted, "Deal me in!" in unison, she wouldn't win.

[…]

It was the painful logic always at work for her: She was expected to project the iron of a commander in chief, the warmth of a best girlfriend and the charisma of a drinking buddy. And if she had somehow done all of that, there would still be some essential quality she lacked, in many people's minds, because we simply had no template for a female president. The long-suffering feminist heroine would make history not in a festooned lovefest but in a dreary, mechanical slog.

By late fall, the traveling press — called "the Girls on the Bus" since on any given day, of our cohort of about 20 regular reporters, as many as 18 of us were women — were calling it Hillary's Death March to Victory.

She went through the motions. "Hello [insert swing-state city here]!"

She did a whole riff on making lists. "I have a plan for just about everything," she said. "You know, maybe this is a woman thing. We make lists, right? I love making lists. And then I love crossing things off!"

If I had to identify a single unifying force behind Hillary Clinton's candidacy, it was her obvious desire to get the whole thing over with. "This election is 10 days away," she said at a rally in Des Moines. "Eleven, but we're more than halfway through today."

When I started covering Mrs. Clinton in 2007 for The Wall Street Journal, she'd been a hands-on senator constantly in touch with her upstate constituents. But by her second campaign, she seemed like Rip Van Winkle, awake again after her stint as secretary of state to find a vastly different country. She'd missed the rise of the Tea Party. She'd missed the Occupy Wall Street movement and the rage over health care and bank bailouts and the 1 percent.
What's odd is that we're just getting these insights now that Chozick has written a new memoir of her time spent covering Clinton's two campaigns. Looking back at the NYT archives, though, we get a different story. Her last piece before election night, "Hillary Clinton Feels the Love on Her Campaign's Last Day," was positively upbeat. A few days earlier, we had "Hillary Clinton Presses Her Advantage Over a Struggling Donald Trump" and "Hillary Clinton, Mocking and Taunting in Debate, Turns the Tormentor." In between were various features looking back at events that shaped Clinton into the person she was.
Yet Chozick seems to feel she didn't do enough to help her get elected.
Hillary Clinton has settled into a surreal life of speaking at women's conferences. I've started to see the "they" she spoke about on election night differently.

They were Facebook algorithms and data breaches. They were Fake News drummed up by Vladimir Putin's digital army. They were shadowy hackers who stole her campaign chairman's emails hoping to weaken our democracy with Mr. Podesta's risotto recipe. And they were The Times and me and all the other journalists who covered those stolen emails.

Of course, these outside forces wouldn't have mattered or weighed so heavily on me, on the country, had Hillary Clinton, her campaign and her longtime aides — the same box of broken toys who'd enabled all of her worst instincts since the 1990s — not let the election get so close in the first place. The Russians, after all, didn't hack into her calendar and delete the Wisconsin rallies.

I never told anyone this, but one time when I'd been visiting the Brooklyn campaign headquarters I found an iPhone in the women's restroom. I wasn't sure, but it seemed to belong to Mr. Podesta's assistant because when I picked it up, a flood of calendar alerts for him popped up. I placed it on the sink counter, went into the stall, came out and washed my hands. I left the phone sitting there, worried that if I turned it in, even touched it again, aides would think I had snooped. This seemed a violation that would at best get my invitation to the headquarters rescinded and at worst get me booted off the beat for unethical behavior.

I can't explain why, in the heat of breaking news, I thought covering John Podesta's hacked emails was any different.
In the abstract, I agree with the notion that the NYT shouldn't have reprinted Podesta's stolen emails. In reality, though, the notion that they wouldn't report on them once they were public is absurd.
The whole piece is surreal. Granting that being the "Hillary Beat" reporter is an odd sort of access journalism that is bound to create emotional bonds, the job is to give readers without such access insights into the candidate and the campaign they wouldn't otherwise have. In exchange for candid access, such a reporter should absolutely give the candidate a certain amount of privacy—not printing every damaging statement made during the fatigue and frustration of a long, grinding campaign. At the same time, though, even in sports reporting, there's supposed to be no cheering in the press box.
It's not the job of beat reporters to help the candidates they're covering win elections. Even when they're running against Donald Trump.