Hillary Clinton's Ideas On How To Fight ISIS Are As Incoherent And Flawed As Everyone Else's
Hillary Clinton's recently announced policies toward the ISIS fight are as incoherent and misguided as President Obama's and those of her Republican opponents.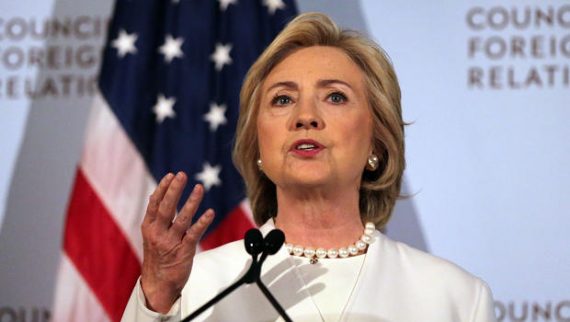 Late last week, in a speech that was somewhat overshadowed by the fast-breaking news related to the November 13th attacks in Paris and related events, Hillary Clinton laid out her strategy for fighting ISIS in a speech before the Council on Foreign Relations in New York:
Hillary Rodham Clinton called on Thursday for accelerating the American-led operation to defeat the Islamic State, going well beyond what President Obama has proposed by urging a no-fly zone with coalition forces to protect Syrians, more airstrikes and an expanded deployment of special operations troops to assist local ground forces.

"Our goal is not to deter or contain ISIS, but to defeat and destroy ISIS," Mrs. Clinton said, using an acronym for the Islamic State group and distancing herself from Mr. Obama's much-derided contention, a day before the Nov. 13 attack in Paris, that the group had been geographically "contained."

Mrs. Clinton was cautious not to criticize the president directly, saying her plan amounted to "an intensification and acceleration" of his strategy. But it was the urgency with which she spoke of the threat from the Islamic State and the need to respond to it muscularly that most distinguished her approach from that of the president under whom she served for four years as secretary of state.

Speaking at the Council on Foreign Relations in New York, Mrs. Clinton contrasted her outlook with those of the Republican presidential contenders as "a choice between fear and resolve."

She gave some fodder to Republicans who have criticized the president for not being aggressive enough in combating the Islamic State, but she also sharply rebuked those Republicans as intolerant for calling on the United States to stop accepting Syrian refugees.

"We cannot allow terrorists to intimidate us into abandoning our values and our humanitarian obligations," she said.

At the same time, she declared that the aftermath of the attack in Paris was "no time to be scoring political points."

After days of speaking broadly about a response to the attack, Mrs. Clinton used the address on Thursday to display the breadth and detail of her foreign-policy knowledge. But in demonstrating her readiness to be commander-in-chief, Mrs. Clinton also must avoid inflaming Democratic primary voters who overwhelmingly approve of Mr. Obama and who are still reeling from the George W. Bush era of intervention.

For the most part, Mrs. Clinton called for building on what the White House is already doing — but at a faster pace. The Pentagon has said, for example, that it will bolster the use of special forces if the initial effort to train and equip Kurdish fighters and improve the targeting of airstrikes is successful; Mrs. Clinton appeared ready to do so now.

By implication, she appeared somewhat critical of the Obama administration for moving too slowly on aiding moderate rebels and getting special forces on the ground in Syria — without being highly specific about the number she would deploy if she were in the Oval Office.

"It is time to begin a new phase and intensify and broaden our efforts to smash the would-be caliphate and deny ISIS control of territory in Iraq and Syria," she said.

She noted that the 50 special operations soldiers Mr. Obama authorized to be sent to Syria had not arrived yet, and said they should be deployed "immediately" and that the United States should be "prepared to deploy more, as more Syrians get into the fight."

Mrs. Clinton said that "to be successful, airstrikes will have to be combined with ground forces actually taking back more territory from ISIS." But, mindful that her 2002 vote to authorize force in Iraq largely contributed to her loss in the 2008 Democratic primary, she was quick to say these should be local Sunni troops, and "we cannot substitute for them."

"Like President Obama, I do not believe that we should again have 100,000 American troops in combat in the Middle East," she said.

Similarly, she called for more air power, but only in cooperation with Persian Gulf allies. And she acknowledged in a question-and-answer session that Saudi Arabia and the United Arab Emirates had halted their air attacks on the Islamic State to focus instead in Yemen.

Expanding on her previous call for a no-fly zone, Mrs. Clinton said it should be limited to northern Syria, where Turkey has proposed a buffer zone to protect civilians, and enforced by many countries. That, she said, "will confront a lot of our partners in the region and beyond about what they are going to do."

She took a particularly hard line against Saudi Arabia and other Arab nations who she said had been complicit in the rise of the Islamic State. "Once and for all, the Saudis, the Qataris and others need to stop their citizens from directly funding extremist organizations," Mrs. Clinton said.

The core of Mrs. Clinton's argument for a faster, more aggressive military operation was her contention that it would reinforce Secretary of State John Kerry's diplomatic effort to negotiate a cease-fire, and ultimately a political solution, in Syria. Administration officials said it closely resembled the arguments Mr. Kerry has made to Mr. Obama — but Mr. Kerry has not yet persuaded the president, who remains hesitant about the risk of being sucked into a ground war.
The fact that Clinton would depart, even slightly, from Obama Administration strategy when it comes to ISIS and Syria is not really news, of course. Going as far back as the release of her book last year, Clinton has made clear on several occasions that she often disagreed with the polices that President Obama was following in this area and she has seemed to make that point more often as the news out of Iraq and Syria has gotten worse. The most prominent example, of course, was that portion of her book where she emphasizes that she advised President Obama to arm the so-called "moderate" Syrian rebels long before he ultimately ended up taking up the arming and training program that has been subsequently abandoned because it proved to be largely unsuccessful and the "moderate" rebels have proven to be untrustworthy. She has also been publicly speaking out in favor of a no-fly zone in certain areas of Syria for some time now, and at least implied that this was an idea that she was in favor of while still serving in the Obama Administration when the only people speaking out in favor of the idea were John McCain and Lindsey Graham. Now, with the Paris attacks bringing the issue of the ISIS fight to the forefront and polling showing that the public is simultaneously concerned about ISIS and the threat of terrorism and lacking confidence in the President's policies, it's only natural that Clinton would seek to differentiate herself from the Obama Administration. The fact that she has effectively wrapped  up the Democratic nomination by all indications makes doing so much easier, especially since neither of her remaining Democratic opponents is seen by the public as very credible on foreign policy issues.
As I've said in the past, President Obama's policy with regard to ISIS isn't much of a policy at all. From the time that the United States started engaging the group militarily during the summer of 2014, the Obama Administration has largely engaged in increased escalation of American involvement without any seeming logic to the decisions that were being made. Options that have been ruled out, such as putting ground troops in Syria, have ended up becoming policy and red lines have ended up being not so red after all. To the extent there is a clear policy, it is self-contradictory and incoherent in that it seeks to both "degrade and destroy" ISIS, to use the President's own frequently used words, and to seek to depose the government of Syrian leader Bashar Assad even though it seems clear that doing so would only lead to the kind of chaos that ISIS thrives in. With the Russians now added to the equation, it's not at all clear what the President has in mind and, ever since the Paris attack, events on the ground in Syria are being driven largely by the French and the Russians, who are launching air strikes independently and seemingly without any real coordination with Washington.
The fact that the President's policies are flawed, however, doesn't mean that an alternative is better, and that's certainly the case with Clinton's plan.
Scott McConnell at The American Conservative notes that many of the ideas that Clinton advocates would actually end up doing more harm to the enemies of ISIS than to ISIS itself, which seems to me to be as contradictory as the current Obama Administration policies, and that the entire framework of her plan as she has laid it out indicates she has not learned the lessons of the Iraq War, which she of course supported until it became politically disadvantageous to do so. McConnell's colleague Daniel Larison, meanwhile, calls Clinton's plan 'reckless and flawed':
Clinton's plan suffers from many of the same flaws as Bush's. Both of them talk about getting additional contributions and changes in behavior from allies and clients, but neither of them can explain how the U.S. will persuade any of them to cooperate. For instance, Clinton says that "we need to get Turkey to stop bombing Kurdish fighters in Syria who are battling ISIS, and become a full partner in our coalition efforts against ISIS." Maybe we need that, but that doesn't mean that Turkey is going to stop prioritizing its hostility to Kurdish groups. Clinton seems to think that because we "need" another government to change its behavior that its behavior can be made to change. The larger problem with Turkish involvement in the coalition is that Ankara has been obsessed with toppling Assad, which is one reason why they have been so dilatory and negligent when it comes to opposing ISIS.
As Larison notes, Clinton also repeated her previous calls for a no-fly zone over Syria, an idea as foolish now as it was before the terrible attacks in Paris on November 13th. On some level, of course, none of this should be a surprise. Clinton has always generally been seen as more hawkish on foreign policy than President Obama and, indeed, that was rather apparent during the race for the Democratic nomination in 2008. Back then, though, Clinton's hawkishness and, especially, her initial support for the Iraq War worked against her with a Democratic electorate, and a nation, that was tired of the Iraq War.
This time around, though, that hawkishness is likely to help her The fact that Clinton largely has the nomination in the bag means that whatever criticism she gets on this issue from her opponents is unlikely to have any impact in the short-term. This is especially true given the fact that neither Bernie Sanders nor Martin O'Malley can be said to be seen as voices of credibility on foreign policy. More importantly, though, the fact that public concern about terrorism and doubts about Obama Administration policies that are seen as inadequate creates a wide opening for her, and for Republican candidates for President, to garner public attention by proposing something more aggressive. Indeed, at the moment, polling shows that Clinton is seen as the most trusted of all the Presidential candidates in either party when it comes to foreign policy issues. With numbers like that, it would seem likely that Clinton can only help herself politically by taking a more aggressive tone and implicitly criticizing the Administration.
Notwithstanding the political implications of her plans, though, Clinton's ideas regarding the ISIS situation and the broader situation in the Middle East aren't much better than those of the Obama Administration or of the Republican candidates for President.