Hillary Is Democratic Favorite In Iowa For 2016, Santorum/Huckabee/Christie Tied Among Republicans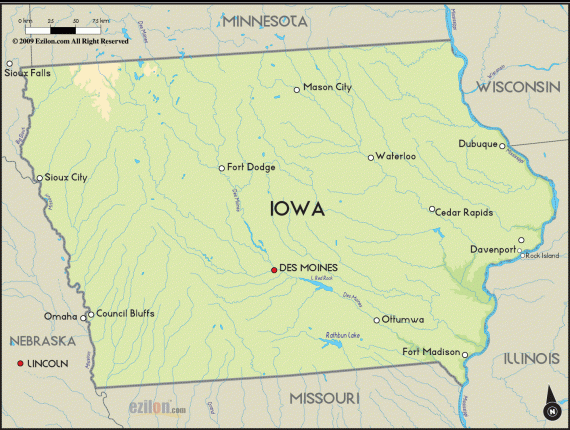 Yes, that's right, we have our first poll of the 2016 Iowa Caucuses which, if President Obama is re-elected, would be an open field for both parties just as it was in 2008:
Hillary Clinton continues to have a dominant lead in Iowa Democrats' preferences for their 2016 presidential nominee almost three years before actual candidates will begin chowing down on cobs of corn.  The straw poll on the Republican side is much closer, with three candidates locked at the top and two others in double digits.

Clinton tops Vice President Joe Biden 60-18, with no one else even approaching 5%.  New York Gov. Andrew Cuomo and Massachusetts Senate candidate Elizabeth Warren each have 3%, Montana Gov. Brian Schweitzer and Virginia Sen. Mark Warner are at 1%, and Maryland Gov. Martin O'Malley and Massachusetts Gov. Deval Patrick register almost no support.  14% favor someone else or are not sure.

The victors of the two most recent Republican caucuses, Mike Huckabee and Rick Santorum, are tied at 17%, with New Jersey Gov. Chris Christie right on their tails at 16%, Kentucky Sen. Rand Paul at 11%, Florida Sen. Marco Rubio at 10%, former Florida Gov. Jeb Bush at 8%, Wisconsin Rep. Paul Ryan at 6%, and Wisconsin Gov. Scott Walker and former Alaska Gov. Sarah Palin each at 4%, with only 8% not behind a candidate.

If Clinton did not run, Biden would lead Cuomo 36-14, with Warren at 8% and the others still in the low single digits.  Without Biden, Cuomo leads Warren 20-11.
The GOP contenders are all pretty well-known and well-liked, but beyond Clinton and Biden, there are few recognizable names on the left side of the aisle.  The least-known Republican is Walker, of whom 38% surprisingly have no opinion, but 55% of Democrats cannot say how they feel about Cuomo, 60% of Warren, and 80-90% of the others.  Then again, few had yet heard of a certain state senator from Illinois at this point in 2004.
It is, of course, ridiculously early for anyone to be talking about this right now and this poll is more of a reflection of name recognition and popularity than anything else. Indeed, many of the people listed in this poll might not even run for President. If Hillary Clinton runs, for example, I cannot see many top Democrats openly challenging her a second time around. Even if she doesn't, though, I don't see Elizabeth Warren as a viable candidate for President only 3 years into her first term in the Senate, assuming she wins. And yes, yes, I know about the history of Barack Obama. On the Republican side, Christie's future is unknown until 2013 when he's up for re-election. If he wins, then he's golden. If he loses, then he's a likely candidate for Attorney General in a future Republican Administration.
In both cases, of course, there is probably someone not on the lists above who is going to enter the race.
Anyway, only42 months until the 2016 Iowa Caucuses!