Hobby Lobby Is Not An Issue That Will Bring Voters To The Polls In November
Once again, we are reminded that the fact that people feel strongly about an issue does not mean it's one that will cause them to get out and vote.
A new poll indicates that, for the most part, the Supreme Court's Hobby Lobby decision is unlikely to motivate voters to go to the polls in November:
When the Supreme Court ruled in June that some employers could opt out of covering certain contraceptives for employees if doing so violates their religious beliefs, it divided the country. What it didn't do was give many people extra motivation to vote in November.

The country is split down the middle over the ruling, according to a new Kaiser Family Foundation Health Tracking poll released Friday. Forty-seven percent support it, 49 percent don't.

About the same share of Republicans approve of the decision (71 percent) as Democrats (70 percent) disapprove of it. Independents are split right down the middle.
Here's the chart that shows how approval and disapproval of the decision is basically split evenly among nearly all demographic groups except people who self-identify as Republicans or Democrats: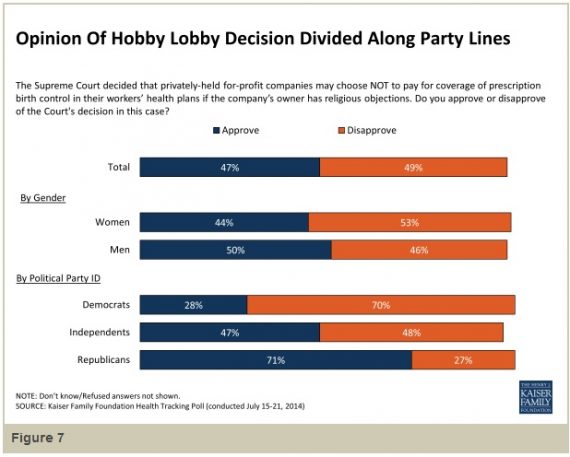 The fact that there's an equal division by itself largely means that the decision is unlikely to help either party at the polls, but that fact is brought home even more when you notice that the vast majority of people say they are unlikely to change their decision on whether or not they will vote in November: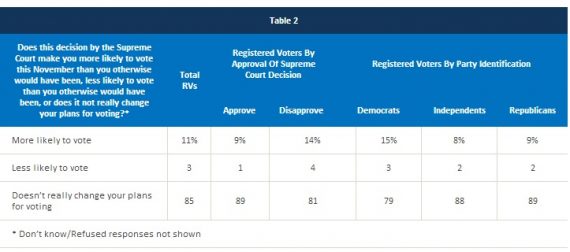 In some sense, what we're seeing here is the same kind of phenomenon that we see with issues like gun control where there is a large segment of the public, or in this case a particular demographic group, that feels very strongly about an issue but which still doesn't have an huge impact on elections. The reason we see this is because issue polling often only asks half of what it ought to be asking. It's important to know, for example, that a large number of Americans favor enhanced background checks for gun purchases (which I discussed in this context here and here), or that in this case a large number of women oppose the Court's ruling in Hobby Lobby, but that only tells us half the story. The other half comes if you ask poll respondents who important a particular issue is compared to other issues such as the economy, you often find that the issue is not one that voters consider important enough to change their vote, or to motivate them to vote. Thus, it becomes hard for a politician to persuade people to vote based solely on one of these high approval/low intensity issues. Perhaps there will be some people who will be persuadable on the margins, but based on these numbers it seems unlikely that there will be many people casting ballots in November based on their reaction to the Hobby Lobby decision.
As Sean Sullivan points out, if this holds up it likely hurts Democrats more than Republicans. We've already seen that women voters are less likely to support candidates who support the Supreme Court's decision, but if it really is the case that the decision isn't going to have a big impact on turnout then Democratic candidates aren't likely to benefit much from that gender gap. Obviously, this could change as we get closer to the election, but right now the Democrats should not put much hope in the idea of Hobby Lobby saving them in November.