Home Schooling Exploding if You Were Taught Math at Home
The innumeracy hurts.
A WaPo report titled "Home schooling's rise from fringe to fastest-growing form of education" is making the rounds. It's topped by this graph (the original of which is animated):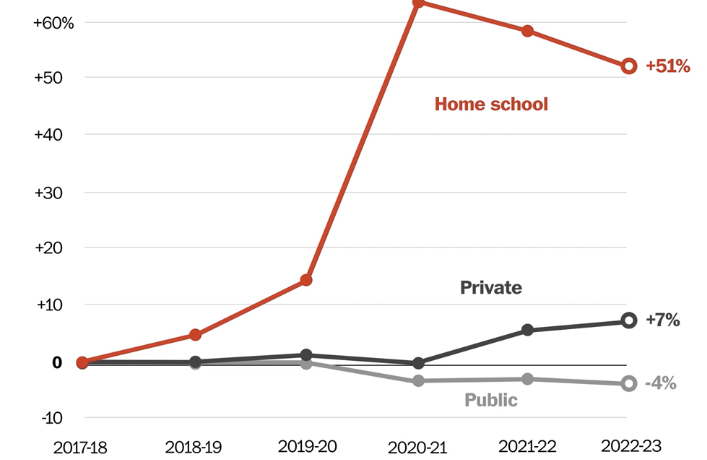 It begins
Home schooling has become — by a wide margin — America's fastest-growing form of education, as families from Upper Manhattan to Eastern Kentucky embrace a largely unregulated practice once confined to the ideological fringe, a Washington Post analysis shows.

The analysis — based on data The Post collected for thousands of school districts across the country — reveals that a dramatic rise in home schooling at the onset of the pandemic has largely sustained itself through the 2022-23 academic year, defying predictions that most families would return to schools that have dispensed with mask mandates and other covid-19 restrictions.
and is followed by this handy-dandy infographic:
Immediately, I'm surprised that WaPo is making sweeping pronouncements based on such incomplete data. There is no data presented for 19 states, including some of our most populous. Still, there's been an explosion in places like DC, New York, and California that aren't exactly teeming with the Evangelical types we tend to associate with homeschooling.
They assert:
The growth demonstrates home schooling's arrival as a mainstay of the American educational system, with its impact — on society, on public schools and, above all, on hundreds of thousands of children now learning outside a conventional academic setting — only beginning to be felt.
Let's put a pin on that for now.
As to the missing states:
Obtaining accurate information about the home-schooling population in the United States is challenging. In 11 states, including Texas, Michigan, Connecticut and Illinois, officials do not require notification when families decide to educate their children at home or monitor how those students are faring. Seven additional states have unreliable tallies of home-schooled kids, The Post found.

The Post was able to collect reliable data from 32 states and the District of Columbia, representing more than 60 percent of the country's school-age population. In 18 of those states, private and public school enrollment figures were available for comparison.

The resulting analysis — which includes home-school registration figures for nearly 7,000 individual school districts — is the most detailed look to date at an unprecedented period of growth in American home schooling.
So, this is obviously wildly problematic in terms of education policy—it's simply nuts to abandon children who aren't enrolled in public schools while hoping for the best—there's obviously not much researchers can do about that. To be sure, it makes extrapolating the findings to those states an iffy proposition but we can still draw useful conclusions about the districts for which data is available.
And boy do they draw conclusions:
In states with comparable enrollment figures,the number of home-schooled students increased 51 percent over the past six school years, far outpacing the 7 percent growth in private school enrollment. Public school enrollment dropped 4 percent in those states over the same period, a decline partly attributable to home schooling.
Home schooling's surging popularity crosses every measurable line of politics, geography anddemographics. The number of home-schooled kids has increased 373 percent over the past six years in the small city ofAnderson, S.C.; it also increased 358 percent in a school district in the Bronx.
In 390 districts included in The Post's analysis, there was at least one home-schooled child for every 10 in public schools during the 2021-2022 academic year, the most recent for which district-level federal enrollment data are available. That's roughly quadruple the number of districts that had rates that high in 2017-2018, signifying a sea change in how many communities educate their children and an urgent challenge for a public education system that faced dwindling enrollment even before the pandemic.
Despite claims that thehome-schooling boom is a resultof failing public schools, The Post found no correlation between school district quality, as measured by standardized test scores, and home-schooling growth. In fact, high-scoring districts had some of the biggest spikes in home schooling early in the pandemic, though by the fall of 2022 increaseswere similar regardless of school performance.
The last of these doesn't surprise me in the least. On an entirely anecdotal basis, I live in and adjacent to some of the most highly-rated school districts in the country and constantly hear parents complaining about the quality of the schools. This has escalated considerably, including in my own household, since the school closing fiasco during the pandemic, which highlighted just how much of the high-performing nature of our schools is a function of highly educated, affluent parents rather than superior teachers and administrators.
Regardless,
Because they do not cover every state, the figures cannot provide a total count of the country's home-schooled children. The National Center for Education Statistics reported that in 2019 — before home schooling's dramatic expansion — there were 1.5 million kids being home-schooled in the United States, the last official federal estimate.

Based on that figure and the growth since then in states that track home schooling, The Post estimates that there are now between 1.9 million and 2.7 million home-schooled children in the United States, depending on the rate of increase in areas without reliable data.

By comparison, there are fewer than 1.7 million in Catholic schools, according to the National Catholic Educational Association. About 3.7 million students attended charter schools in the fall of 2021, according to the most recent federal data.

It is a remarkable expansion for a form of instruction that 40 years ago was still considered illegal in much of the country.
Well . . . okay.
But here's the thing: all of this sturm and drang is based on percentage growth. Which is rather meaningless without a baseline, which very little of this very long report attempts to provide.
The Census Bureau reports that 75.2 million students were enrolled in school during the 2021-22 school year. So, "between 1.9 million and 2.7 million" is somewhere between 2.5 and 3.6 percent of the whole. That's not a staggering amount.
Since the Post is based in DC, we get this helpful infographic: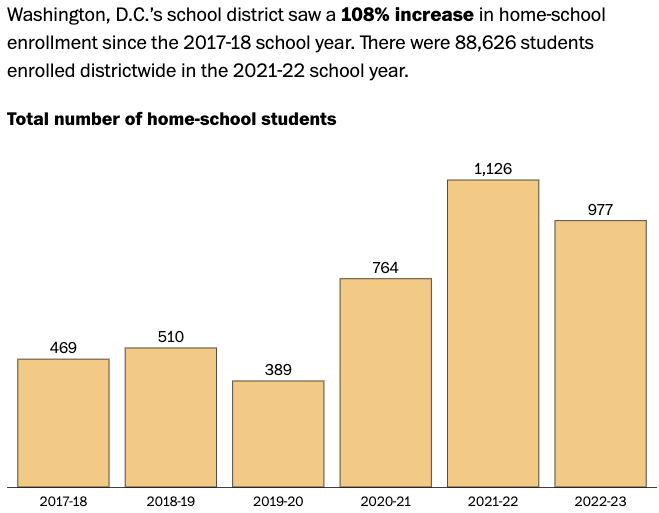 DC's 108% increase is the biggest in the country. But that's starting from an absurdly low baseline of 469. For the only school year for which we're given the requisite data, 2021-22 (coincidentally, also the peak of the homeschooling phenomenon), we see 1126 homeschoolers our of 88,626 students—a whopping 1.27%.
This . . . does not seem alarming. Like at all.
And I come to that conclusion despite sharing the prejudices of the report authors and the interviewed activists sounding alarm bells. To wit:

Home-schooled kids don't have to submit to any form of testing for academic progress in most states, and even states that require assessments often offer loopholes, according to the Coalition for Responsible Home Education, which urges greater oversight.

Many of America's new home-schooled children have entered a world where no government official will ever check on what, or how well, they are being taught.

"Policymakers should think, 'Wow — this is a lot of kids,'" said Elizabeth Bartholet, an emeritus professor at Harvard Law School and child welfare advocate. "We should worry about whether they're learning anything."
The remainder of the report, which is quite long, is anecdotal and rather obviously cherry-picked. But, again, I share this concern:
Home-schooled kids in Florida aren't required to sit through the same standardized tests as their public-school peers. But they are allowed to join the same high school sports teams, and are eligible for the same scholarships at public universities.

"It's a tremendous imbalance," said Hillsborough County School Board member Lynn Gray. After decades as a public and parochial school teacher, Gray taught history part-time for several years at a Catholic home schooling co-op. She said that experience left her worried about many home-schooled kids' academic preparation and lack of exposure to diverse points of view, and she is convinced home education should not be most families' first choice.

"I can tell you right now: Many of these parents don't have any understanding of education," she said. "The price will be very big to us, and to society. But that won't show up for a few years."
Then again, given what the Florida government is doing to public schools in that state, I'm not sure the home-schooled kids aren't better off. Even where an ideological agenda isn't at work, there's a lot not to like about public education, which is still operating on models built for a very different society. Long breaks that interrupt learning. A whole lot of emphasis on sitting down and shutting up. Constant standardized testing.
But it's just nuts to think that the alternative is to let parents, of whatever qualification, design their own curriculum and hope for the best.