House Judiciary Committee Moves Forward On Impeachment. Or Does It?
The House Judiciary Committee is moving forward on impeachment. Sort of.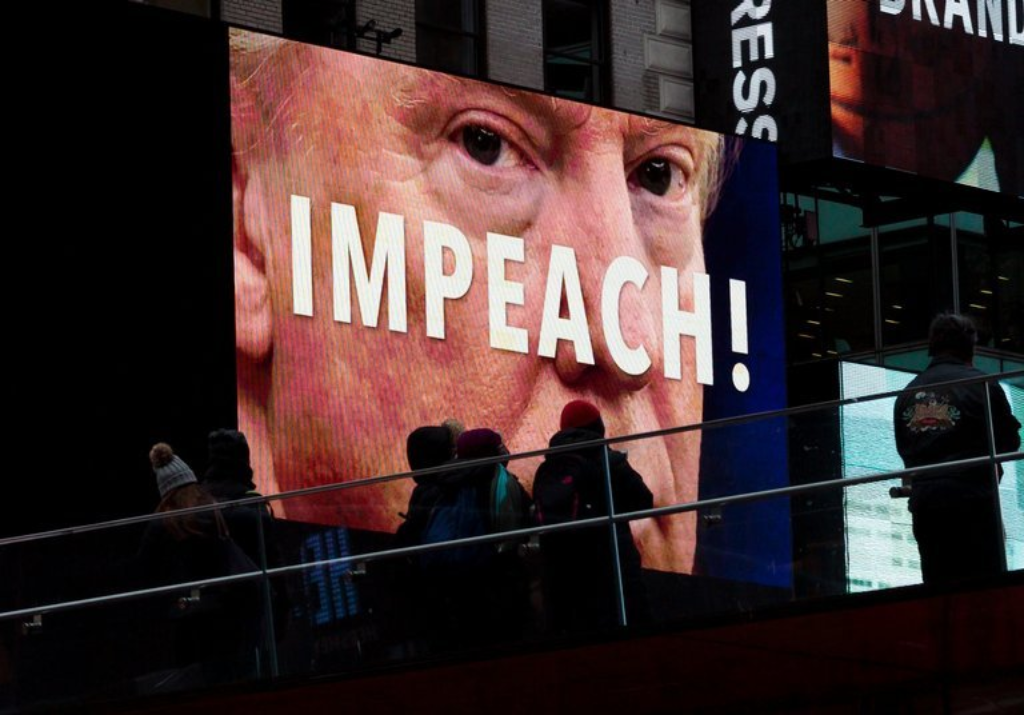 Seemingly pushing Congress forward on an issue that has divided Democrats for the better part of the past year, the House Judiciary Committee voted yesterday to move forward on what, depending on who you ask, may or may not be a significant step forward on impeachment:
WASHINGTON — The House Judiciary Committee on Thursday took its first recorded vote to press forward with a possible impeachment of President Trump, putting aside Democrats' internal divisions for the time being in a bid to strengthen its hand in investigating whether he committed high crimes and misdemeanors.

Voting along party lines, the panel approved rules for a continuing "investigation to determine whether to recommend articles of impeachment with regard to President Donald J. Trump," which clarified new authorities for lawmakers and laid out a process, albeit limited, for the president to respond.

Speaking after the vote, the committee's chairman, Representative Jerrold Nadler of New York, also promised a series of hearings expanding the inquiry beyond the findings of Robert S. Mueller III, the former special counsel, to consider other potentially impeachable offenses. The first session is scheduled to take place next week with Corey Lewandowski, Mr. Trump's former campaign manager and an important witness to the special counsel's obstruction-of-justice investigation.

But Thursday's action was as much a symbolic display as it was a practical exercise of constitutional powers, aimed at showing federal courts and impatient Democrats that the House is, in fact, serious about building an impeachment case, even if it is not yet taking the politically loaded step of filing charges.

"This committee is engaged in an investigation that will allow us to determine whether to recommend articles of impeachment with respect to President Trump," Mr. Nadler said. "Some call this process an impeachment inquiry. Some call it an impeachment investigation. There is no legal difference between these terms, and I no longer care to argue about the nomenclature."

The vote punctuated a legislative week in which Democrats appeared at times to be in deep disagreement about exactly what the Judiciary Committee is up to, how it fits together with other continuing investigations of Mr. Trump's finances and policies by different panels, and how far they are willing to go toward impeaching Mr. Trump.

Shortly after the vote, Speaker Nancy Pelosi became exasperated as she swatted away questions from reporters about why there appeared to be a discrepancy between the way she and Mr. Nadler were describing what was happening.

"Why is it that you are hung up on a word?" she asked, urging reporters to instead look at the House's investigative actions.

The questions go beyond mere semantics, however. Senior Democrats and the lawyers advising them have a strong interest in demonstrating that the House is carrying out an impeachment inquiry, which maximizes their leverage in lawsuits to compel the cooperation of witnesses and secure grand jury testimony. In at least one instance this week, lawyers for the Judiciary Committee privately reached out to a lawmaker who had publicly suggested otherwise and warned that inconsistencies could hurt their case in court, according to people familiar with the exchange.

At the same time, Ms. Pelosi, Democrat of California, has toiled to avoid plunging the House into an all-consuming impeachment and shied away from the phrase "impeachment inquiry." Her concern is that the process would be divisive and ultimately fail to result in Mr. Trump's removal, while potentially costing Democrats in conservative-leaning districts their jobs.

On Thursday, Ms. Pelosi portrayed the actions as a continuation of a Democratic strategy to methodically obtain facts about potential presidential wrongdoing through legislation, investigation and litigation that would proceed at the same pace it has for months. An impeachment vote may be the ultimate result of that process, she said, but the facts were not yet there.
The House Judiciary Committee on Thursday approved the parameters for its impeachment investigation into President Donald Trump — Democrats' most significant step to date on the issue, even as Speaker Nancy Pelosi repeatedly sidestepped the i-word at a news conference.

The party-line vote came as House Democrats have struggled to articulate a unified message on impeachment, with senior party leaders avoiding the term even while the Judiciary Committee embraces it.

A visibly frustrated Pelosi refused to answer reporters' questions about the impeachment probe, beyond saying that she supports "what is happening in the Judiciary Committee because that enables them to do their process of interrogation and investigation."

Pelosi — who has signed off on court filings and press statements that explicitly mention the panel's impeachment investigation — avoided the word "impeachment," later adding: "I'm not answering anymore questions on this subject."

The Judiciary Committee's vote was largely symbolic, but it represents Democrats' first legislative action on one of Congress' weightiest responsibilities — even if they can't agree on what to call it.

"Some call this process an impeachment inquiry. Some call it an impeachment investigation," Judiciary Committee Chairman Jerry Nadler (D-N.Y.) said, arguing that a House vote is not necessary. "There is no legal difference between these terms, and I no longer care to argue about the nomenclature."

The resolution, which Nadler billed as a "necessary next step" in its months-long investigation, allows Trump and his lawyers to formally respond to evidence and testimony presented in the committee's hearings.

The measure also preemptively triggers a House rule that allows staffers to question witnesses for an hour at the end of every hearing deemed part of the impeachment investigation. It describes the panel's ability to accept evidence in secret "executive sessions," and it authorizes the subcommittees to hold hearings and question witnesses in order to expedite the process.

Republicans ripped the measure as a meaningless gesture that simply points to procedures already available in the House and committee's rules. Nadler has said the resolution is an important step to acknowledge the panel's investigation and to deploy the procedural mechanisms in advance of impeachment-related hearings.

Georgia Rep. Doug Collins, the top Republican on the committee, said Democrats were trying to make it appear that they were toughening their stance on impeachment.

"The Judiciary Committee has become a giant Instagram filter," Collins quipped. "To make it appear that something's happening that is not."
"He wants the appearance of something that is not," Collins said of Nadler.
All of this comes at the end of a summer during which House Democrats have been debating among themselves about whether or not to proceed on impeachment. By the time Democrats were getting ready to leave for their now-completed summer recess, more than half of the House Democratic Caucus had gone on the record in favor of impeachment and that number has increased to 135 members as of the most recent headcount. At the same time, polling continues to show that the vast majority of Americans oppose moving forward on impeachment even though many of them also believe that it's likely that the President and those around him engaged in some form of wrongdoing, either in connection with the 2016 campaign or other matters.
Because of this, Speaker Nancy Pelosi finds herself being pulled in two different directions on the issue of impeachment, On the one side, there are those such as the 135 Democrats named above who want the House to got full bore on impeachment even though its clear that the Senate is not going to vote to convict and remove the President with the required two-thirds majority. On the other hand, there are the members, many of whom come from the districts that gave Democrats the majority that put the Speaker's gavel back in Pelosi's hands, who object to the idea largely for political reasons. Not surprisingly, many of the Members of Congress in the later group cite the polling data noted above, as well as the fact that the 2020 election is quickly approaching, in support of their argument that pursuing impeachment when it is clear that (1) the Senate will not convict and (2) that the public doesn't support the move is too big of a political risk.
This is why the step that the Judiciary Committee took yesterday seems to be something that is trying to be all things to all people. For those who are eager to proceed forward with impeachment, the move that the committee made can be characterized as a step closer to impeachment even though it still isn't calling what it is doing an impeachment inquiry. For those who are more politically reticent, one can make the argument that this isn't really impeachment at all and that the House isn't committed to go down that road at this time, This second option seems like the smart one to me. Politically speaking, moving forward on impeachment is politically risky and Democrats would be wise not to take the risk.
As I've noted before, this doesn't mean that Democrats should let up the pressure on the Trump Administration:
[T]he better strategy for Democrats right now is to proceed forward with investigations into the matters discussed above and to do so in as public a manner as possible. Let all the information that can come out be made public unless it is classified. Let the American people decide at the next election what they want to do with that information. This seems like an even wiser strategy given the fact that it is unlikely that any investigations in the House will be completed until we're nearly on the eve of the 2020 election. At that point, the question will be whether to proceed with impeachment or take the strategy I have laid out here and let the people decide. Unless the evidence against the President is overwhelming, it seems to me that the decision should lean heavily in favor of putting this matter to the test at the ballot box rather than attempting an impeachment and removal that will not succeed and which could end up energizing Trump and his base when the President is ultimately acquitted in the Senate.
To that extent, these new procedures by the Judiciary Committee are a good step forward. Perhaps these investigations will result in a sea change that will cause voters to rise up and demand Congressional action. but until that happens Democrats would be wise to bide their time and build up the case against Trump to play a central role in the 2020 campaign as it inevitably will. At that point, the voters can decide how they wish to proceed.
Here's the resolution:
Judiciary Committee Resolution by Doug Mataconis on Scribd