House Members Rarely Become Vice-President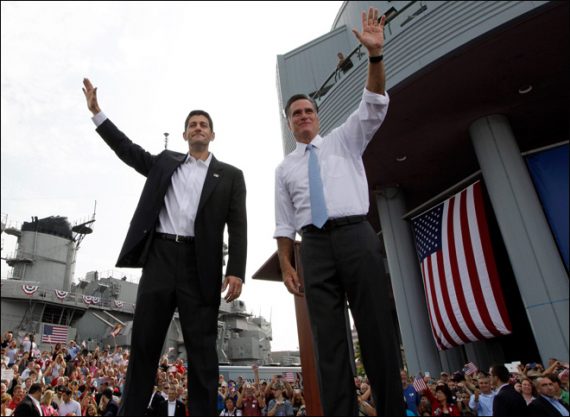 The Romney/Ryan ticket is running up a bit of history:
In picking a House Member as his running mate, Mitt Romney hopes to buck more than 80 years of history.

It has been that long since a Member was elected vice president directly from the House – and back then the Member in question was Speaker. In the decades since, only two have been nominated by major parties.

Walter Mondale tapped Rep. Geraldine Ferraro (D-N.Y.) in 1984, a selection that rightfully gained more attention for putting the first female on a major party ticket than for drawing from Congress. Before that, Barry Goldwater selected Rep. William Miller, a largely anonymous New York Republican, in 1964.

(…)

Many vice presidential picks served in the House at an earlier point in their careers, but they generally went on to have other government roles, often in the Senate or the Cabinet, before joining the national ticket.

"Sitting members of the House of Representatives are almost never selected as running mates, in part because they are perceived to have a stature deficit relative to senators, governors or members of the executive branch," Goldstein wrote.

Gerald Ford was the last man to move directly from the House to the vice presidency, but Ford – the House Minority Leader – was appointed by President Richard Nixon to fill the vacancy created by the resignation of Spiro Agnew.

The last elected vice president from the House came a few decades before Ford's appointment.

Known as "Cactus Jack," John Nance Garner was put on the ticket with Franklin Roosevelt in 1932. Garner, a Texas Democrat, served in the House for 30 years, rising to the role of Speaker when Democrats took the majority in 1931.
Before Garner, the only other person to go directly from the House to the Vice-Presidency in the 20th Century was James Sherman, who served as Theodore Roosevelt's Vice-President in his second term. In the 18th Century, there were 3 sitting House members elected to the Vice-Presidency, Adlai Stevenson (the First), William A. Wheeler, and Schyuler Colfax,  Of course, the odds of a House member become Vice-President are still better than the odds of them becoming President. That's only happened once, when James A. Garfield was elected President in 1880.