House Passes Ryan Budget Plan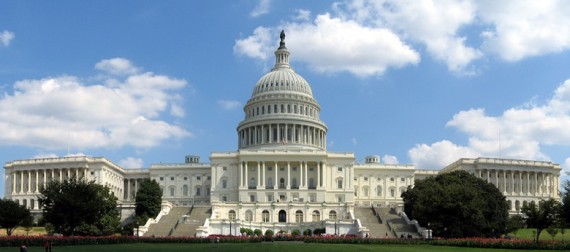 In the end, there were very few GOP defections in the vote on Paul Ryan's FY2012 budget plan:
WASHINGTON — House Republicans forced through a partisan budget blueprint on Friday that, if enacted into law, would pare federal spending by an estimated $5.8 trillion over the next decade while reshaping Medicare, a proposal certain to instigate a fierce clash with Democrats.

The bill has no chance of passage in the Democratic-controlled Senate. But it will effectively serve as the House Republican bargaining position in talks with the administration and Senate over how to reduce annual federal deficits and the accumulated national debt.

The action came a day after Congress finally concluded its fight over spending for the current fiscal year.

The vote in the House on the Republican blueprint, drafted by Representative Paul D. Ryan, Republican of Wisconsin and chairman of the Budget Committee, was 235 to 193, almost entirely on party lines. Not a single Democrat voted for it; four Republicans voted against it.

The proposal, which would cut maximum corporate and personal tax rates and would overhaul the Medicaid health program for the poor as well as Medicare, is the new House majority's most ambitious effort so far to show that it wants to rein in spending and aggressively shrink the federal government.

"The spending spree is over," Mr. Ryan said. "We cannot keep spending money we don't have."

Democrats ridiculed the notion that Mr. Ryan's plan was somehow bold for taking on the Medicare program despite the political risks, and accused Republicans of promoting a morally skewed vision of America by taking aim at services for the elderly and poor while supporting tax breaks for corporate America and the affluent.

"It is not courageous to provide additional tax breaks for millionaires while ending the Medicare guarantee for seniors and sticking seniors with the cost of rising health care," said Representative Chris Van Hollen of Maryland, the senior Democrat on the Budget Committee.
This plan is not going to go anywhere in the Senate, of course, and President Obama's budget is not going to go anywhere in the House. Once again, it will be up to the Senate to come up with a budget that everyone can accept. Last year, they weren't able to do it and we ended up with Continuing Resolutions and the threat of a government shutdown that lasted for six months. Anyone willing to bet that the same thing isn't going to happen all over again this year?