Hundreds Of Miles Apart, Romney And Perry Trade Barbs
It's Rick Perry's second day on the campaign trail, and he's already trading barbs with the guy at the top of the field.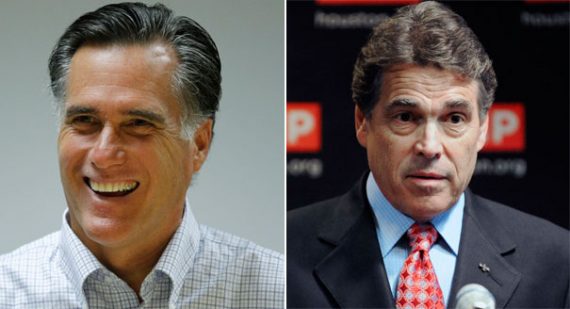 They're spending the day in different states, but that isn't stopping Mitt Romney and Rick Perry from already trading a few barbs in what is likely to be a preview of coming attractions. First, in New Hampshire, Mitt Romney hit Perry over his lack of business experience, which is a theme that Romney has fallen back on since the days of his 2008 campaign:
Mitt Romney said Monday his experience in business would help propel him over his opponents for the GOP presidential nomination, including the man who threatens to be his biggest rival, Texas Gov. Rick Perry.

Facing reporters' questions, the former Massachusetts governor and private businessman took a dig at Perry, who drove media coverage this weekend with his splashy entrance into the presidential race, and most of the rest of the field of Republican White House hopefuls.

"I think understanding how the economy works by having worked in the real economy is finally essential in the White House and I hope people recognize that," said Romney.

"I respect the other people in this race but I think the only other person that has that kind of extensive private sector experience besides me in the Republican race is Herman Cain, and I respect Herman Cain but I also think it's helpful to have that government experience that I've had," Romney said.

Romney has repeatedly faulted President Barack Obama for failing to understand how private business works, and he pivoted to apply that criticism to the Texas governor. Perry has essentially been a career politician, serving 11 years in the Governor's mansion and as Lt. Governor to then-Gov. George W. Bush before that.

"I've learned how the economy works and I believe that skill is what the nation is looking for," Romney said, continuing his strategy of highlighting his business credentials in a race that will hinge on the economic slump.
This is a theme that Republicans have hit on many times in the past,  but I'm not sure it's really a good argument. There are significant differences between running a government and running a private business (especially the type of private business that Romney ran), and while it's potentially a point in one's favor to have real-world business experience, the idea that government should be "run like a business" is one of those easy sound bites that doesn't really apply in the real world. In the business world, the CEO has far more authority over the operations of the business than the President does over the government. While they do have to deal with stockholders and a Board of Directors, CEO's don't have to get permission from Congress to spend money the way a President does, and they don't have to worry about public opinion quite so much. Running a business can be valuable to the extent it gives one executive experience, but I'm not sure that business experience itself translates well to the field of public policy.
While, Romney was touting his experience as a businessman, Rick Perry was standing on a (literal) soapbox in Iowa drawing distinctions between himself and the former Governor of Massachusetts:
DES MOINES — On his third day in the race, Gov. Rick Perry of Texas wasted little time drawing distinctions on Monday with Mitt Romney, highlighting his experience creating jobs at home.

"Take a look at his record when he was governor. Take a look at my record," Mr. Perry said, pausing for a moment to take a reporter's question as he visited the Iowa State Fair. He added, "Running a state is different than running a business."

Mr. Perry swept into the state fair, taking advantage of having the stage to himself, after a bustling week of politics here leading up to the Iowa Straw Poll. His Republican rivals have moved along to New Hampshire and South Carolina, giving Mr. Perry a final word — for now, at least — as he introduces himself to voters here.

He signaled his plan to campaign aggressively for the Iowa caucuses, which open the nominating fight, saying, "If you're not in Iowa, you ain't happening."

With that comment, Mr. Perry was drawing another distinction with Mr. Romney, who has yet to decide how extensively to campaign in Iowa.
This is likely a preview of the arguments that Perry will be making as we get further into the race, and it strikes me that he's going to be a far more serious competitor for Romney than any of the candidates who've entered the race so far. Unlike Bachmann, he has both the conservative bona fides and the experience to take Romney on directly. Unlike Pawlenty, it's already apparent that he's a much more energetic, aggressive campaigner, and while that Texas swagger may become his undoing at some point, it's likely to take him pretty far in the race for the nomination.
Romney is going to have to pick up his game soon, and stop running his campaign as if he's already the presumptive nominee. Because it's no longer clear that he is.