If Everybody Hates Congress, Why Do They Keep Re-Electing The Same People?
Americans tell pollsters that hate Congress, but they never seem to do anything about it.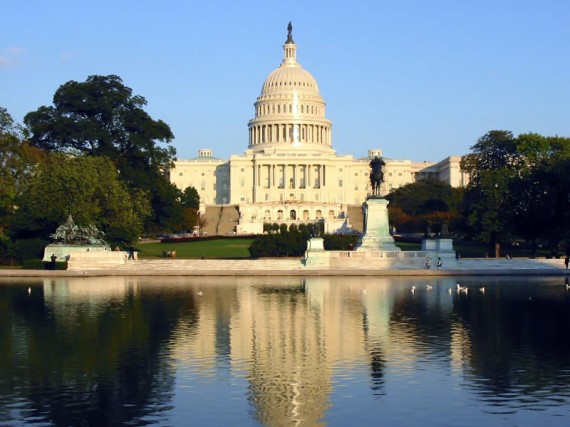 Hating Congress has been an American pastime since virtually the beginning of the Republic, but, as we've documented here at OTB many times in recent years, public dissatisfaction with what is supposed to be the people's branch of the government seems to reach new highs each time the matter is polled. The latest example comes from the new NBC News/Wall Street Journal poll, which finds public dissatisfaction with Congress at a record high:
The American public's dissatisfaction with Washington has reached new heights, according to the latest NBC News/Wall Street Journal poll, as the political world continues to fight the same intractable battles over the budget, health care and immigration.

A whopping 83 percent of Americans disapprove of Congress' job, which is an all-time high in the survey. What's more, President Barack Obama has seen his job-approval rating dip to its lowest level since August 2011, when the debt-ceiling showdown wounded almost every Washington politician.

And nearly six-in-10 voters say they would vote to defeat and replace every single member of Congress if they had such an option on their ballot ­ another all-time high.

"There is a palpable unhappiness with Washington," says Democratic pollster Peter D. Hart, who conducted this survey with Republican pollster Bill McInturff. "Outside the Beltway, voters are saying, 'You don't get it.'"

Democratic pollster Fred Yang, who partners with Hart, paraphrases from Shakespeare to describe the public's mood: "Now is the summer of our discontent."
The poll finds that dissatisfaction cuts across ideological lines, with Republicans, Democrats, and Independents all nearly equally frustrated with Congress but, not surprisingly, the reasons for their dissatisfaction are quite different:
Asked to explain their dissatisfaction, respondents cite (in order) partisanship and the inability of Congress to get things done, middle-class Americans being ignored and the Obama administration's policies and leadership.

But there's a stark political divide: Democrats and independents blame partisanship and congressional gridlock as their chief culprit, while Republicans blame the president.

Still, there are signs that Republicans are shouldering more of the blame for the situation in the nation's capital: just 22 percent say they believe the GOP is interested in unifying the country in a bipartisan way, versus 45 percent who say the same about Obama.

And while 56 percent of Americans say they think congressional Republicans are too rigid in their dealings with the president, a plurality of GOP respondents say congressional Republicans are too quick to give in to Obama.

"In their mind, Republicans have been too quick to give in to Obama," says McInturff, the GOP pollster, about the views of self-identified Republicans in the poll. "For the average Republican House member, he or she is more likely to be concerned about a primary than general election."
Despite all the dissatisfaction, though, its unclear that there's really much of a mood on the public for major change in whose in charge:
When asked what we should do about Congress, however, people's answers are less clear. When asked whether they want the next Congress to be controlled by Republicans or Democrats, the answers were split right down the middle at 44 percent for each side. Fifty-seven percent say both that their own representative should step aside and that if they had the option on the ballot to replace every single member of Congress they would do it, another record high for both questions. Yet, when they were given a chance to make some changes in 2012, they basically passed. Just 23 House incumbents and only one Senator were defeated in the last election.
It's unlikely that things will be any different in 2014 notwithstanding the level of public dissolution with Congress. Much of the reason for that has to do with gerrymandering, the decline in the number of swing districts in the House, and the historical fact that it is incredibly rare for the party controlling the White House to pick up seats in Congress in a 6th year midterm. Indeed, looking at the RealClearPolitics average at the moment, the Generic Congressional Ballot gives Democrats a slight 3.5% edge, which is fairly insignificant in the grand scheme of things. This is the reason that, to date, none of the major political forecasts are giving Democrats much of a shot at grabbing control of the House and many analysts are suggesting that Republicans may actually pick up a few House seats when the voters are all counted. At the same time, the odds of Republicans gaining control of the Senate, or at the very least significantly increasing the size of their caucus seem especially good at the moment.
So, what to make of all this dissatisfaction with Congress? As I've said many times before, some of this is obviously a reflection of historical disdain for Congress —- "hate Congress, love my Congressman' as the old saying goes — so it's perhaps not too surprising that we see historically high disapproval ratings for Congress as an institution while at the same time living in a world where incumbents in the House and Senate are re-elected at a 90% rate. It's true that if you go back to 2006, three of the last four Congressional election cycles have, at least in some sense, been so-called "wave" elections that have resulted in shifts in both membership and party control in both Houses of Congress but, even in those years, the vast majority of Congressmen and Senators were re-elected. Clearly, the American people either don't really mean it when they tell pollsters they disapprove of what Congress is doing, or they don't really feel like doing anything about it. I'm not sure there's any other conclusion one can reach.