GOP In Good Position To Grab Senate Control In 2014
The GOP's chances to take over the Senate became much better over the weekend.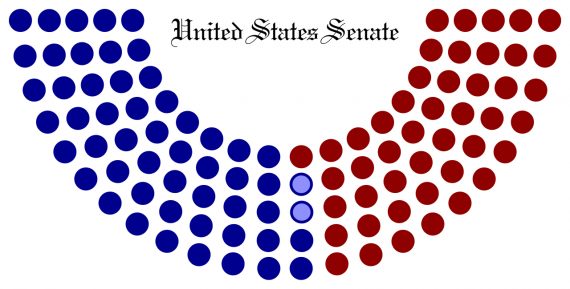 With the announcement over the weekend that former Montana Governor Brian Schweitzer would not seek to run for the Senate seat being vacated by Max Baucus, Republicans are feeling increasingly confident about taking control of the Senate in 2014:
For the first time this year, Republican strategists believe they're within striking distance of taking back control of the Senate, thanks to untimely Democratic Senate retirements and red-state Democratic recruits deciding not to run for Congress. The latest blow to Democrats: former Montana Gov. Brian Schweitzer's surprising decision Saturday to pass up a campaign.

Republican recognize they need to win only three Senate seats in the most of conservative of states–Arkansas, Louisiana, and Alaska–and Mitch McConnell could be majority leader in 2015. (That is, if McConnell can hold onto his own Kentucky seat.) The latest developments underline how punishing the map is for Democrats for 2014, and how little margin for error they have.

Democrats can afford to lose up to five Senate seats and still maintain their majority, but they already risk conceding over half that number before campaigning even gets under way.

Schweitzer was the type of grade-A recruit who could nearly guarantee victory despite Montana's Republican leanings. His near-universal name recognition, blunt outspokenness, and statewide organization made him a heavy favorite, especially when Republicans had yet to field a first-tier challenger. Big Sky Country was beginning to look like a long shot for the GOP.
Had Schweitzer entered the race, Montana would have been a tough state for Republicans to flip, but now it joins a number of other states on a list of possible Republican pickups that is as long as the ones that it enjoyed in 2010 and 2012. Among the states on that list are West Virginia, South Dakota, Arkansas, Louisiana, North Carolina, and Alaska. Currently, the Senate stands at a 54-46 Democratic majority, but the actual number is 55-45 once you take out New Jersey Senator Jeffrey Cheisa, who is currently holding the seat vacated by the death earlier this summer of Frank Lautenberg, a seat that will clearly be Democratic once again after the October 13th Special Election. This means that the GOP would need to win all six of the states on this list, or win somewhere else if they lose one of these races, in order to get to a Senate where they command a slim 51-49 agenda. If they sweep all six, they'll have a slightly more secure 52-48 majority. If they fall short of that minimum of five pickups then they'd end up with a 50-50 tie, which would put Senate control in the hands of the Democrats due to Vice-President Biden's tie-breaking vote. Nonetheless, a Senate tie would require some rather unique power sharing agreements between the two parties on things like Committee assignments, and arguably could hamper a Biden Presidential bid by requiring him to spend a lot more time in Washington prepared to break ties in the Senate. All of this assumes, of course, that the GOP doesn't lose a seat this time around, but that still seems rather unlikely even given what seems like a threat to Minority Leader Mitch McConnell in Kentucky.
Nate Silver has a great breakdown of the current status of the Senate races of note and calls the question of who will control the Senate when the dust settles after the 2014 elections a toss-up:
Montana along with West Virginia and South Dakota — two other red states where an incumbent Democrat has retired and where the Democrats have not identified a strong candidate to replace them – gives Republicans a running start. Republicans could then win three more seats from among red states like Louisiana and Arkansas, where vulnerable Democratic incumbents are on the ballot, or they could take aim at two purple states, Iowa and Michigan, where Democrats have retired. More opportunities could also come into play if the national environment becomes more favorable to Republicans (such as because of a further slide in Mr. Obama's approval ratings). Meanwhile, while Kentucky and Georgia are possibly vulnerable, Republicans have few seats of their own to defend; unlike in 2012, they can focus almost entirely on playing offense.

A race-by-race analysis of the Senate, in fact, suggests that Republicans might now be close to even-money to win control of the chamber after next year's elections. Our best guess, after assigning probabilities of the likelihood of a G.O.P. pickup in each state, is that Republicans will end up with somewhere between 50 and 51 Senate seats after 2014, putting them right on the threshold of a majority.

(…)

[T]he fact that the battle for Senate control appears to be very close right now does not guarantee that it will end up that way. Although Senate races behave more idiosyncratically than some other types of contests — local factors and candidate quality play an important role — one party has won the vast majority of tossup races in each of the past four election cycles.

In a strong Republican year, the G.O.P. could win all of the tossup and "lean Democratic" seats and pick up one of the "likely Democratic" seats like New Hampshire, which would give them a net gain of nine seats and leave them with a 55-45 majority in the chamber. In a strong Democratic year, the party could lose only West Virginia and South Dakota – and pick up New Jersey and one of Kentucky and Georgia – and hold their current 54-46 edge. It is therefore important to watch macro-level indicators – especially Mr. Obama's approval ratings, the generic Congressional ballot and major economic measures – in addition to following the recruitment and polling in individual states.
Obviously, it's still fairly early in the game. There are seventeen months left until Election Day 2014 and there are any number of things that can happen between now and then which could have an impact on the race for control nationally, or on individual state races. Additionally, the most important development in many of these states hasn't even happened yet, and that's candidate recruitment. So far, the GOP seems to be doing well with the candidates who are likely to win the nomination in states like West Virginia (Congressman Shelly Moore Capito), Arkansas (Congressman Tom Cotten), Alaska (Lt. Governor Mead Treadwell), North Carolina (State House Speaker Thom Tillis), and South Dakota (former Governor Mike Rounds). In other states, Iowa and Michigan, two states with open races due to retirement, candidate recruitment has not gone well, while others such as Louisiana remain up in the air regarding exactly who is going to end up jumping into the race. Assuming the party can avoid the candidate problems that they had in both 2010 and 2012 with candidates like Joe Miller, Sharron Angle, Christine O'Donnell, and Todd Akin, they will at least have gotten over that first hurdle. After that, we'll just have to see how the race goes over the next year. At the moment, though, I agree with Silver that the GOP appears to be well situation in the Senate races in 2014. They could end up with a narrow majority, or they could end up being close enough — either 50-50 or 51-49 Democratic — that the dynamics of how things work in the Senate would be very interesting for at least the following two years.